Irish pubs are an important part of the country's culture and are renowned for being places that are always friendly and fun. Read on to discover the top drinking hole from every county of Ireland.
There are over 7000 pubs in Ireland so it's not an understatement to say that Irish pubs are popular, both for the locals and for the tourists who come to the Emerald Isle.
It is where magic happens; friends laughing, strangers cobbled together, the best of the pints downed and Irish music dominating the atmosphere. There truly is no place like the Irish pub.
In this article, we have complied a list of 32 Irish pubs which we believe make up the best pubs to visit in every county of Ireland.
32 Irish Pubs: 1-16
1. Antrim – Kelly's Cellars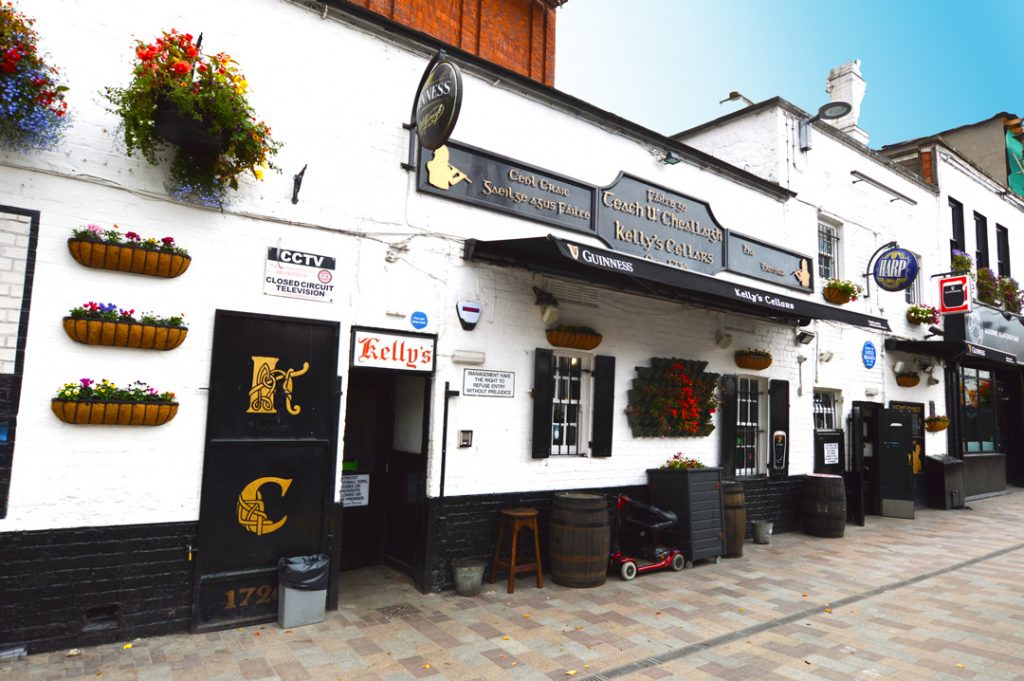 It's one of the oldest traditional Irish pubs in Belfast and is known for its excellent pints of Guinness and delicious Irish stew. This is one of the best bars in Belfast that celebrities have been to.
Address: 30-32 Bank St, Belfast BT1 1HL
2. Armagh – Courthouse Bar
The Courthouse Bar has a wide variety of beers, wines, cocktails and great food.
Address: 46 William St, Lurgan, Craigavon BT66 6JB
3. Carlow – Tully's Bar
Tully's Bar is a spacious and stylish pub which is perfectly located in the Carlow town centre.
Address: 148-149 Tullow St, Graigue, Carlow, R93 W243, Ireland
4. Cavan – Fox's Bar and Restaurant
This pub is renowned for its tasty and fresh home-cooked food.
Address: Main St, Beckscourt, Bailieborough, Co. Cavan, Ireland
5. Clare – Gus O'Connor's Pub
This pub is a famous listening venue in the heart of the coastal village of Doolin.
Address: Fisher St, Ballyvara, Doolin, Co. Clare, V95 FY67, Ireland
6. Cork – Sin É
'Sin É' – means 'this is it' in Gaelic and is a perfectly suited name to this pub because if you are looking for a great pub, then this is it
Address: 8 Coburg St, Victorian Quarter, Cork, T23 KF5N, Ireland
7. Derry – Peadar O'Donnell's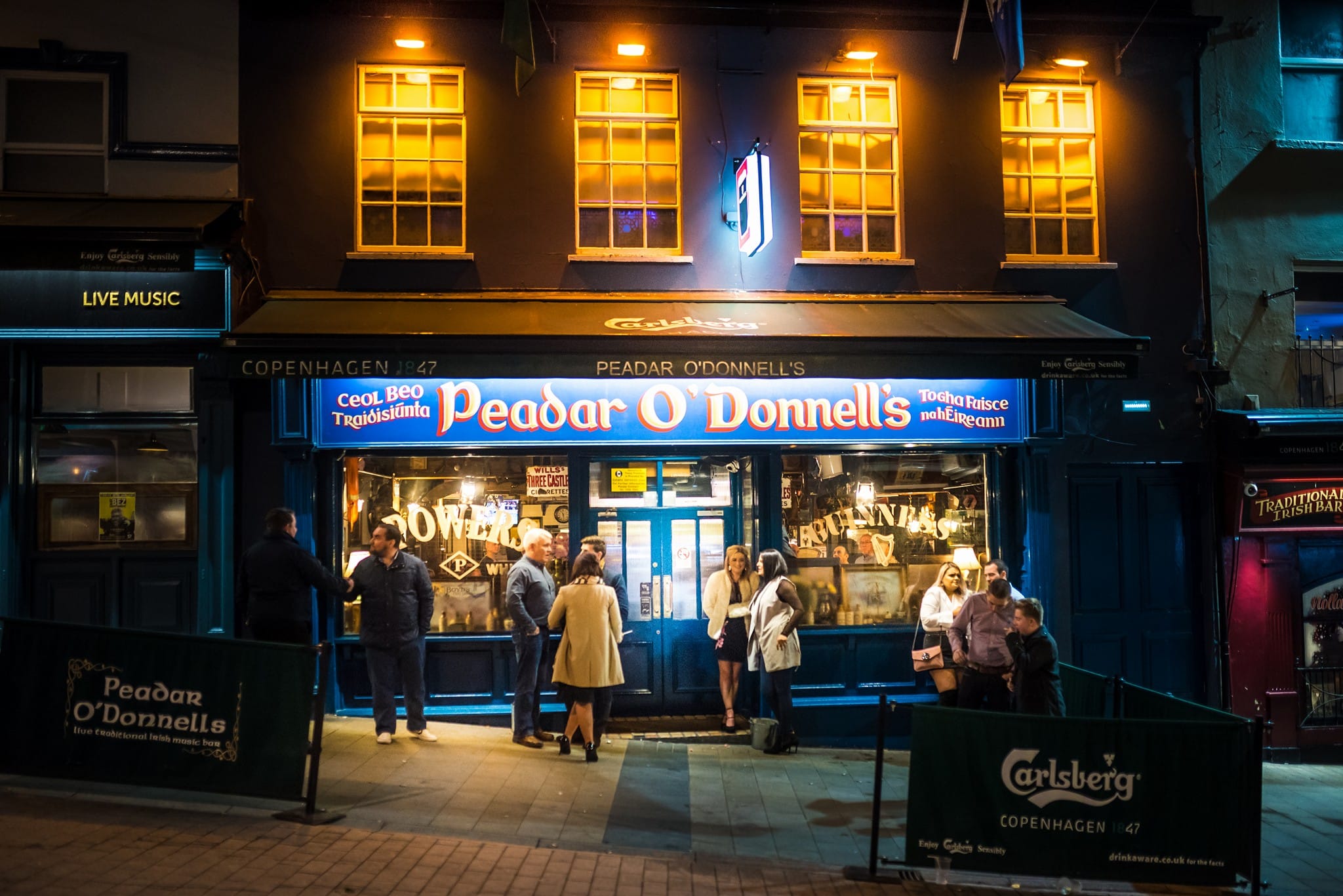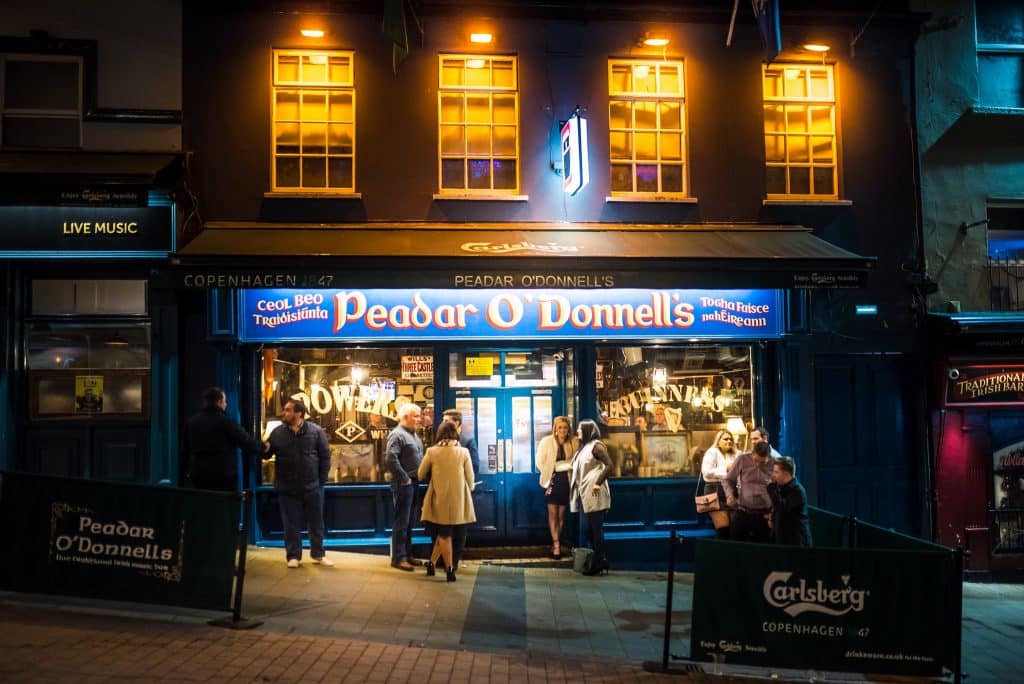 This pub is famed for its great pints of Guinness and its performances of both conventional and contemporary music.
Address: 63 Waterloo St, Derry BT48 6HD
8. Donegal – The Singing Pub
The Singing Pub, true to its name, hosts an amazing amount of musical talent.
Address: Unnamed Road,, Mevagh, Co. Donegal, Ireland
9. Down – The Maghera Inn
The Maghera Inn, due to its location, is a great place to enjoy a quiet pint after a day of adventuring.
Address: 86 Ballyloughlin Rd, Castlewellan BT31 9HE
10. Dublin – The Gravediggers
The Gravediggers pub in Glasnevin is commonly regarded as having the best pint of Guinness in Dublin.
Address: 1 Prospect Square, Glasnevin, Dublin, D09 CF72, Ireland
11. Fermanagh – Blakes of the Hollow
Blakes of the Hollow is one of the best-known Victorian pubs in Ireland and has been running for over 125 years.
Address: 6 Church St, Enniskillen BT74 7EJ
12. Galway – O'Connell's Bar
O'Connells is a major sporting pub and is the perfect place to catch a game in the city!
Address: 8 Eyre Square, Galway, H91 FT22, Ireland!
13. Kerry – Foxy Johns
Foxy John's is one of the most unique pubs in Ireland as it's both a hardware store and a pub in the heart of Dingle.
Address: Main St, Grove, Dingle, Co. Kerry, V92 PD6F, Ireland
14. Kildare – Kavanaghs
Kavanaghs is situated ideally in the middle of Naas town and has something to offer every customer.
Address: 10 S Main St, Naas East, Naas, Co. Kildare, W91 ANP2, Ireland
15. Kilkenny – Kytelers Inn
Kytelers Inn was established in 1263 by Dame Alice de Kyteler who is famous for being the first person to be condemned for witchcraft in Ireland.
Address: St Kieran's St, Gardens, Kilkenny, Ireland
16. Laois – Morrissey's Pub
Morrisey's Pub has a unique interior which can bring you back in time to when it used to be a Grocery.
Address: Main St, Knocknamoe, Abbeyleix, Co. Laois, Ireland
32 Irish Pubs: 17-32
17. Leitrim – The Stanford Village Inn
This is a unique old-world pub in County Leitrim is well worth visiting.
Address: Main St, Drumahaire, Dromahair, Co. Leitrim, Ireland
18. Limerick – Dolan's
The perfect place for those wishing to enjoy some great pints and dance to live music.
Address: V94 PD79, 4 St Alphonsus St, Limerick, V94 NTV7, Ireland
19. Longford – Duignan's Tallyho
An institution in Longford, Duignan's Tallyho offers excellent pints in cosy and relaxing surroundings.
Address: New St, Deanscurragh, Longford, Ireland
20. Louth – The Glyde Inn
This traditional Irish pub has recently achieved much success at the Irish Pub Awards.
Address: Main Street, Linns, Annagassan, Co. Louth, Ireland
21. Mayo – Matt Molloy's
This is widely regarded as one of the best pubs not only in Mayo but also in Ireland for live Irish traditional music.
Address: Bridge St, Cahernamart, Westport, Co. Mayo, Ireland
22. Meath – James O'Connell
This pub is instantly recognisable as it was featured on the popular Guinness Christmas ad.
Address: Skreen, Co. Meath, C15 EY76, Ireland
23. Monaghan – Terry's Bar
Terry's Bar was established in 1981 and can be found in the heart of Monaghan town.
Address: 6 Market St, Mullaghmonaghan, Monaghan, H18 WR53, Ireland
24. Offaly – The Thatch Crinkill
This pub has been owned by the same family for over 200 years and offers a traditional Irish welcome.
Address: Military Rd, Ballinree, Birr, Co. Offaly, Ireland
25. Roscommon – Andersons Thatch Pub
Andersons, or "The Thatch" as it's referred to locally, is a pub full of great historical interest.
Address: Elphin Road, Ballindrehid, Carrick-On-Shannon, Co. Roscommon, Ireland
26. Sligo – Hargadon's
With its old stone floors and panelled snugs, going to Hardagon's is a trip back in time.
Address: O'Connell St, Abbeyquarter North, Sligo, Ireland
27. Tipperary – McCarthy's
A pub that doubles as an undertakers is too intriguing not to visit!
Address: 17 Main St, Spitalfield, Fethard, Co. Tipperary, E91 HP86, Ireland
28. Tyrone – O'Connor's Restaurant and Bar
This new pub has become increasingly popular in recent years thanks to their excellent quality food and service.
Address: 48 Main St, Dromore, Omagh BT78 3AD
29. Waterford – Geoff's Bar
Geoff's is an old school pub that oozes charm and class.
Address: 9 John St, Waterford, X91 WP98, Ireland
30. Westmeath – Sean's Bar
The oldest bar in Ireland and the pride and joy of Athlone Town.
Address: 13 Main St, Athlone, Co. Westmeath, N37 DW76, Ireland
31. Wexford – The Sky and The Ground
Besides being reasonably priced, there is also live music from local bands and great craft beers to enjoy.
Address: 112 S Main St, Whitewell, Wexford, Y35 C65F, Ireland
32. Wicklow – The Harbour Bar
An old-school Irish pub full of character that is said to be immortalized in James Joyce's 'Finnegan's Wake'.
Address: 1 Strand Rd, Ravenswell, Bray, Co. Wicklow, Ireland
That concludes our list of the 32 best Irish pubs in Ireland. Have you tried them all yet? If not, why not give them a go as the country slowly reopens?


Get featured on Ireland Before You Die
Do you want to get your Irish business more online exposure? Especially to those interested in travelling the best places in Ireland? Then why not get a dedicated feature on Ireland Before You Die. Find out more 
here.