Ghost hunters and paranormal scientists have come to Ireland for centuries, visiting sites supposedly haunted by dead souls.
Looking for an adventure that gives you chills? Look no further than our list of the most haunted place in every county of Ireland.
From killed prison inmates to poltergeists, dark magicians, and heartbroken lovers looking for their better halves hundreds of years after their death, the Emerald Island has no shortage of spooky tales.
No matter where you are, the ghosts will eventually find you (or you will find them). Want to speed things up? Read through the most haunted places in every county of Ireland below.
1. Co. Antrim, Dobbins Inn Hotel – haunted by a murdered landlady
First up on our list of most haunted place in every county of Ireland is Dobbins Inn Hotel in County Antrim.
A former tower house built in the 13th-century, Dobbins Inn Hotel is today one of Northern Ireland's spookiest sites.
The ghost of Elizabeth Dobbins haunts the hotel. Dobbin's husband Hugh killed the former landlady and her secret lover after he found out about their affair.
Address: 6-8 High St, Antrim St, Carrickfergus BT38 7AF, Northern Ireland
More info: HERE
2. Co. Armagh, Armagh Gaol – the jail where criminals stayed on after their death
BBC's Northern Ireland's Greatest Haunts featured this infamous prison, which has attracted ghost hunters ever since.
The Gaol dates to the 1780s and remained as a working jail up until 1986. Thousands of inmates were killed here, and, according to legend, many of them stayed even after their death.
Address: Gaol Square, Armagh BT60 1DH, Northern Ireland
3. Co. Carlow, Duckett's Grove – you might hear a banshee shrieking through the walls
The ruins of Duckett's Grove look pretty romantic. However, bear in mind that a banshee haunts the place! Guests have reported hearing shrieking through the walls, and there are stories of those encountering it suffering death and tragedy.
There's a tale of a woman dropping dead on-site, and a garden worker claims his mother died the morning after he had heard the ghost's shriek.
Address: Kneestown, Duckett's Grove, Co. Carlow, Ireland
More info: HERE
4. Co. Cavan, Cabra Castle Hotel – one of the scariest hotels around the globe
Named the "second scariest hotel in the world" by TripAdvisor in 2010, this hotel has turned into a pilgrimage site for travellers looking for a thrill. You can't miss this spot when you're looking for the most haunted places in Ireland.
The centre of attention is the so-called Hanging Tree. A servant girl called Sarah was hanged in the 18th-century after sleeping with the landlord's son and getting pregnant. You may still hear a baby's cries when visiting this spot.
Address: Carrickmacross Rd, Mullantra, Kingscourt, Co. Cavan, A82 EC64, Ireland
More info: HERE
5. Co. Clare, Leamaneh Castle – the home of a ghost lady that killed off her husbands
A ghost called Red Mary apparently haunts the ruins of this castle. The story goes that she had a thing for marrying young English soldiers and then killing each of them after a year and a day.
Their souls eventually joined forces, tied her up to a tree, and let her die of starvation. However, her ghost is said to still wander around the house.
Address: Leamaneh North, Co. Clare, Ireland
6. Co. Cork, Belvelly Castle – an old tower house haunted by a faceless lady
This Cork tower house is the home of several ghosts, the most prominent being Lady Margaret, who lived there in the 17th-century. She was so obsessed with her own beauty that she surrounded herself with mirrors.
However, when a man fell in love with her, and she didn't fancy him back, he starved her out. Margaret, also known as "The Faceless Lady", smashed her mirrors, lost her beauty, and was damned for eternal misery.
Address: Belvelly Castle, Belvelly, Co. Cork, Ireland
7. Co. Derry, Glenuilin – the burial ground of the world's first vampire
If you are interested in vampires, look no further! The first male bloodsucker, known as Abhartach, was buried right here in Northern Ireland upside down. He is thought to have inspired Bram Stoker's Dracula.
Even to date, locals are advised to avoid the area, especially after dark. Derry's top spot for the most haunted place in every county of Ireland.
Address: Slaghtaverty Lane, Coleraine, Co. Derry, Northern Ireland
8. Co. Donegal, Drumbeg Manor – locals frequently report ghost sightings here
While nobody really knows why Drumbeg Manor seems to be one of the spookiest places in Europe, locals keep reporting ghost sightings.
Besides the usual shadows and general creepy goings-on, a woman can be heard screaming frequently. Other visitors claim they saw a man in a white suit walking the halls.
Address: Cloverhill, Inver, Co. Donegal, Ireland
9. Co. Down, Grace Neill's Bar – a pub haunted by its former owner (but she is nice!)
This watering hole opened in 1611 and was originally called The Kings Arms. One of the oldest pubs in Ireland, it is famous for its landlady Grace Neill who ran it until she died at the age of 98 in 1918.
The legend says her spirit never left the place. Bar staff claim they've seen glasses moving around. They also report lights being switched on and off and others heard Grace's footsteps in the empty rooms upstairs.
Address: 33 High St, Donaghadee BT21 0AH, Northern Ireland
More info: HERE
10. Co. Dublin, The Hellfire Club – the site of sex, murders, and devil sightings
Founded by the first Grand Master of the Irish Freemasons, Richard Parsons, in 1735, this hunting lodge on Montpelier Hill in Dublin was the site of satanic practices and black magic.
Orgies, murders, feasts where black cats were roasted over open fires – you name it, this place has seen it all. The story goes that even the devil himself mingled here with his devotees. And, apparently, still shows up occasionally.
Address: Wicklow Mountains, Co. Dublin, Ireland
11. Co. Fermanagh, Cooneen Ghost House – where a whole family fled from a poltergeist
Widow Bridget Murphy and her six children fled their home in the early 20th-century to escape a poltergeist in this very house.
The family heard loud noises in the attic, banging on the walls, and even reported beds lifting off the floor and plates being thrown at them.
The Murphys eventually moved to America.
Address: Mullaghfad Road, Cornarooslan, Cooneen, Enniskillen, Co. Fermanagh, Ireland
12. Co. Galway, Renvyle House Hotel – guests report pillow fights with ghosts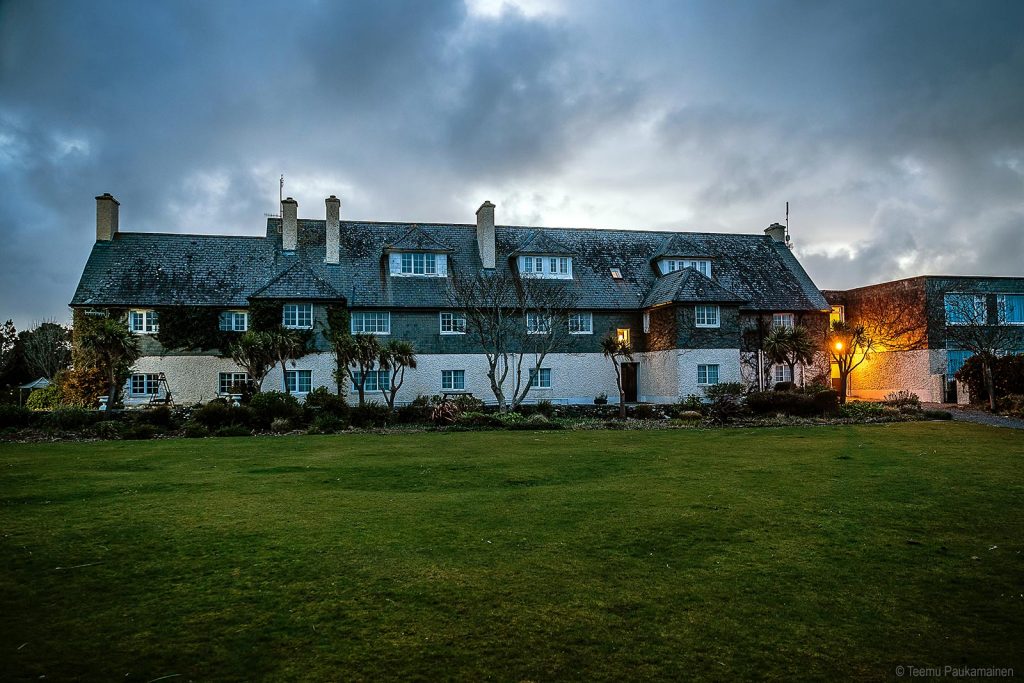 Overlooking the Atlantic Ocean, the three-star Renvyle House Hotel in Galway isn't for the faint-hearted. Rumour has it the historic country house is home to many ghosts and former deceased residents that refused to leave, even after its destruction by the IRA in the 1920s.
Current guests have reported feeling their presence and even fighting over pillows and sheets with ghosts.
Address: Renvyle, Connemara, Co. Galway, H91 X8Y8, Ireland
More info: HERE
13. Co. Kerry, Ross Castle – look out for shadows floating through the halls
Our list of the most haunted places in every county of Ireland wouldn't be complete without Ross Castle. The ancient landmark in Killarney National Park has recorded numerous ghost accounts.
Terrified visitors heard voices speaking to them in the middle of the night, saw doors slamming on their own, and mysterious shadows floating through the corridors.
Address: Ross Rd, Ross Island, Killarney, Co. Kerry, V93 V304, Ireland
More info: HERE
14. Co. Kildare, Kilkea Castle – it is haunted by a master of black magic
Now a luxury hotel and golf resort, Kilkea Castle was once the home to the 11th Earl of Kildare, who was interested in alchemy and practised one magic. One day, his tricks went wrong; he was turned into a bird, a cat pounced, and he vanished for good.
Every seven years, the so-called "Wizard of Earl" is said to revisit the caste on a silver-shod horse. This terrifying spot is one of the most haunted places in Ireland.
Address: Castle View, Kilkea Demesne, Castledermot, Co. Kildare, R14 XE97, Ireland
More info: HERE
15. Co. Kilkenny, John's Bridge – where the victims of a flood are still floating around
This bridge made history in 1763 when it collapsed over a flood, and 16 people died. More than 250 years later, people still claim to see ghostly figures rise above the water just after sunrise.
Address: Droichead Eoin, Co. Kilkenny
16. Co. Laois, Togher Woods – a pilgrimage site for ghost hunters
Togher Woods is a popular running and walking area during the day.
However, at night there seems to be some hocus pocus going on. There's a Facebook page called Haunted Laois dedicated to creepy sightings in the trees. We don't know where the ghosts come from and who they are, but we'd love to find out!
Address: Togher, Portlaoise, Co. Laois, Ireland
17. Co. Leitrim, Lough Rynn – a picture-perfect landscape with a spooky vibe
Surrounded by picture-perfect landscapes and overlooked by a luxury castle hotel, Lough Rynn would be a perfect vacation spot if only it weren't for the spooky stories.
Rumour says some paranormal things are going on in the area, so better be cautious just in case.
Address: Lough Ryann, Co. Leitrim, Ireland
18. Co. Limerick, St. Catherine's Abbey – not even nuns could get rid of the church's ghost
It seems not even churches are safe from ghosts as this abbey is reportedly haunted by a woman who was accidentally buried alive by her husband.
In medieval times, the nuns turned to the dark arts to get rid of her soul, but it didn't quite work out; visitors claim she still walks around the property.
Address: Old Abbey, Shanagolden, Co. Limerick, Ireland
19. Co. Longford, St. Matthew's Terrace – where a spooky figure occupies a family home
According to RTE, a family was forced to move out of their home in 1985 due to ghosts invading the space. They heard strange noises and asked for help at both the local church and the council but were turned down by both.
The Courtneys have lived in a caravan without electricity or running water ever since.
Address: 13 St. Matthew's Terrace, Ballymahon, Co. Longford, Ireland
20. Co. Louth, Taaffe's Castle – it is haunted by two heartbroken lovers
Home to the "Headless Ghost of Taafee's Castle", this place is supposed to be haunted by Nicholas Taafe, 2nd Earl of Carlingford, who was beheaded during the Battle of the Boyne in the 17th-century.
Before his death, he fell in love with a young servant who died of grief soon after him. She was never buried and, according to legend, still lives in the castle today, waiting for her lover to return.
Address: Newry St, Liberties of Carlingford, Carlingford, Co. Louth, Ireland
21. Co. Mayo, Moore Hall – come at night and risk being trapped inside forever
Located in a beautiful park in Carnacon, Moore Hall is popular with locals and tourists during the day. However, at night it's a different story.
There are tales about people that ventured inside and were trapped as the doors slammed behind them.
Others have spoken of dead children whose giggles can be heard after sunset. Thus, Moore Hall, which is one of the best hidden gems in County Mayo, is a must-include in our list of the most haunted places in every county of Ireland. 
Address: Muckloon, Co. Mayo, Ireland
22. Co. Meath, Ross Castle – where a ghost lady mourns her lover's death
A popular hotel among lovebirds, Ross Castle is also the site of a tragic love story, making it one of the most haunted places in Ireland.
Visitors have seen (and heard) the ghost of a woman who locked herself up in a castle room for eternity, heartbroken over her lover's death in a storm.
Address: Ross Castle, Ross, Co. Meath, A82 HF89, Ireland
More info: HERE
23. Co. Monaghan, Castle Leslie – meet the soul of a guy who died over 100 years ago
This five-star hotel is haunted by Norman Leslie, who died at the battlefields of France in 1914, only to be spotted again by his wife a few weeks later. Lady Marjorie Leslie described him as appearing in a cloud of light, reading through letters.
When asked what he was doing, he just smiled at her and faded away.
Address: Castle Leslie Estate, Glaslough, Co. Monaghan, Ireland
More info: HERE
24. Co. Offaly, Leap Castle – look out for the Red Lady with a razor-sharp blade
Leap Castle has experienced bloodshed and countless deaths over its 800-year-old history. Thus, it is considered the most haunted castle in Ireland. It has even been featured on Scariest Places on Earth and Most Haunted, among other shows.
The most famous ghost is The Red Lady, a tall spectre wandering the corridors in a gown, clinging to a sharp blade.
According to legend, she was imprisoned and raped at the castle. When she fell pregnant, her captors murdered her baby, causing the desperate mother to slash her wrists.
Address: R421, Leap, Roscrea, Co. Offaly, Ireland
25. Co. Roscommon, King House – the devil was spotted here escaping through the roof
While this beautiful Georgian mansion looks dreamy from the outside, it's rather the opposite, according to legends. Apparently, the devil himself was spotted here escaping through a hole in the roof.
While it was a one-time encounter, we were warned to stay away just in case.
Address: Military Rd, Knocknashee, Roscommon, Ireland
26. Co. Sligo, Seafield House – the home of not one but several poltergeists
Built as a relaxing hideaway in the 18th-century, this estate soon turned into a nightmare house. It is reportedly the home of several poltergeists. People sleeping in the house complained about chills in the air, strange noises, and heavy shakings.
A gardener quit his job after spotting a dark figure leaving the house and running into the ocean at night.
Address: Luffertan, Co. Sligo, Ireland
27. Co. Tipperary, McCarthy's Pub – where ghosts mingle with the locals over a pint
Paranormal scientists, ghost hunters, and TV crews have visited this old-fashioned pub in Fethard as there's supposedly a poltergeist and a banshee.
Sounds spooky? It kind of is, but they won't hurt you. They just love to mingle with the local drinking folks.
Fancy chatting to a ghost over a pint? Look no further!
Address: 17 Main St, Spitalfield, Fethard, Co. Tipperary, E91 HP86, Ireland
28. Co. Tyrone, Mullaghmoyle Road – the home of a mysterious lady in white
There are about a million reasons why we should protect our trees but cutting down the so-called Fairy Tree near Mullaghmoyle Road jinxed it.
Dozens of locals reported seeing a mysterious lady in white the days following, with some of them believing it was a ghost that had lived in the tree.
Address: Mullaghmoyle Road, Co. Tyrone, Northern Ireland
29. Co. Waterford, City Centre – watch out for a spooky figure brushing her hair
Keep your eyes peeled when wandering through Waterford's city centre at night. Residents have observed a banshee sitting on walls around the city centre, wailing whilst brushing her hair.
Her cries are said to upset nearby dogs.
Address: Waterford, Co. Waterford, Ireland
30. Co. Westmeath, Kilbeggan Distillery – the previous owner stayed on after being executed
Named one of the Most Haunted Distilleries in the World, this place is a real highlight on our list of the most haunted places in every county of Ireland.
Several people have seen a robed figure walking through the site at night. The ghost is believed to be a previous owner who was executed there along with his son in 1798 for breaking curfew and being alleged members of the United Irishmen.
Even the crew of Most Haunted admitted they felt "engulfed" by their spirits. Definitely up there with the most haunted place in every county of Ireland.
Address: Lower Main St, Aghamore, Kilbeggan, Co. Westmeath, Ireland
More info: HERE
31. Co. Wexford, Loftus Hall – where you can play a round of cards with the devil
No less than the devil himself was spotted at Loftus Hall playing a round of cards (because what else would he do?). The story goes that the lord of the hall, Sir Charles Tottenham, played with a group of friends when a stranger knocked on the door and asked to join.
When a lady saw his cloven, he fled through the ceiling, leaving a hole that can still be seen today.
Address: Hook Head, New Ross, Co. Wexford, Ireland
More info: HERE
32. Co. Wicklow, Wicklow Gaol – a tourist attraction featuring imprisoned ghosts
This prison in Wicklow housed some of Ireland's most infamous criminals in the 18th-and 19th-centuries. While it's a popular museum today, some of its former inmates seem to be unwilling to leave their cells.
Staffers and visitors have reported ghosts whispering to or pushing them. There's also rumours about a little girl poking people in the thigh and pulling their clothes.
This is definitely one of the most haunted places in Ireland.
Address: 1 Kilmantin Hill, Corporation Lands, Wicklow, A67 FA49, Ireland
More info: HERE