Wondering how to spend 72 hours in the Irish capital? Here we suggest the ultimate three-day Dublin itinerary for your visit to the city.
Any trip to Ireland would not be complete without a couple of days spent in Dublin. As the capital of Ireland, you are spoilt for choice when it comes to things to see and do in Dublin. With a population of over 1.2 million, the city is always a hive of activity.
Dublin welcomes over 11 million tourists every year, and it is no wonder as Dublin is a haven for culture enthusiasts, adventure seekers, world-class experiences and incredible eateries! There is something for absolutely everyone in Dublin.
So, whether your trip to Dublin is part of a longer excursion in the Emerald Isle or if you just have a few days in Ireland's capital, we suggest you make the most of your visit with our ultimate three-day itinerary!
We suggest getting yourself a Leap Visitor Card which is a public transport card that allows you unlimited travel over your selected period. This allows for hassle-free travel as you just have touch on and off transport providers.
DAY 1
Morning – kicking off your Dublin itinerary
The best way to start your ultimate 3 days in Dublin is with a good hearty breakfast, so you are fuelled for the rest of the day!
Start your trip off right with a stop at Brother Hubbard North for some of the yummiest breakfasts in all of Dublin. They serve mouth-watering coffees as well as having vegan and vegetarian options.
Address: 153 Capel St, North City, Dublin, D01 V9V0, Ireland
Once fed you are all set to ready go out and have an amazing day in the capital of the Emerald Isle! Take a short ten-minute stroll around Nelson's Pillar in Dublin and the Spire on your way to the historic GPO Museum to immerse yourself in Easter Week 1916.
Here, the history of Ireland is brought to life through state-of-the-art displays where you can learn about those who played crucial roles in the Easter Rising, as the stories of those affected are brought to the forefront.
Afternoon – peruse Dublin's most prestigious University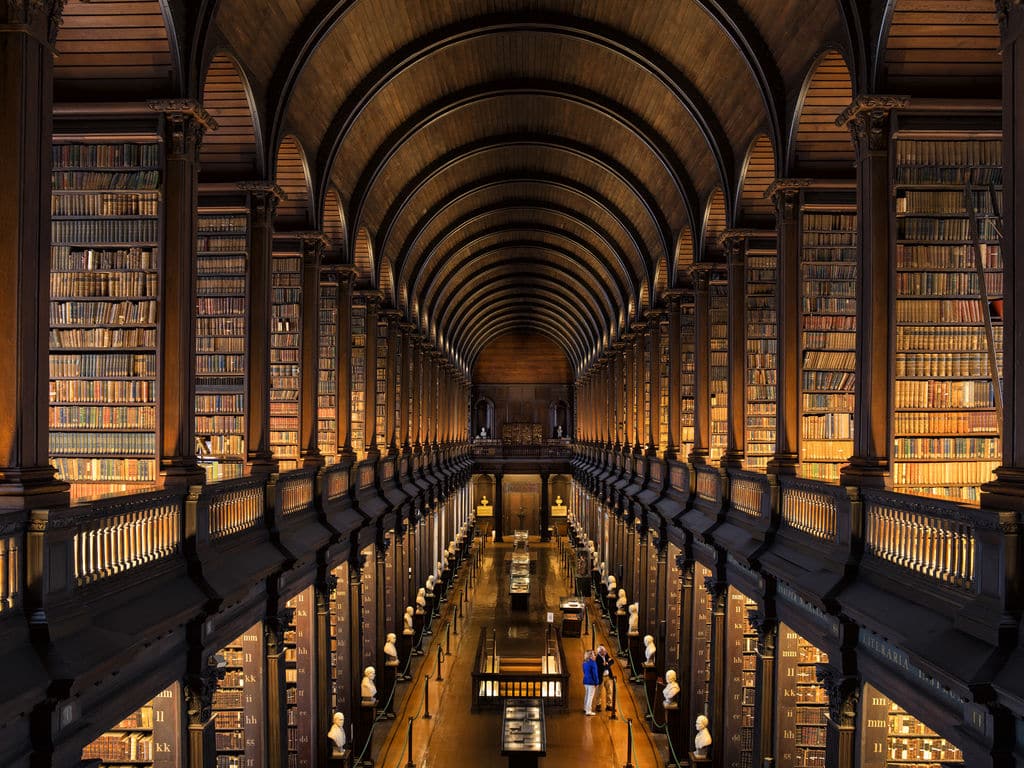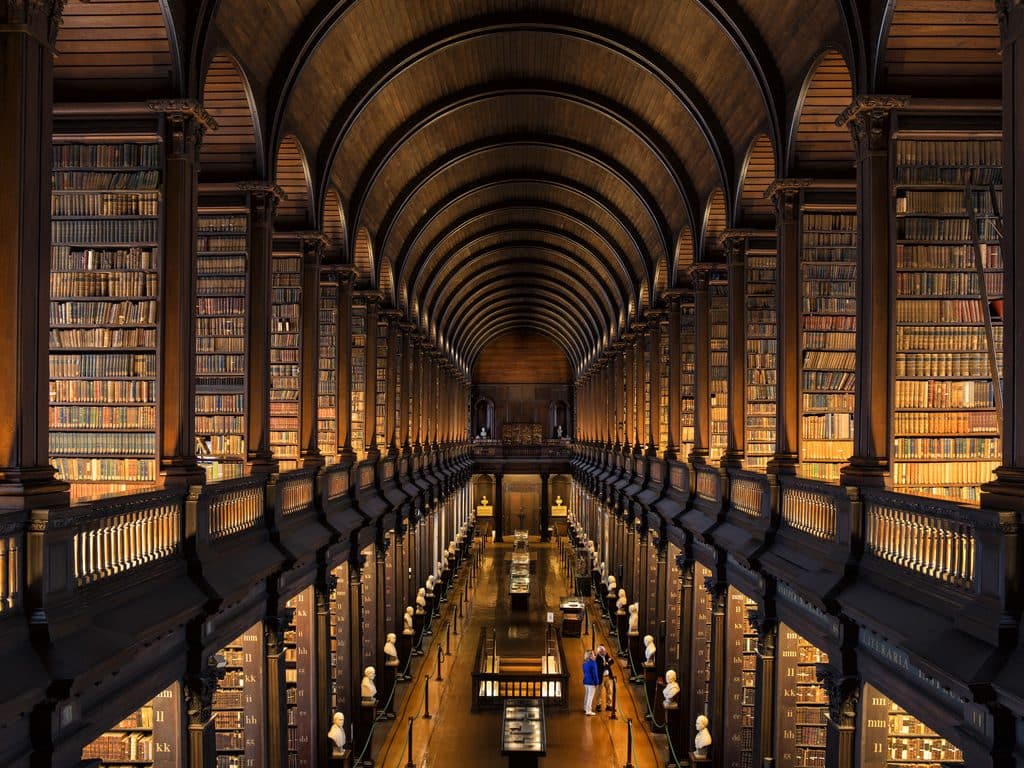 No trip to Dublin would be complete without a wander down Dublin's most infamous street: Grafton Street. As one of the busiest pedestrianised streets in Europe, Grafton Street is always alive with activity. From buskers and street performers to street vendors, there is so much happening on this street!
At the bottom of Grafton Street is the entrance to Trinity College, which is home to the most beautiful library in Ireland. The Long Room in the Old Library is not to be missed when visiting Dublin, it is like something out of a Harry Potter movie. Home to over 200,000 of the Library's oldest books, this is definitely one for the bucket list!
While in Trinity be sure to stop by the Book of Kells, a lavishly decorated manuscript which is also stored in the Old Library. Make sure to book in advance, as this is one of Dublin's top tourist attractions!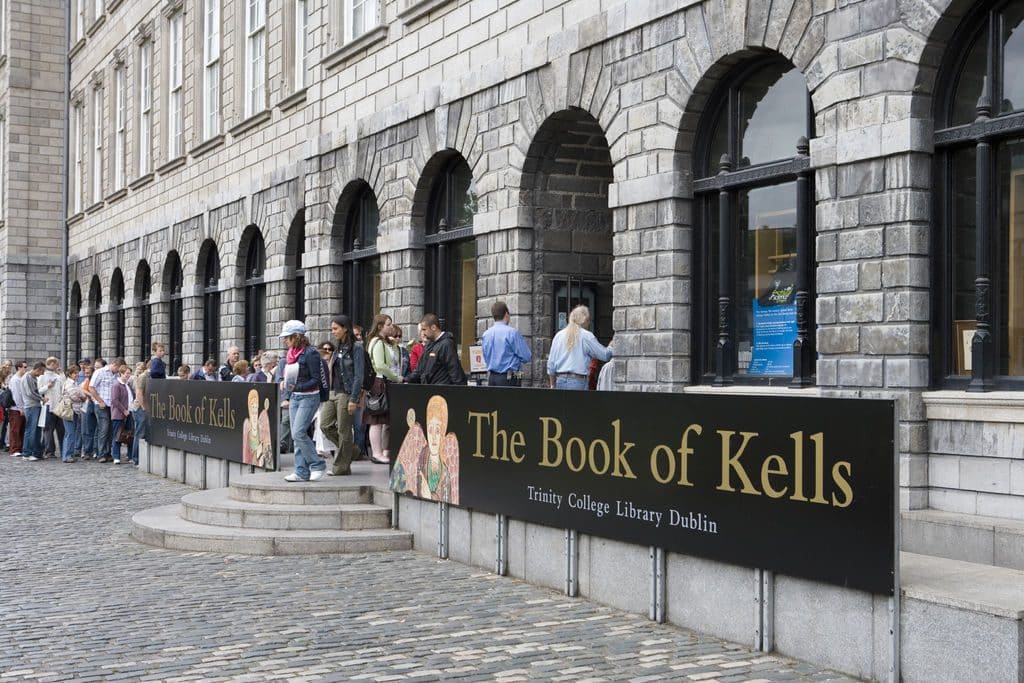 Address: College Green, Dublin 2, Ireland
After all this history you are bound to be feeling a little bit hungry. From Trinity College take a short stroll to Café en Seine to get a spot of lunch. This iconic bar and restaurant has sandwiches galore, and an extensive drinks list in case that tickles your fancy!
Address: 40 Dawson St, Dublin, Ireland
Evening – time well-spent in the capital's most popular nightlife area
Now that you are refuelled, it is time to head over to Temple Bar. Although it is often perceived as a cliché, no trip to Dublin would be complete without a wander through the streets of Temple Bar. With its cobblestone pedestrianised streets, and live music there is always craic to be had here!
Keep your eyes peeled for iconic Wall of Fame in which there are tributes to some of Ireland's biggest names in the music industry. Or wander through Temple Bar's very own "Love Lane" which joins Essex Street to the back of the Olympia Theatre on Dame Street.
If you have time for one more stop, visit the Gallery of Photography Ireland. Showcasing the work of leading names in Irish and international contemporary photography. Discover Dublin through the eyes of a photographer and their camera and gain a new appreciation for Dublin and the arts.
There are so many eateries in Temple Bar to grab a bite to eat in the evening. Head to Fitzgerald's Bar for some staple Irish food accompanied by traditional Irish music or head to Sano Pizza for some delicious Neapolitan pizza.
Address: 22 Aston Quay, Temple Bar, Dublin 2, D02 FH28, Ireland (Fitzgerald's Bar)
Address: 1-2 Exchange Street Upper, Temple Bar, Dublin 8, D08 XW7D, Ireland (Sano Pizza)
If you aren't exhausted, we suggest you stay in the Temple Bar area while enjoying the entertainment, culture, and creamy pints that are on offer here until the small hours of the morning! After a jam-packed day, you will need a place to rest your head. Here are some suggestions:
Address: The Westbury Hotel, Balfe St, Dublin 2, D02 CH66, Ireland (High Range Price)
More info: HERE
Address: The Morgan Hotel, 10 Fleet St, Temple Bar, Dublin, D02 AT86, Ireland (Medium Range Price)
More info: HERE
Address: Dublin Citi Hotel, 46-49 Dame St, Temple Bar, Dublin 2, D02 X466, Ireland (Low Range Price)
More info: HERE
DAY 2
Morning – to the seaside resort of Dun Laoghaire you go
Hopefully, your head isn't too sore this morning as you have a day full of adventures ahead of you! First, be sure to grab some breakfast.
It is more than likely that you will have this in your hotel, however, if you would prefer to eat out, we recommend Sophie's. Not only is the food delicious, but you can also enjoy breathtaking views of Dublin from here.
Address: 33 Harcourt St, Saint Peter's, Dublin 2, Ireland
After breakfast, this first stop on day two of your ultimate 3-day Dublin itinerary is the seaside town of Dun Laoghaire. To get here, head to your nearest Dart station and take the train southbound in the direction of Greystones or Bray.
Once you have arrived in Dun Laoghaire, we suggest taking a stroll down the pier in Dun Laoghaire harbour. There are two piers: West Pier is 3.1km (1.93 miles) and East Pier is 2.7km (1.7 miles) in length. Both offer scenic views of Dublin bay which is a haven for watersport enthusiasts!
Address: Dún Laoghaire, Co. Dun Laoghaire-Rathdown, Ireland
Afternoon – mixing history, heritage and harbour together
Home to Dublin's best known and loved ice-cream stores, Teddy's, no trip to Dun Laoghaire would be complete without one of their infamous 99s. After getting your dairy fix head over the National Maritime Museum to go on a voyage of discovery, heroism, war and disasters at sea.
Afterwards, head towards the Forty Foot by walking along the seafront. The forty-foot is one of Ireland's most famous swimming spots. It is famous for its excellent bathing conditions, and it is frequented by swimmers every day of the year. If you are brave enough, we suggest you go for a quick dip here!
If the often-cold waters of the Irish Sea can't seem to entice you while you are at the Forty Foot why not head to James Joyce Tower & Museum. This is where the famous Irish novelist, James Joyce, stayed for a short while and it is where the opening scene of his novel, Ulysses, took place.
After an activity-filled morning and afternoon, it is time for some food! Head over to the Fish Shack to grab some delicious fish. Get this for takeaway and enjoy it while sitting on Sandycove Beach!
Address: 1 Martello Terrace, Sandycove, Dublin, A96 XY75, Ireland
Evening – take in the wonders of Dalkey
Enjoy a relaxing kayak with Kayaking.ie, located just a short stroll from Sandycove Beach. With tours lasting three hours in length, you are bound to see Dublin from an angle not many people get to see. You may even get to interact with some of the friendly seals that frequent the area!
More info: HERE
Have a wander into the village of Dalkey where there are eateries to suit all tastes! Relax and unwind with some food and wine at 1909 before getting the Dart back to your hotel in the city.
Address: 31 Castle St, Dalkey, Co. Dublin, A96 D584, Ireland
DAY 3
Morning – touring Ireland's most famous prison
Be sure to grab some breakfast before setting out on your final day on your ultimate 3-day Dublin itinerary. If you are looking for some of our favourite places for breakfast check out our 5 incredible breakfast and brunch spots in Dublin article for some ideas.
After breakfast hop on the Luas red line to Heuston and from here take a short 10-minute walk to Kilmainham Gaol. Embark on a tour of the Gaol as you learn about its history through the art of storytelling. You will learn about some of the prison's most notorious political prisoners as well as the crucial role the gaol played in Ireland's history.
Address: Inchicore Rd, Kilmainham, Dublin 8, D08 RK28, Ireland
More info: HERE
Afternoon – lose yourself in Europe's largest city park
From here head to Phoenix Park where you can either rent a bike or walk about as you explore the magnificent greenery. This massive 1,752-acre park is the largest walled city park in all of Europe.
Keep your eyes peeled for a herd of wild fallow dear that roam about freely. Admire Áras an Uachtaráin (the President's residence) along with the Wellington Monument as you explore this beautiful park.
Address: Northside, Dublin 8, Ireland
After some time spent wandering about Phoenix Park you will have worked up an appetite, head to Nancy Hands for the ultimate feed! From beef and Guinness pies to coddle you will leave feeling full and satisfied.
Address: 30-32 Parkgate St, Stoneybatter, Dublin 8, D08 W6X3, Ireland
Evening – the final leg of your Dublin itinerary
No trip to Dublin would be complete without a trip to the Guinness Storehouse. With a variety of tours on offer, there is a tour for everyone.
Learn about the history of the infamous "black stuff" and discover the brewing process. In the end, you get the opportunity to try your hand at pouring the perfect pint which you then get to enjoy while admiring the views of Dublin from the Gravity Bar.
Address: The Liberties, Dublin 8, Ireland
More info: HERE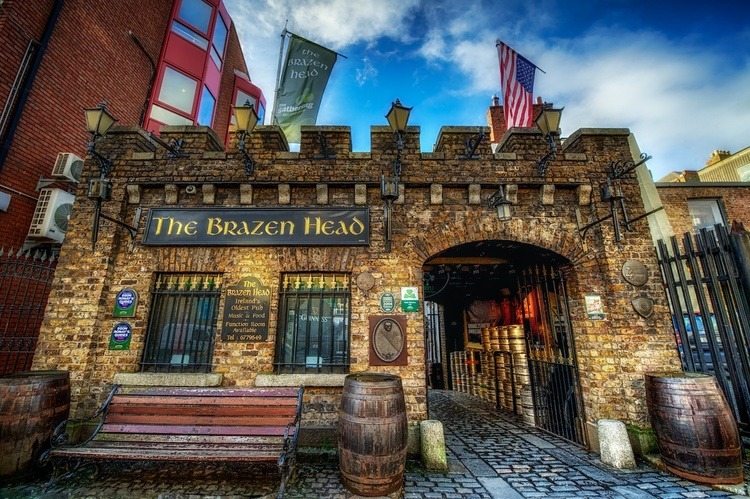 For dinner, take a ten-minute walk to the Brazen Head, Ireland's oldest pub. Dating back to 1198, this traditional Irish pub oozes atmosphere and history. With countless options for dinner, this is the best way to end your ultimate 3-day Dublin itinerary.
Address: 20 Lower Bridge St, Usher's Quay, Dublin, D08 WC64, Ireland