Greystones is a popular destination for travellers and locals year-round. Keen to make the most of a day in this charming coastal town? Here's our ultimate guide to spending 24 hours in Greystones.
Located in County Wicklow, not far from the electric energy of Dublin City, is Greystones, one of the best places to live in Ireland – a laid-back coastal town with tonnes to see and do.
Favoured by natives and out-of-towners in equal measure, Greystones is a treasure trove of artisanal shops, independent eateries, and traditional pubs.
Once a small and sleepy fishing village, today, Greystones is a hive of activity and adventure just waiting to be explored. Read on to find out how to make the most of 24 hours in Greystones.
Morning – check out Greystones' most famous cafe
Start your morning out right with food from The Happy Pear. The cafe – which has somewhat of a cult following – is spearheaded by two Irish brothers on a mission to make clean, vegan food fun. And that they do.
Expect poetry on a plate and food to make you wonder why people make such a fuss about meat and dairy.
Once you're loaded up with energy and positive vibes, now's time to get to it and make the most of your 24 hours in Greystones.
Enjoy a scenic stroll on Greystones Beach. Even if the day doesn't happen to be particularly sunny, you can live like a local and enjoy a wild swim at The Cove.
With steps leading into the ocean, it's a welcoming scene – perhaps don a wetsuit if you're visiting during the colder months. Afterwards, warm up with a cup of coffee at The Fat Fox.
This cafe-cum-lifestyle store is perfect if you want to rub shoulders with the locals and perhaps pick up an authentic piece of Irish design rather than a cheesy souvenir from your travels.
Afternoon – explore the great outdoors
In the afternoon, make the most of the epic outdoor opportunities that surround Greystones.
Nature trails, hikes, and heritage sites are all but a stone's throw from this vibrant town, so if you are travelling by car, get out of the centre and don those walking shoes. We suggest Glen of the Downs Nature Trail or Kindlestown Woods.
For those who are spending 24 hours in Greystones on foot, don't fret – there's just as much on offer for you in this wee coastal village. A stunning cliff walk travels the coastline, connecting with the neighbouring village of Bray.
Tackle this trail early in the afternoon, and you can expect a 2.5-3.5 hour excursion at 17.4 km (10.8 miles) out and back.
Or, if you want to work it one way, that's not an issue: on arriving in Bray, simply hop on the DART (train), and it will have you back to Greystones in mere minutes.
If time allows, save an hour or two for wandering the streets of Greystones.
Here, you can dip your head in and out of the little shops which line the streets. There's much to explore, and if you're keen to invest in one of a kind pieces – be it fashion, footwear, or gifts – you'll find it here.
Evening – make the most of Irish hospitality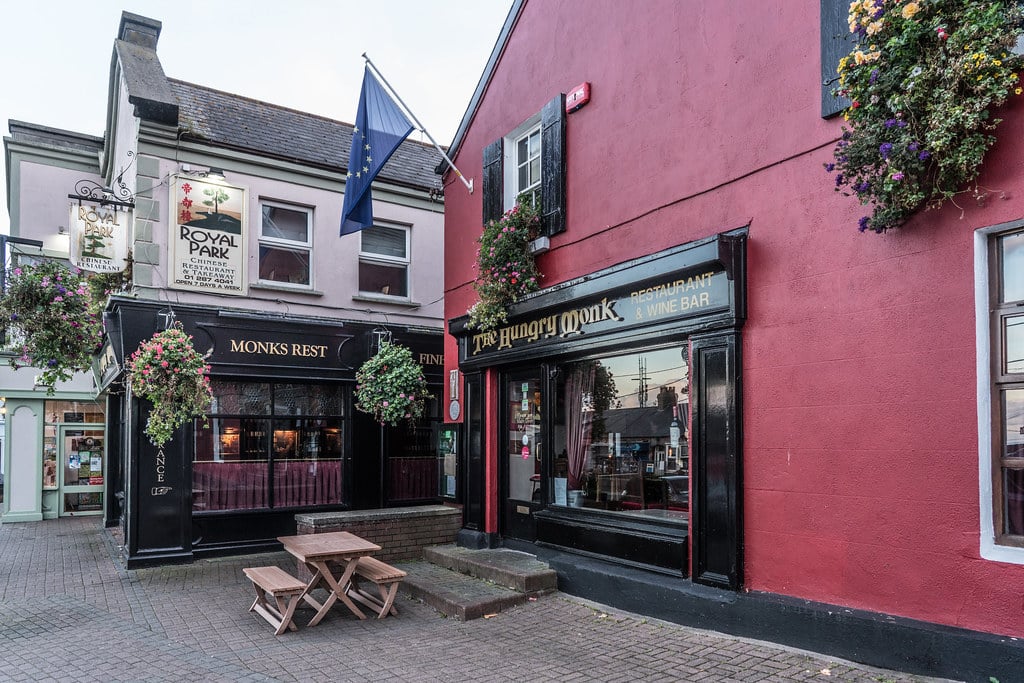 The evening calls for some good ol' Irish hospitality, and luckily this is where Greystones really shines. Whether you're after a laid-back local restaurant or a lively pub, there's much to choose from.
If you prefer a low-key dining experience, check out The Hungry Monk – one of the best places for hearty grub and a warm welcome. Afterwards, head on over to Mrs Robinsons, an unassuming pub with eclectic interiors and a great ambience.
When the night comes to a close, you have a couple of accommodation options depending on your preference.
If you enjoy the homeliness of a B&B, Slieve More is the place to be. Overlooking the harbour, this is the ideal place to crash into bed after a long day of adventure in Greystones.
For those who lean towards a more traditional hotel environment, check out the nearby four-star Glenview Hotel and Leisure Club in Glen of the Downs.
Complete with a pool, spa treatments, and fitness centre, this is the cherry on the cake when you're spending 24 hours in Greystones.