Belfast is an up and coming, modern and metropolitan city, with a long history behind it and a bright future ahead of it.
Thankfully, the city is small and its key landmarks are very accessible. In 24 hours, you can do a lot in Belfast.
Walk and talk your way through the 24 hours as you explore, shop, eat and drink your day and night away in this great city.
Morning
Breakfast on the Lisburn Road
Start your day off right with a good feed on the Lisburn Road, a long strip in South Belfast punctuated by a number of retail stores and cafes.
Breakfast is served just how you want in the likes of Cafe Mauds or French Village, bustling and popular cafes with stunning breakfast menus to set you up.
Address: 555 Lisburn Rd, Belfast BT9 7GQ (Cafe Mauds)
Address: 343b Lisburn Rd, Belfast BT9 7EP (French Village)
Walk the Belfast Hills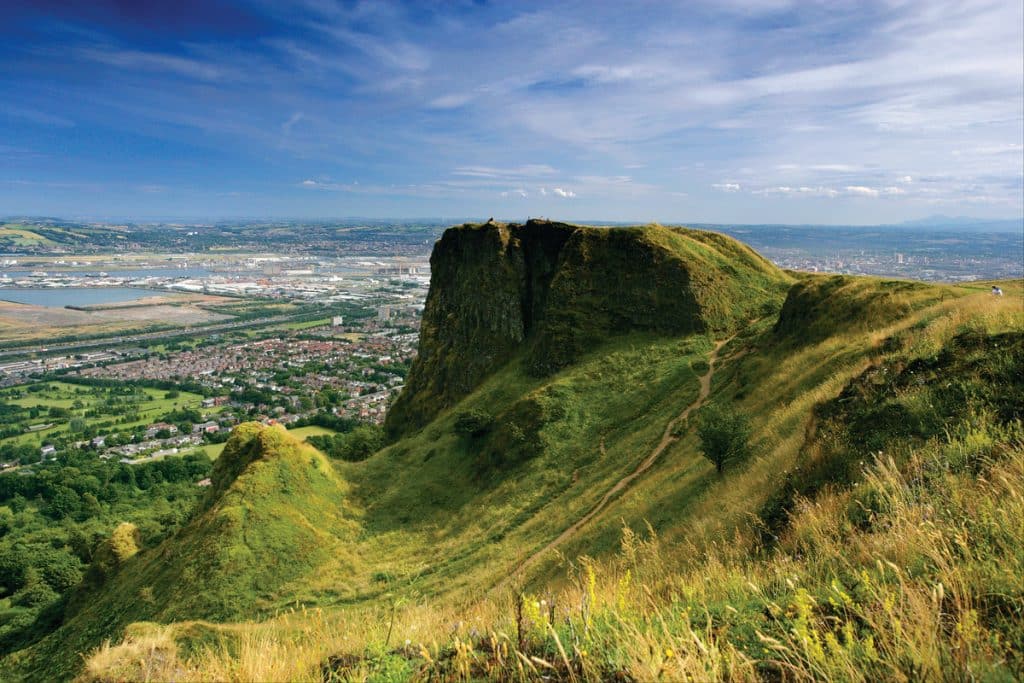 Start your day off bright and early and tour the Belfast Hills. You have two options – you can either go to the North of the city and brave Cave Hill, or to the West of the City and wonder the Black Mountain.
Both are great walks. The winding road of the Black Mountain and the overarching forest of Cave Hill make for a picturesque and adventurous walk.
Whet your appetite for the day ahead with the panoramic views of the city in its entirety from the top of the Belfast Hills.
Address: Divis Rd, Belfast BT17 0NG (Black Mountain)
Address: Antrim Rd, Belfast BT15 5GR (Cave Hill)
Lunch at a local cafe in the city centre
Belfast is a city filled with excellent cafes that will set you up for the day ahead. My advice would be to go into the city centre and take your pick.
Maggie Mays on Castle Street is a great choice with the best milkshakes in the centre. Justice is served at Cafe Carberry facing the courts, while The Grapevine is a local gem nestled away in Pottingers Entry, directly next to Victoria Shopping Centre.
Address: 44 Castle St, Belfast BT1 1HB (Maggie Mays)
Address: 153-155 Victoria St, Belfast BT1 4PE (Cafe Carberry)
Address: 5 Pottingers Entry, Belfast BT1 4DT (The Grapevine)
Afternoon
Do a guided tour
You can't visit Belfast without learning about the city's history, which is long, tumultuous and divided. The best way to do that is to do one of the many guided tours on offer.
Take the Hop on Hop off Bus around the city, or for a more intimate explanation of the city's divide, take a Black Taxi tour which covers both the Falls and Shankill Road.
Titanic Quarter is a must see for Belfast's maritime history and the incredible story of the 'unsinkable' Titanic ship, while admiring the domineering Samson and Goliath cranes that built it.
Address: 53 Crumlin Rd, Belfast BT14 6ST
Shop in the city centre
Before you head into the night, make sure you spend your hard earned wages in Belfast City Centre. You will be spoiled for choice as the city centre has become a hub for shopping with something for everyone.
Castle Court and Victoria Square are stacked with all the big retail names and brands, and break up your time by visiting the Dome in Victoria Square for a panoramic view of the city centre.
Alternatively, walk along Belfast's main street, Royal Avenue, and spend a bit of time in Next, Boots, Waterstones or DW Sports, all the while admiring the stunning architecture of the City Hall.
Address: Royal Ave, Belfast BT1 1DD (Castle Court)
Address: 1 Victoria Square, Belfast BT1 4QG (Victoria Square)
Evening
Dinner at Stix and Stones
After a busy day of walking, touring and shopping you will be calling for food and you are spoilt for choice in Belfast city centre, a haven for restaurants of all kinds.
The best of the lot is Stix and Stones, located on Upper Queen Street in the heart of the centre. There is but one certainty in life and that is that Stix and Stones make the best steaks in Belfast – have a taste and you'll see why!
Address: 44-46 Upper Queen St, Belfast BT1 6FD
Finish your 24 Hours in Belfast with a drink in the Cathedral Quarter
There's no better way to end your 24-hours in Belfast with a drink, and there's no better spot to do that than the Cathedral Quarter. Only a nine-minute walk from Stix and Stones, it is a bustling hub of Belfast's finest bars.
Don't stay in the one place; jump from one bar to the next as you reminisce about the day you spent in the city. Choose from either the Thirsty Goat, the Harp Bar, Dirty Onion or the Spaniard, or more, and you are guaranteed a night to remember.
Address: 35 Hill St, Belfast BT1 2LB
From food to drink, from walking to shopping, Belfast is an incredible city that has it all. At the end of your 24-hour stay in this great city there is no doubt you will leave with fond memories and itching for a return to Ireland's second city.