Being an Island, we are lucky to be able to produce some of the best seafood in the world. Here are the 23 best places in Ireland to have fish and chips.
There's nothing like going to a local beach town, sitting on a park bench that's facing out to the sea and listening to the waves, while enjoying a delicious fish and chips from the local chipper. You might be wondering, what are the best places in Ireland to have fish and chips?
All Irish people have stepped foot in a chipper at some point, whether it's to collect dinner for the family or to grab something tasty after a night out. Still, one thing is for sure, we are absolute suckers for a decent fish and chips, and the majority of these meals are often found in a traditional chipper.
It goes without saying that some of the best fish and chips come from our coastal chippers, considering they have first dibs on the freshest catch each day. At Ireland Before You Die, we also love our fish and chips, so we have gone and found the top 23 best places in Ireland for you to have fish and chips. So next time you're close to one of these spots, make sure you're hungry!
23. Danolla's, Westport, Co. Galway
Excellent quality seafood in the city.
22. Sharkey's, Rosslare, Co. Waterford
Yummy fish and chips in Rosslare since 1971.
21. Luigi's, Longford Town, Co. Longford
It is known as a local and national treasure.
20. Brown's Fish & Chips, Belfast City
Award winner in west Belfast.
19. Quinlan's Fresh Fish and Seafood Bar, Tralee, Co. Kerry
A must-visit place in Tralee. Check out our review here.
18. Spence's, Belfast City
Wrapped in a newspaper the old-fashioned way.
17. The Merchant Fish and Chip shop, Ballymena
Fantastic fish and chips and great value for money.
16. Luigi's Traditional Fish and Chips, Limerick
Fish and chips to die for in Limerick.
15. The Fish Market, Blanchardstown, Co. Dublin
Mouthwatering, high-quality fish and chips in Dublin.
14. Jackie Lennox, The Lough, Co. Cork
Great traditional chipper in the heart of Cork City.
13. The Saltee Chipper, Kilmore Quay, Co. Wexford
Famous in the southeast of the country.
12. Superfry, Banbridge, Co. Down
Highly-regarded take away in Banbridge.
11. Wharton's Traditional Fish & Chips, Kenmare, Co. Kerry
Fish and chips along the Ring of Kerry.
10. Hooked, Galway City, Co. Galway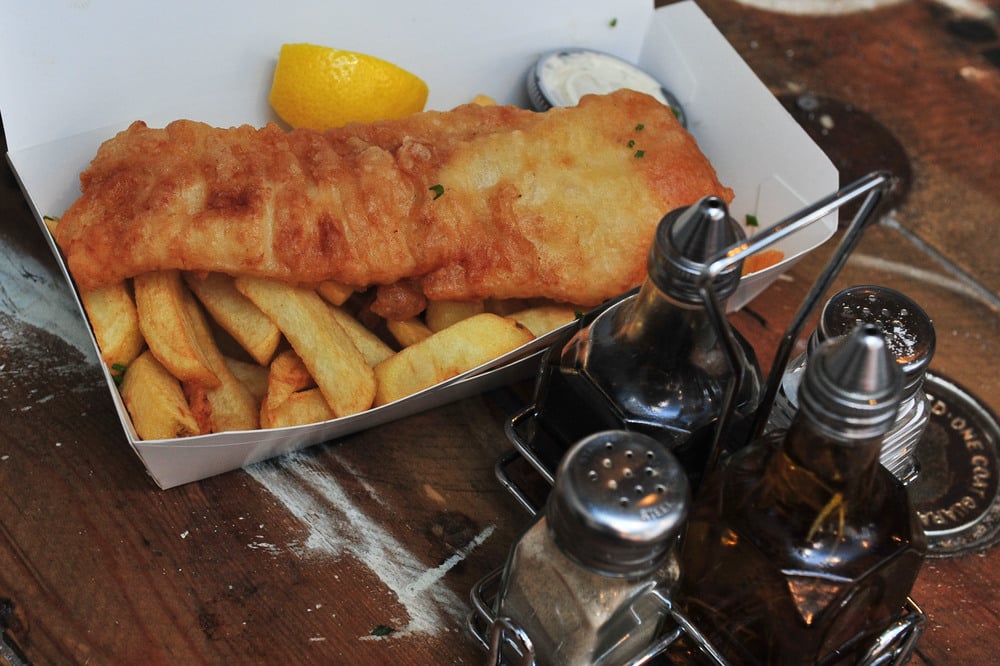 The reel deal for fish and chips in Galway.
9. Morton's Fish & Chips, Ballycastle, Co. Antrim
Big portions at low prices.
8. Baskin's Take Away, Ballymagowan, Co. Donegal
Fresh fish and chips in the north-west.
7. Donkey Ford's, Limerick City, Co. Limerick
Cooked and served old-style.
6. Reel Dingle Fish, Dingle, Co. Kerry
Locally-caught fish from the Dingle peninsula.
5. Dingle Ahoy! Dingle, Co. Kerry
Delicious fish fresh from Dingle Bay.
4. Vintage Fish & Chip Co., Lisburn
Fish and chips freshly cooked to order.
3. Leo Burdock, Christchurch, Co. Dublin
Cooking fish and chips since 1913.
2. Fish City, Belfast City
Award winners known for their delicious fish & chips.
1. Beshoff Bros., Howth, Co. Dublin
Fish & Chips described as 'imperial perfection.'
So there you have it, 23 reasons to love fish and chips. We think you could even make an Irish road trip out of this selection and just eat fish and chips for every meal along the way. Let's call it research! We already knew Ireland was famous for its seafood but now we have 23 of the best places for fish and chips in Ireland, for you to try for yourself.
Whether it's cos, hake, or scampi you're after, rest assured there is a 'plaice' for you to check out on the Emerald Isle. Many of our famous fish and chip shops in Ireland pride themselves on serving the freshest of fish, so make sure you've got a good appetite before you set out on your quest for a fish and chip dinner.
Not only do many of our choices have delicious food, but many of them have sensational views to drool over when you've finished drooling over you're yummy newspaper dinner. Wherever you decide to go, you can't really go wrong, but be sure to try one of the spots on our top 23 best places in Ireland to have fish and chips before you die list.
Bon Appétit, or as we say in Ireland, 'Béile maith agat'.