Ireland is an electric country. It is home to endless beauty and wildlife, a dynamic cultural and music scene, great people, schooling system, nightlife and jobs industry, too. These are just a handful of the reasons why many choose to live in Ireland. The list just goes on.
Considering a move? If there's any doubt in the back of your mind, let us help you out with the 20 reasons you should move to Ireland right now!
20. The Surf Scene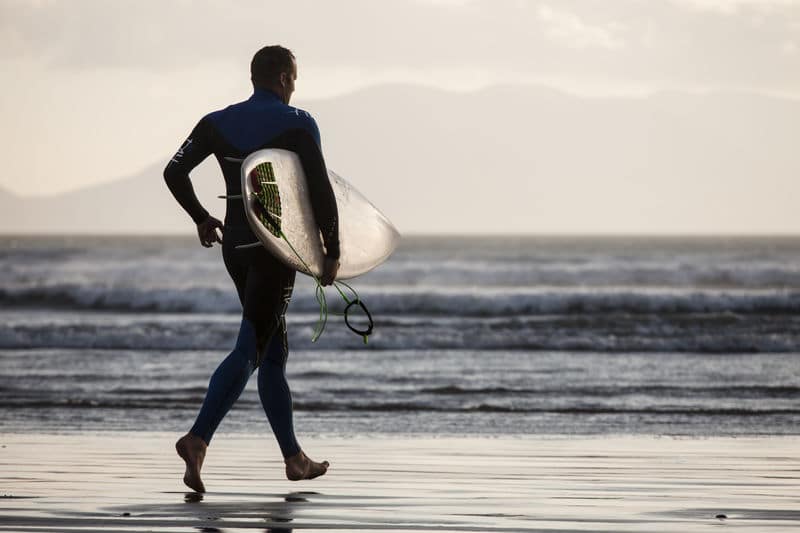 Some of the best surfing in Europe, if not the world, swells on Irish shores. As heavy waves smash the west coast of Ireland, blowing in from the Atlantic Ocean, surfers from across the globe arrive on the Emerald Isle to get their slice of the Irish surf scene.
19. The Guinness
This is reason alone to move to live in Ireland.
18. The Music
Music is an inherent part of Irish culture. It is woven into the fabric of the Irish nation and is a catalyst for community spirit and camaraderie.
17. The Weather could be Worse (although we rarely admit it!)
Although it is seldom admitted: the weather in Ireland could be worse. We never get particularly hot summers (bar 2018 which broke records), and we never get freezing, snow-filled winters (again, 2018 aside), the weather is always somewhere in the middle. Wet, windy, dull and cool would be a solid summary of Irish weather, and in all fairness, it could be worse.
16. Ireland has become a Business Hub
With one of the lowest corporate tax rates in the world, Ireland (particularly Dublin) is seen as an "attractive" location for top businesses to set up shop. Major organisations such as Google, PayPal, Facebook, LinkedIn, Microsoft and Accenture have offices in Dublin, today. So could choosing to live in Ireland benefit your career?
15. Becoming More Multicultural
As a direct result of #16, Ireland is becoming more and more multicultural. And, as a result, schooling is becoming more broad and diverse in a country that no longer has the Catholic Church at the top of the schooling totem pole.
14. Small in Size (meaning weekend trips are possible!)

Ireland's small size offers its residents' awesome opportunities for weekend trips and day adventures by the dozen. Infrastructures linking major cities mean super-efficient routes from A to B are on the go, whilst country escapes exist in abundance.
13. The Festival Scene
Ireland's festival scene is top notch! From Spring through Autumn the social calendar is alight with world-class music, arts, food and family festival experiences worth moving to Ireland for.
12. A Year of Rain is Worth a Week of Sun
It may rain, rain, and rain again in Ireland, but when that sun does come out for that one single week in Spring or Summer, it's all been worth it.
11. The Food Scene
Food was never Ireland's main draw. In fact, up until recent years, it wasn't that special. In modern day, however, the Irish foodie scene has taken off and is a worthy contender on the world's stage.
10. We're Changing
Recent game changers are on the go in the Republic of Ireland. In 2018, we repealed the eight amendment, which changed the abortion law to give equal rights to the woman as to the unborn, and in 2015 the Republic made gay marriage legal. 2019 is (hopefully) Northern Ireland's year to play catch up.
9. World-Renowned Universities
Trinity College Dublin, University College Dublin and University College Cork are all A-list universities, to name but a few.
8. The Essentials
Tayto, Kerrygold Butter and Barry's Tea. Enough said.
7. There are no natural disasters
Whilst the weather can be a bit grim, we hold a pretty strong hand of cards here on the Emerald Isle when it comes to natural disasters. Tsunamis, earthquakes, volcanic eruptions and so on are non-existent making Ireland a pretty balmy place to live.
6. Nature
When you live in Ireland, you never have to wander far to experience mind-blowing, postcard-worthy nature.
5. It's Safe
Not only is crime relatively low in Ireland, but there is also practically no gun culture giving an extra sense of safety in the country.
4. We're Neutral
We have no wars to fight. We have no beef with anyone. Yep, we're proud to say, Ireland is neutral.
3. Part of the EU
Whilst the UK has decided to leave the EU, the Republic of Ireland (not Northern Ireland, which is part of the UK) remains part of the European Union.
2. The Craic
The craic (banter/good humour) is mighty and known worldwide. This is surely a reason alone to move to live in Ireland, no?
1. People
Irish people are considered some of the friendliest in the world, meaning smiles and well-wishes all around become second nature to life on the Emerald Isle.