Thinking of finding a new home for yourself in a special place? Look no further than the Emerald Isle, with our reasons why you should move to live in Ireland right now.
Ireland is an electric country. It is home to endless beauty and wildlife, a dynamic cultural and music scene, great people, schooling system, nightlife and jobs industry, too. These are just a handful of the reasons why many choose to live in Ireland. The list just goes on.
Considering a move? If there's any doubt in the back of your mind, let us help you out with the 20 reasons you should move to Ireland right now!
Ireland Before You Die's top tips for moving to Ireland
Before deciding to pack your bags and move to Ireland, research the type of visa you will need and make sure to get yourself one.
Plan your finances. Make sure you have saved enough money before coming over, or that you have work when you get here to make money.
Renting and buying a house in Ireland can be expensive. So, do your research on the housing market and see if you can afford anything.
Transportation in Ireland can be by way of car, trains, or buses. Cities also have other forms of travel, particularly Dublin with the Luas and DART.
Try and build a network! You may be moving with friends and family, but if you are alone meet new people, socialise and embed yourself in your new community.
20. The Surf Scene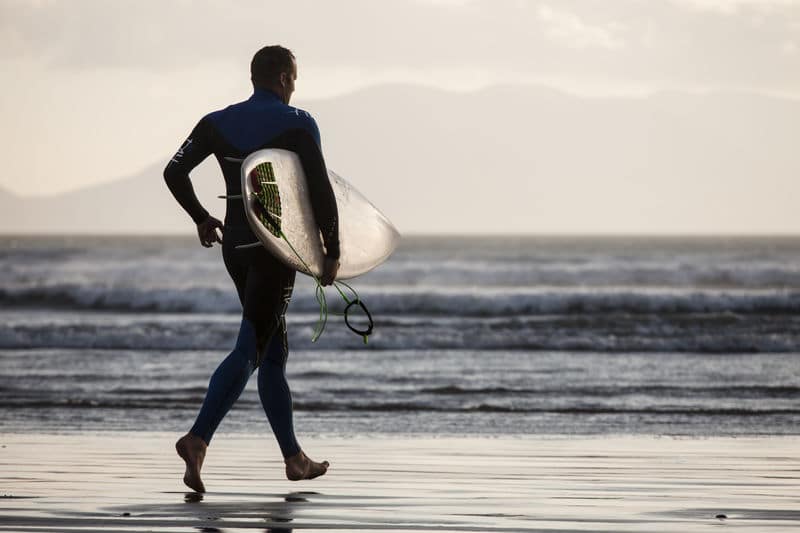 Some of the best surfing in Europe, if not the world, swells on Irish shores. As heavy waves smash the west coast of Ireland, blowing in from the Atlantic Ocean, surfers from across the globe arrive on the Emerald Isle to get their slice of the Irish surf scene.
READ: Top 12 surfing sports in Ireland every surfer must experience
19. The Guinness
This is reason alone to move to live in Ireland. The Guinness is fantastic.
18. The Music
Music is an inherent part of Irish culture. It is woven into the fabric of the Irish nation and is a catalyst for community spirit and camaraderie.
17. The Weather could be Worse (although we rarely admit it!)
Although it is seldom admitted: the weather in Ireland could be worse. We never get particularly hot summers (bar 2018 which broke records), and we never get freezing, snow-filled winters (again, 2018 aside), the weather is always somewhere in the middle. Wet, windy, dull and cool would be a solid summary of Irish weather, and in all fairness, it could be worse.
READ MORE: Get fully up to speed with the weather on the Emerald Isle, with Ireland Before You Die's article on the weather in Ireland by month: an overview of the Irish climate & temperature
16. Ireland has become a Business Hub
With one of the lowest corporate tax rates in the world, Ireland (particularly Dublin) is seen as an "attractive" location for top businesses to set up shop. Major organisations such as Google, PayPal, Facebook, LinkedIn, Microsoft and Accenture have offices in Dublin, today. So could choosing to live in Ireland benefit your career?
READ MORE: If these reasons are enticing you, then start planning with the help of IB4UD's article on the top 10 best places to live in Ireland, ranked
15. Becoming More Multicultural
As a direct result of #16, Ireland is becoming more and more multicultural. And, as a result, schooling is becoming more broad and diverse in a country that no longer has the Catholic Church at the top of the schooling totem pole.
14. Small in Size (meaning weekend trips are possible!)

Ireland's small size offers its residents' awesome opportunities for weekend trips and day adventures by the dozen. Infrastructures linking major cities mean super-efficient routes from A to B are on the go, whilst country escapes exist in abundance.
13. The Festival Scene
Ireland's festival scene is top notch! From Spring through Autumn the social calendar is alight with world-class music, arts, food and family festival experiences worth moving to Ireland for.
12. A Year of Rain is Worth a Week of Sun
It may rain, rain, and rain again in Ireland, but when that sun does come out for that one single week in Spring or Summer, it's all been worth it.
11. The Food Scene
Food was never Ireland's main draw. In fact, up until recent years, it wasn't that special. In modern day, however, the Irish foodie scene has taken off and is a worthy contender on the world's stage.
10. We're Changing
Recent game changers are on the go in the Republic of Ireland. In 2018, we repealed the eight amendment, which changed the abortion law to give equal rights to the woman as to the unborn, and in 2015 the Republic made gay marriage legal. 2019 is (hopefully) Northern Ireland's year to play catch up.
READ: As if you didn't need anymore inspiration, check out our article on 14 reasons why anyone would want to live in Ireland
9. World-Renowned Universities
Trinity College Dublin, University College Dublin and University College Cork are all A-list universities, to name but a few.
RELATED: The top 5 universities in Ireland based on global rankings
8. The Essentials
Tayto, Kerrygold Butter and Barry's Tea. Enough said.
7. There are no natural disasters
Whilst the weather can be a bit grim, we hold a pretty strong hand of cards here on the Emerald Isle when it comes to natural disasters. Tsunamis, earthquakes, volcanic eruptions and so on are non-existent making Ireland a pretty balmy place to live.
6. Nature
When you live in Ireland, you never have to wander far to experience mind-blowing, postcard-worthy nature.
RELATED: Whet your appetite for what's to come with PICTURES OF IRELAND: 101 beautiful snaps from the Isle
5. It's Safe
Not only is crime relatively low in Ireland, but there is also practically no gun culture giving an extra sense of safety in the country.
LEARN MORE: Is Ireland safe to visit? (Stats, dangerous areas and what you need to know)
4. We're Neutral
We have no wars to fight. We have no beef with anyone. Yep, we're proud to say, Ireland is neutral.
3. Part of the EU
Whilst the UK has decided to leave the EU, the Republic of Ireland (not Northern Ireland, which is part of the UK) remains part of the European Union.
2. The Craic
The craic (banter/good humour) is mighty and known worldwide. This is surely a reason alone to move to live in Ireland, no?
1. People
Irish people are considered some of the friendliest in the world, meaning smiles and well-wishes all around become second nature to life on the Emerald Isle.
Your questions answered about living in Ireland
Below, we have put together some of the most frequently asked questions about reasons for moving to live in Ireland, put to us and from online.
Why would I want to move to Ireland?
Ireland is becoming wealthier, safer, and more prosperous. There is a vast nature to explore, bustling cities, friendly people, and much, much more.
Why do you like to live in Ireland?
If you want good friends and kind people, a rich and historic culture, diverse cities and plenty of nature to explore, Ireland is for you.
Is it easy for UK citizens to move to Ireland?
If you are a citizen of the UK, you can apply to live in Ireland without a visa or Immigration permission. This is due to the Common Travel Area (CTA) agreement.
Where is better to live UK or Ireland?
This is tough to call, but we have addressed it in one of our articles below …
NEXT: Check out our article on the ten best counties to live in Ireland to help narrow your search for a new place to call home
YOU MAY ALSO BE INTERESTED IN …
Ireland vs USA comparison: which country is better to live in & visit
Ireland vs UK comparison: which country is better to live in & visit