When it comes to a trip to Belfast, there are so many things to do it can be a bit overwhelming.
In fact, figuring out an itinerary that is not only doable but enjoyable in any new city is quite the task.
Luckily, Belfast is our town, and we can help you out here! Check out our ultimate 2-day Belfast itinerary to seeing the best that Northern Ireland's capital city has to offer.
DAY 1 OF OUR BELFAST ITINERARY
MORNING:
While some of you may be early risers, others are ultimate snoozers, so what time you get up is entirely up to you.
Our top tip: you're on holiday so don't be rushing yourself! Take some time to hide under the covers for just "five more minutes".
Breakfast in your chosen accommodation is one sure-fire way to start the day off right, and often the price is included in your booking.
Established Coffee
First things first: coffee. Established Coffee is Belfast's leading speciality coffee shop and the ultimate destination for a fantastic brew.
For those of you who skipped breakfast, or are feeling a little peckish, this is an excellent opportunity to get something to eat before you start your day.
The food at Established is just as a good as the coffee, so we're confident you won't be disappointed.
Where: Established Coffee, 54 Hill St, Belfast, Northern Ireland
Crumlin Road Gaol
Next on our Belfast itinerary, walk or bus the short distance to Crumlin Road Gaol, one of Belfast's top tourist destinations. With tours taking place throughout the day, you'll have a range of times to choose from.
The tour, which takes approximately 75 minutes, gives guests a peek into a 19th-century prison where over 25,000 prisoners were housed during its years in operation.
Our top tip is to book online as walk-up prices are considerably higher!
Where: Crumlin Road Gaol, 53-55 Crumlin Road, Belfast, Northern Ireland
AFTERNOON:
The Muddlers Club
Next up, head to The Muddlers Club back in the buzzy area of Cathedral Quarter for a lunch like no other. This trendy spot is considered to be one of Belfast's best-kept secrets and a meal not to be missed.
Creative dishes using fresh and inspired ingredients will keep you on your toes whilst you rest your feet. Vegetarian and vegan dishes are available as well.
Where: The Muddlers Club Restaurant, 1 Warehouse Lane, Belfast, Northern Ireland
Black Cab Tour
Later, head back out to the streets and hop aboard a black cab. There are many providers of political and mural tours and most with sterling customer reviews, but our top pick has got to be Black Taxi Tours.
Owned by local Norman Reilly, this is the longest established Black Cab tour company and the finest in our opinion. The tour offers visitors an opportunity to be driven around Belfast in an authentic London black cab by a range of drivers. All of whom are extremely friendly and knowledgeable about the Troubles which took place in Northern Ireland, specifically around Belfast, during the late 20th-century.
The tour will visit key sites and the vast display of murals which dot the landscape in Belfast. This is a powerful experience, and tour guides Sean or Norman of Black Taxi Tours will definitely take you on an unforgettable journey.
Website: https://www.belfasttours.com/
EVENING:
Buba Belfast
When dinnertime calls, head in the direction of Saint Anne's Square in Belfast. This is a popular dining area in the heart of the Cathedral Quarter and is frequented nightly by a cool clientele.
Buba is a cosy food and cocktail restaurant inspired by the flavours and tastes of Eastern Mediterranean cuisine. With share-style plates and signature drinks, all served with style, this trendy hangout is an all-around winner.
Where: Buba Belfast, Saint Anne's Square, 10 Edward Street, Belfast, Northern Ireland
Harp Bar
To end the first day of our Belfast itinerary, enjoy a good ole' pint at Harp Bar – one of the Cathedral Quarter's most popular hangouts. Set only moments from Buba restaurant, it makes a great post-dinner drink spot and is a solid place to make some new friends.
This old-school pub has charming décor, a lively atmosphere and some of the best live music in all of Belfast (as well as a solid pint of Guinness, in case you were wondering!)
Where: Harp Bar, 35 Hill Street, Belfast, Northern Ireland
DAY 2 OF OUR BELFAST ITINERARY
MORNING:
Home
Start your day off right with breakfast at Home. This all-day Michelin-starred café is open five days a week and is a must-visit when in the locale.
Here you can take some time to brush shoulders with laid-back locals and grab a cup of speciality coffee. The rustic and inviting setting features light installations, natural textures and warm surroundings.
Breakfast and lunch run until 4 pm daily (3.30pm on Fridays and Saturdays), and will not disappoint – you can take our word for it.
Where: Home, 22 Wellington Place, Belfast, Northern Ireland
St. George's Market
Next, take a morning stroll around St. George's Market, the last standing Victorian covered market in the Northern capital.
The market, which runs Friday to Sunday each week, is a favourite of locals and tourists. Who all spend some hours wandering stalls and finding gems amongst the masses of bric-a-brac, antiques, gourmet food and vintage clothing.
Where: 12-20 East Bridge St, Belfast, Northern Ireland
AFTERNOON:
Harlem
Later on, steal a while in Harlem café – a quirky bistro with eclectic living room feels and a dynamic menu of creative dishes. Its weird and wonderful décor makes it one of the most talked about eateries in Belfast city, not to mention that the food is top-class too.
Where: Harlem, 34 Bedford St, Belfast, Northern Ireland
Titanic Museum
Afterwards head on over towards Titanic Quarter. If you choose to walk (which takes just over 30minutes) you will wind along the river with a nice opportunity to see more of Belfast. However, a taxi ride would get you there in no time and costs only about £5.
The Titanic Belfast is a grand museum that opened in 2012 and takes interactive, experiential exhibits to a whole new height. The entire museum experience takes no longer than two hours and other sites in Titanic Quarter worth visiting include the SS Nomadic ship.
Address: 1 Olympic Way, Queen's Road BT3 9EP
EVENING:
Cathedral Quarter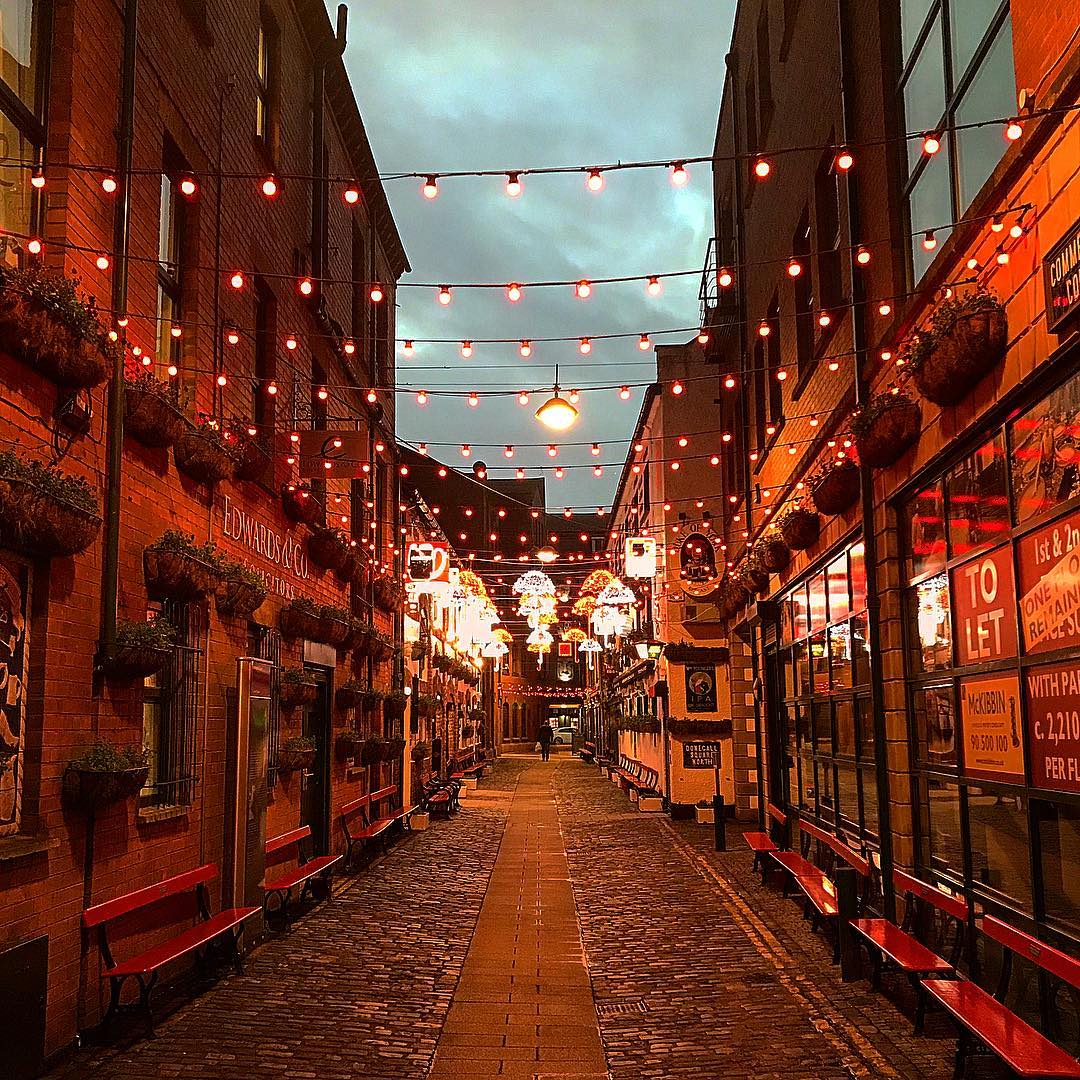 As the day draws to a close, take to the streets once again for a wander around the Cathedral Quarter. This is an electric part of the city with lots of sites, shopping, bars and nightlife.
Have an end of day drink in the Duke of York, one of Belfast's best pubs, and cheers to a day well done.
Address: 7-11 Commercial Ct, Belfast BT1 2NB
Coppi
Grab dinner just around the corner at Coppi, a Belfast favourite. This contemporary Italian eatery is considered one of the best in the city and will be bustling with crowds, so be sure to make a booking.
With dishes of local produce presented like poetry on a plate, you'll be sure to leave wanting more.
Where: Coppi, Saint Anne's Square, Cathedral Quarter, Belfast, Northern Ireland