The 12 pubs of Christmas has gained popularity and notoriety in recent years. The basic concept is a Christmas-themed bar crawl with friends where you go to 12 different pubs (obviously). No better place to do this than in Belfast where you can find many fantastic pubs. We'd recommend doing this bar crawl midweek as it could prove difficult on the weekends as all the bars may be busy. If you're doing it, remember to eat before you go and to stay hydrated. More advice can be found at the end of this article. Without further ado, here is our suggested route.
1. Lavery's
First stop, Lavery's. This is a Belfast classic which is suitable for people of all genres. Downstairs is a traditional pub with Sports on TV and usually acoustic sessions by local musicians. Whilst upstairs, there is pool tables, a roof terrace and on the weekends it opens into a nightclub venue. We'd recommend a here meal to full you up before you start your bar crawl as this will help absorb all that alcohol and keep you safe. The food in the downstairs bar is great, especially the burgers.
2. The Five Points
Moving on from Laverys, walk down the Dublin Road to The Five Points. This bar is one of Belfast's newest venues in the city centre but has quickly established itself as an excellent place for a drink. It is an exceptional place to catch a traditional Irish band play while you sip a cold pint of the black stuff.
3. Filthy McNastys
Directly across the road is Filthy McNastys. Filthies is a great venue with one of the best beer gardens in Belfast. Stop here for a drink and take in the live music in the front bar or enjoy the fresh air of the beer garden in the back.
4. The Crown Bar
Head to The Crown Liquor Saloon which is a public house in Belfast. Located on Great Victoria Street, the bar was refurbished to a high standard in 1885. It is probably Belfast's most famous bar and is a great place to have a pint!
5. Robinsons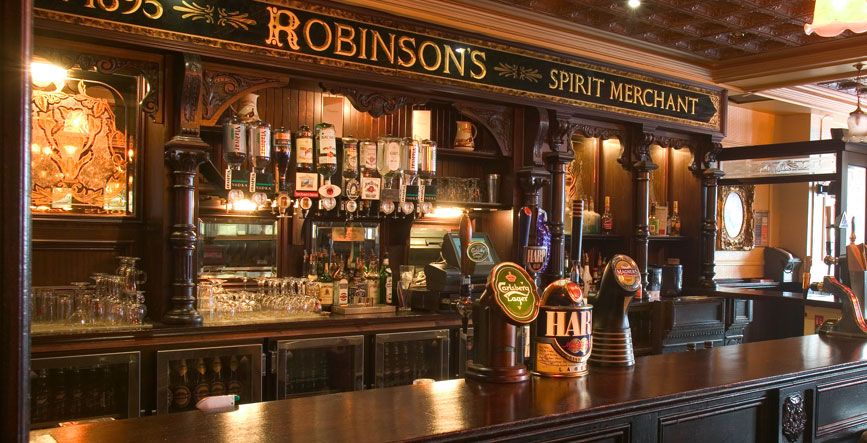 Just meters away from The Crown, Robinsons Bar is one of Belfast's longest established bars and provides great choice for your night out with 5 venues under one roof – Saloon, Bistro, Fibbers, Bt1 and Roxy. Five bars in, this is an excellent bar to grab a seat and enjoy a beer.
6. Maddens Bar
Next stop, Maddens. This little off-the-beaten-path bar is quite the find in Belfast. Non-touristy and incredibly local, you'll see all sorts of local wall decorations. The atmosphere has just the right amount of grunge and there is live Irish music every night.  It has a great range of drinks and has an amazing fireplace to add to the atmosphere. On the next page, we outline the second half of the bar crawl.