Some say life's too short to be normal all the time, so if you're looking for some of the weirdest things to do in Dublin, then you're in the right place.
Dublin is a hotbed of activity. Whether you're looking to brush shoulders with the locals or get immersed in local culture or history, you're bound to find it all here.
While many tourist guides will point you in the direction of all the usual suspects (Guinness Storehouse, Trinity College, and so on), we have news for you: some of the most exciting sites are those less-popular.
Curious, eh? Here are the ten weirdest things to do in Dublin – you can thank us later.
Our top tips for visiting Dublin:
10. Kingship and Sacrifice
This is certainly a more unusual thing to do in Dublin and not as popular on the tourist route. The collection, entitled Kingship and Sacrifice, is housed in the National Museum of Ireland.
The collection consists of a series of bodies – or more like sacrificed bodies – which were perfectly persevered in peat over centuries.
The Cashel Man – the oldest body of this nature found with flesh still clinging to its bones – is just one of the bodies on display here.
Address: Kildare St, Dublin 2
9. Marsh's Library
This is another weird thing to do in Dublin and is also a great rainy day activity. Located not far from the tourist trail in the centre of Dublin city is Marsh's Library, the oldest public library in all of Ireland.
Founded in 1707 the ancient setting is bountiful with rare manuscripts and literature from centuries past. It is also said to be haunted for those of you who are keen to do a little ghost busting on your trip to Dublin.
RELATED READ: IB4UD's guide to the most beautiful libraries in Ireland.
Address: St Patrick's Close, Wood Quay, Dublin 8
8. Leprechaun Museum
This weird little museum is another great thing to do when the weather is not so favourable in the Irish capital.
Located in the heart of the capital, this unique tourist attraction is all about tall tales and folklore, and perfect for all ages. The Leprechaun Museum is privately-owned and offers guided tours daily.
READ MORE: Our guide to the National Leprechaun Museum.
Address: Twilfit House Jervis St, North City, Dublin
7. Irish Jewish Museum
Another alternative thing to do in Dublin is to visit the Irish Jewish Museum. This is definitely not the first association that springs to mind when thinking of the capital of the Emerald Isle but saying that: it is well worth a visit.
The attraction is located on South Circular Road in Dublin 8 – once a cultural hub for a dense population of the Irish Jewish community. Today, this museum offers an alternative experience to learning about Ireland's history.
Address: 3 Walworth Rd, Portobello, Dublin 8, D08 TD29
6. Freemasons' Hall
This impressive attraction is definitely one of the weirdest things to do in Dublin – but also one most worth seeing. Located on Molesworth Street in the capital city, this mysterious and majestic private members' hall is as curious as they come.
While the Freemasons are no longer seen as a secret sept, they clearly house a lot of secrets within the ornate walls which house two Egyptian sphinx, thrones and decorative features.
See online for private tour information.
Address: Freemasons' Hall, 17-19 Molesworth St, Dublin 2, D02 HK50
5. Whitefriar Street Church
This church located in Dublin city also offers a weird thing to do in Dublin. As legend would have it, the genuine remains of Saint Valentine (who we consider responsible for the Hallmark-holiday) lie in a shrine in this publically-accessible Roman Catholic church.
Don't believe us? Take a wander in and see for yourself. Please remember this is a site of worship so to be respectful of your surroundings and other visitors.
READ: Our exploration into the links between Ireland and St. Valentine.
Address: 56 Aungier St, Dublin 2
4. St. Michan's Mummies
Ever seen a real mummy or inspected a skeleton up-close? Well now may just be your chance!
This is without a doubt one of the weirdest things to do in Dublin, but it is also strangely intriguing. In the vaults below the St. Michan's church in Dublin city lies a wealth of perfectly-preserved skeletons. How, may you ask, is this possible?
Some agent present in the vaults has been listed as the reason for causing this mummification to occur. Simultaneously, however, the coffins have perished, allowing for visitors to see these preserved remains up-close.
Address: Church St, Arran Quay, Dublin 7
3. The "Dead Zoo"
One of you more unusual ways to spend the day in Dublin would be to check out the "Dead Zoo", the colloquial term for The Natural History Museum.
Housing a hoard of interesting assets from the animal world, you are bound to leave inspired, or at the very least, educated on the subject matter.
Address: Merrion St Upper, Dublin 2
2. The Hungry Tree
This is certainly one of the more curious things to do in all of Dublin. The Hungry Tree is the local's name for an elderly plane tree which has grown to envelop a public bench on the grounds of King's Inn, Ireland's oldest law school.
Certainly not your average sight, but well worth a visit if you so happen to be checking out the surrounding areas.
Address: King's Inn Park, Co. Dublin
1. The Crypt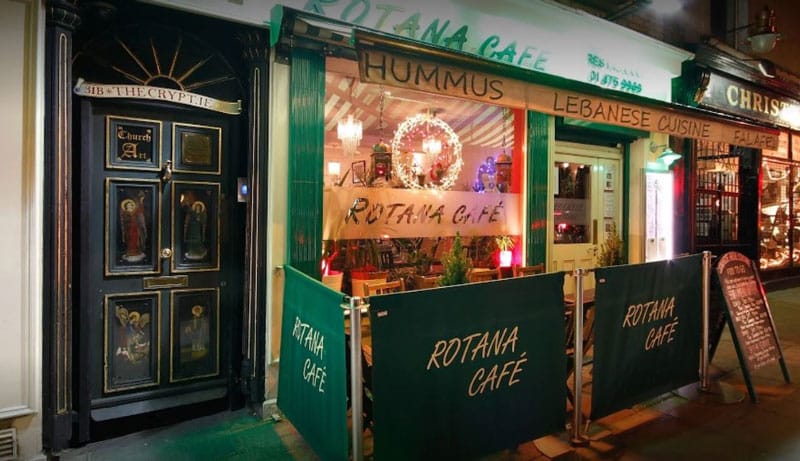 The Crypt is a hidden gem close to the heart of Dublin city. Hiding behind an ornate door on South Richmond Street, this religious antique store is almost an alternative universe hiding in plain sight.
Denomination aside, this hypnotic store is a sight for sore eye. The only problem is, it's sporadically open, so if you ever see the door ajar make sure to pop your head in!
Address: 31 Richmond St S, Portobello, Dublin 2, D02 XN57
Your questions answered about the weirdest things to do in Dublin
If you've still got questions about the weirdest things to do in Dublin, you've come to the right place. Here, we answer our readers' most frequently asked questions on the topic.
What is the number one attraction in Dublin?
The most popular attraction in Dublin is the Guinness Storehouse.
How many people live in Dublin?
According to the most recent records, around 1.2 million people currently live in Dublin.
How do I spend a day in Dublin?
We really recommend spending more time in Dublin, but if you only happen to visit for a day, you should check out our guide to 24 hours in Dublin.