"The World is a book and those who do not travel read only one page." Probably every traveller has heard this quote once or twice in his or her life, maybe even used it as a catchy Instagram caption. Sure, the world is full of secret little gems waiting for us to be explored, if only we would have enough time and especially money to actually go out and see what planet earth holds for us.
Yes, travelling is expensive and as long as you don't have any money trees growing wildly in your backyard you're kind of limited. But, fortunately, there are some choices and life hacks that will save you some money as you go. Especially Ireland can become quite a hard one on your bank account. Here's our top tips will help you to get the most of your money.
1. Travel during off-season
June, July August and especially the weeks on either side of St Patrick's Day are high season in Ireland. They are way more expensive concerning flights, accommodation, car hire and so on.
But to be honest, nobody ever travelled Ireland because of the weather. It is almost as likely to get a good few days of sunshine in September as it is in July and it will most certainly rain in June as well as in April.
The weather in Ireland is always a bit of a lucky pull. So don't mind travelling during the off-season, you will get cheaper flights, less crowded places and probably better advantages concerning restaurants, attractions and accommodation.
2. Alternative Accommodation
Sure, everybody loves staying in a fancy hotel, but ask yourself whether you are travelling to Ireland because of the nice hotels or the country and its people? There are a lot of different possibilities for you to sleep and they are also cheaper or even for free. Couchsurfing, for example, is a great opportunity to meet locals and it's totally free. It connects travellers and locals, who offer a place to sleep.
You even get insider tips on top. WWOOF stands for World Wide Opportunities on Organic Farms. It's a worldwide network and very popular in Ireland. Connecting volunteers with organic farmers both sides take advantages.
As the volunteer helps out on the farm, the WWOOF host offers food, accommodation and opportunities to learn in return. Airbnb is also a good way to get a good deal on private rooms, apartments or even houses. Especially in Dublin, Kerry and Galway. If you are very spontaneous download the hotel tonight App, you can find cheap offers for spare rooms in hotels.
3. Stay longer in one place
You are on your holiday, right? Ok slow down, look around you and soak in as much as possible from your beautiful surroundings. Most of the time you will get a better deal if you stay at a hostel or a B&B for more than just one night. Also, Ireland is not that big. It's easy to travel from one place in loops and you will also get to know the people better if you stay in a place longer.
This is possible in any sort of accommodation. It also opens up the possibility of self-catering, and it is really a great opportunity as well as very popular among the Irish people. It is not only way cheaper but also lets you live in the same area for a short time, where you can have a home away from home. For example, if you are based in Kilkenny just take on four-day tours in counties Wexford, Carlow, Waterford, Kildare or Tipperary. It even fits a day trip to Dublin.
4. Check for online for available discounts
If you're a student don't forget to bring your student card with you. In Ireland, you get a discount on almost everything even in clothes shops or restaurants. You will save up to 20% so it might come in handy. If you can't find any student discount stated just ask. The worst they can say is no. Also check the prices online, mostly it's cheaper if you book it in advance and online. You also skip the line and save a lot of time waiting.
5. Use public transport
Travel like the locals do. Save money and use buses or trains. Sure, it comes in handy to just order a cab and travel from A to B without even thinking. Still, you will get everywhere you want with busses and trains as well, and save money. For example, there is the Airlink bus that will get you from the Airport straight into Dublin city for only 7 € (12€ return) and departs from terminal 1 and 2 whereas you would pay 20 € for a cab at least.
If you get the chance – walk. You are born with two legs, use them. Stroll around the city, all Irish cities aren't that big and most things are within walking distance. If it doesn't rain cats and dogs enjoy walking and soak in all the things you see while going along.
You may travel at a slower pace, but you will definitely explore more hidden places. Most hostels offer free daily walking tours if you're afraid of getting lost, just ask at the reception for a free walking tour and join it. You will not only get to know the city but also meet other travellers from all over the world.
6. If you are renting a car, ensure you get the best deal
Are you going on a road trip? Of course, it's tempting to rent the brand-new Audi or Mercedes for a day but honestly who needs that? You are way better off with a smaller car. Not only because it's cheaper but also, it's easier to find your way around Ireland.
The Irish roads are known for not being the best and some roads are very narrow. However, make sure when renting a car to be over 25. Car insurance under 25 is ridiculously expensive in Ireland.
7. Eat Cheap
Eating habits differ all over the world. The Irish are very proud of their breakfast and it's very important to them. You will find amazing breakfast almost everywhere and a good Irish breakfast will fill you up for a while. If you are still hungry though you can go and have a nice homemade soup or sandwich most restaurants offer over lunch time. Don't feel like sitting down? Just go to the next supermarket and grab a bread roll with whatever fillings you want.
In the evening, most restaurants offer an "early bird" dinner in the time between 6.30 and 8.00 pm. You get a 3- course meal for around 25 Euro. Mostly it's a selection from the restaurant's a- la- carte menu so the quality of the food is still the same. Just make sure you order before 8.00 pm.
8. Flights
Ireland is an island and unless you live in Britain close to a port, you will have to take a plane. Fortunately, flights have become cheaper over the last few years, which makes travelling much easier.
Ryanair is based in Dublin and offers a wide range to most of the other European countries. You can get flights from England for under 30 Euros for example. Just make sure your luggage fits the security guidelines.
It's also a good idea to check and compare flights before you book them. Skyscanner or google flights compare a big variety of different companies and show you the best option. Also, be flexible with your dates. Tuesday and Wednesday are mostly the best days to fly and cheaper than Mondays or weekends.
9. Free Entertainment
City trips can be very hard for your bank account, considering all the entrance fees you have to pay but there are a lot of things you can do for free. The National Museum of Ireland is free to enter and is split into 4 different museums. 3 located in Dublin and one in Mayo.
Also, there is no need to pay for any concert in Ireland. Unless your favourite band is having a gig somewhere just walk into the next pub and you most likely find some live music you can enjoy totally for free, along with your pint of beer.
Sure, they definitely wouldn't say no to a bit of a tip but that's still up to you. In Ireland, people love to sing and dance so wherever you go you will have great craic! (an Irish word for fun)
10. Ireland's Natural Beauty is free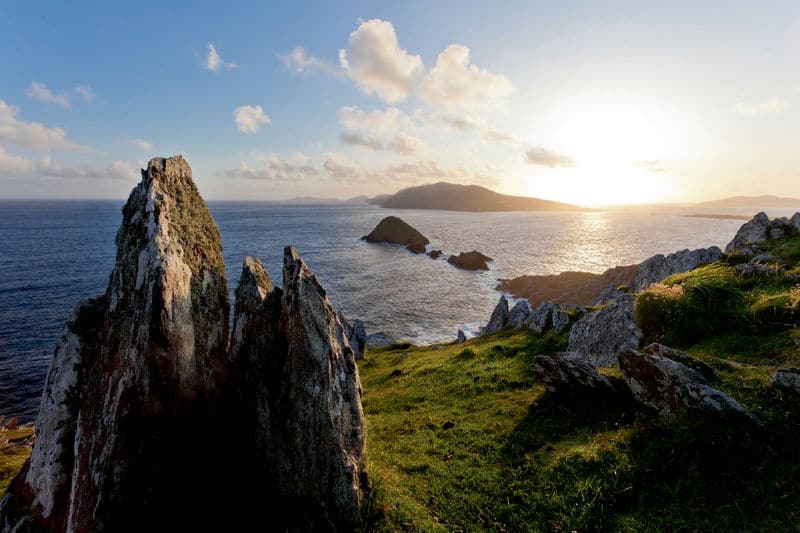 There is a reason Ireland is called the Emerald Isle. You didn't experience all of Ireland's beauty if you haven't seen the countryside. Enjoy the greens, go for a hike, walk around the lakes, take a look inside the nearest crumbled castle.
Get featured on Ireland Before You Die
Do you want to get your Irish business more online exposure? Especially to those interested in travelling the best places in Ireland? Then why not get a dedicated feature on Ireland Before You Die. Find out more 
here.