Irish people are a skilled bunch. Here are 10 unbelievable Guinness World Records held by the Irish that show how talented we are.
The Irish are known for many things, from their history to their accents to their craic, but we bet you don't know we've made quite a name for ourselves regarding Guinness World Records.
For the uninitiated, Guinness World Records are a record-keeping company, founded in 1955, and originally produced and promoted by our very own Guinness brewery in Dublin (the history behind the name).
For the past 64 years, Guinness World Records have been tracking records old and new and adjudicating record attempts in everything from the world's longest fingernails to the longest car, and even the smallest nose. Believe us, there's a record for everything.
Here are 10 of the most unbelievable Guinness World Records held by the Irish.
10. World's largest tea towel
When us Irish get an idea into our heads, we can't seem to let it go. The same can be said for the team at Poplar Linens, a charity which produced the world' largest tea-towel. The tea towel was to promote the Mayo Roscommon Hospice and we can't think of a better way of doing so.
The tea towel measures 49ft x 34ft, and we're sure it could mop up entire lakes, never mind spills on the counter-top.
9. World's largest tap dance lesson
Once us Irish hear a beat, we can't help but boogie. But this record, held by a group of 445 people, take their love of dancing a step further. The massive number of attendees took part in a tap-dancing lesson in Belfast during their annual Culture Night festival.
It saw people of all ages standing in lines and rows, copying one instructor as she guided them in crazy synchronised steps and routines.
8. Highest combined age (13 living siblings)
It must be all that tea we're drinking or something about the crisp Irish air because we have quite the life-span. The Donnellys, an Irish family who hail from County Armagh, hold the world record for the highest combined age of 13 siblings. The oldest sibling, John, is 95 years old while his sisters Mary and Eileen (the second and third oldest siblings), are 94 and 92 respectively.
The combined age of all the Donnelly siblings comes to over a whopping 1075 years. It's an unbelievable world record which makes us think we'll have what they're having.
7. Most successful Eurovision country
In recent memory, we've had a bunch of bum entries in the Eurovision Song Contest (how can we ever forget Dustin the Turkey's dreadful song back in 2008), but for all our losses, Ireland is still the most successful country to ever participate in the contest.
We currently hold seven wins and are the only country ever to have won the competition three years in a row. While we've struggled in the last 13 years to win, we still have hope that the next Eurovision will set us back on track to strengthen our record.
6. Most cups of tea made in one hour (by a team of 12)
It's no secret us Irish love our tea, so leave it to us to be the world record holders for the most amount of tea made in one hour. Mrs Doyle would be so proud of us!
Lidl's team of twelve tea-makers managed to make 1848 cups within 43 minutes at the County Laois Ploughing Championships, beating the original record with 17 minutes to spare. Now, where are those 1848 choccy biscuits to go with all those cups?
5. Most cookies baked in an hour
And there're the biscuits. Hassett's Bakery, situated in County Cork, was the one to claim the record for most cookies baked in an hour. They made a total of 4695 cookies, all in aid of raising money for the Irish Cancer Society. We bet there was a war for whoever got to lick that bowl.
4. Largest breakfast cereal consumption per capita
We'd have never thought Cheerios and Weetabix as anything special to us but turns out we can't get enough of our breakfast cereal because we hold the world record for the largest consumption of breakfast cereal per capita. I guess we've all been listening to our mammies and treating breakfast as the most important meal of the day.
In 2011, Ireland consumed an average of 8.1kgs of cereal per capita (per each person). That might not sound like much, but the world average only came to 0.6kgs. Say what you will about our greedy cereal obsession but at least we start our days off right.
3. Largest group of skinny dippers
We wouldn't want to take a dip in Irish waters at most times of the year, especially naked, but 2,505 fearless Irish women braved the freezing coastal waters of County Wicklow to set the record for most people skinny-dipping at the one time. Brrrrrr, gives us shivers just thinking about it.
The stunt was in aid of Aoibheann's Pink Tie, a children's cancer charity, and all proceeds went towards aiding their valuable work and research.
2. Largest same name gathering (surname)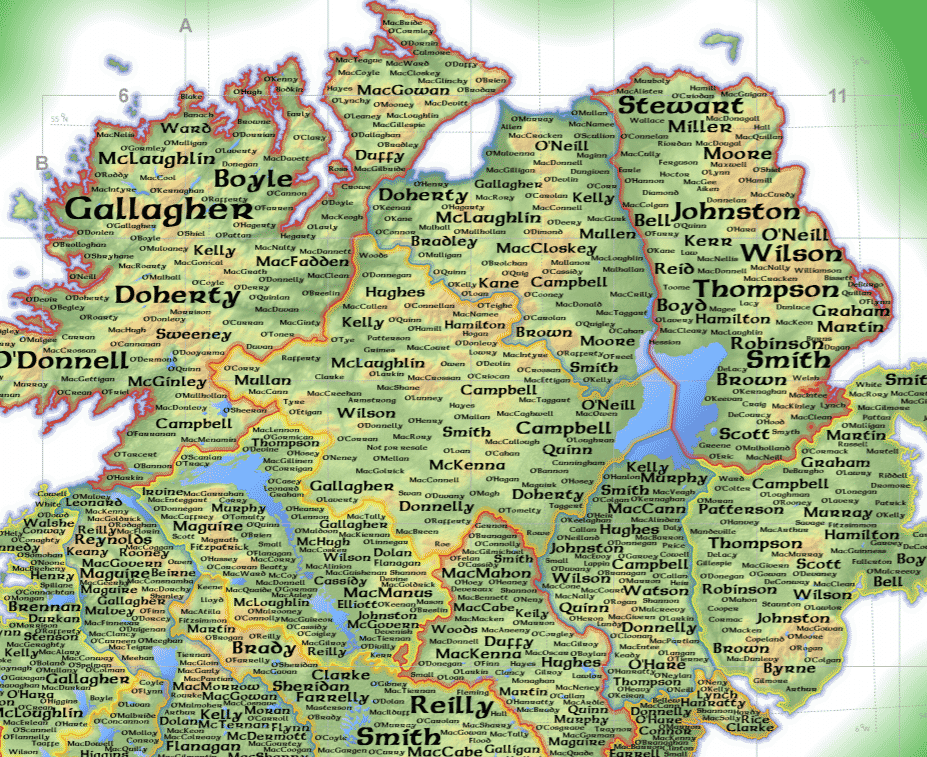 We bet you thought your family was big. The Gallagher Clan, natives to Ireland, all collected together in Letterkenny to break the world record for the largest same name gathering. There were a total of 1488 Gallaghers who attended and made history. That's one huge family tree.
1. The largest gathering of people dressed as leprechauns
Leave it to us to be the ones to hold this record. For all our eye-rolls and annoyance over the world's use of our fabled leprechauns, us Irish aren't doing ourselves any favours. But we can't resist diving into our folklore.
That's why the 1,263 people who donned the iconic green suits, green hats, and ginger beards were committed to setting the world record. There's nothing more Irish than a leprechaun, so this one's for all of us. Here, here to the Irish! And may we keep making and breaking world records.