Looking a kick out of something to do on the Emerald Isle? Look no further, with our list of the top 10 thrilling activities for adrenaline junkies in Ireland.
The Emerald Isle is famous for many things. From cold and creamy pints of Guinness to rolling pastoral settings—from cosy fireside pubs to world-class music and entertainment—Ireland has a lot to offer.
Another one of Ireland's top-class offerings is its sheer amount of outdoor pursuits. For all of you thrill-seekers keen to raise some hell and experience something unforgettable, you've come to the right place.
Here are the top ten activities for adrenaline junkies in Ireland.
Ireland Before You Die's top tips for thrilling activities for adrenaline junkies in Ireland
Here are some other brief ideas before we get into our article:
The Wild Atlantic Way is a sight to behold in Ireland, and you can catch the best waves off the coast of County Sligo for some adrenaline-filled surfing.
The limestone rock of Burren in County Clare is one of the most unique features in all of the Emerald Isle. Luckily, you can go rock climbing here for an adrenaline-filled activity.
Like to mountain bike? Then look no further than the Ballyhoura Mountains. There is a mix of open terrain and forest to travel through.
Another fantastic adrenaline-filled activity in Ireland would be cave exploration through the Marble Arch Caves in County Fermanagh.
Other thrilling activities for adrenaline junkies in Ireland include paragliding above the Wicklow Mountains, go White Water Rafting on the River Boyne, and zip lining in Castlecomer, County Kilkenny.
10. Wakeboarding
This sport goes hand-in-hand with boating enthusiasts during the summer months, but it can be enjoyed year-round.
Wakeboarding involves riding a board that is towed behind a high-powered speedboat. If you're looking for the ultimate thrill, you'll find it with wakeboarding. Make sure to check out Ballyhass Wake Park in County Cork if this sounds up your alley.
Address: Unnamed Road, Ballyhass, Co. Cork
9. Blokarting
This adrenaline sport is also known as land yachting and consists of a three-wheeled cart and boat sail, which travels across the land at high speed with the help of strong winds.
Blokarting is a newer kid on the block when it comes to adrenaline sports, but it is well worth a shot if you're up to the challenge. Check out Blokart Adventure in Dublin if this sounds like your cup of tea.
Address: 14 Saint Patrick's Road, Drumcondra, Dublin
8. Buggy racing
This 4×4 adrenaline junkie experience in Ireland is likely to be your newest obsession! Think muddy slopes, challenging hills, and deep ditches on this off-road adventure.
Off Road Buggy Racing in Kildare is the perfect place to try out this thrilling sport for the first time.
Address: Taghadoe, Maynooth, Co. Kildare
READ: Want more ideas? Then check out Ireland Before You Die's article on the top 3 epic ways to get an adrenaline rush in Ireland
7. Quad biking
This old-school adrenaline sport may not be as new and flashy as some of the other entries on our list, but as they say, if it ain't broke, don't fix it!
Quad bikes are 4×4 vehicles that manoeuvre like dancers across rough and ready terrain. This off-road experience can be enjoyed in many places around Ireland, but we suggest you try it out in Quadventure in County Wexford.
Address: Killegney, Clonroche, Co. Wexford
READ MORE: 5 thrilling sports you can experience in Ireland
6. Rally driving
If you feel the need for speed, look no further than rally driving in Ireland. This extreme sport is ideal for those with a love for the most hair-raising activities. Highly experienced instructors will be by your side every turn you take along professional rally tracks.
Mondello Park in Kildare is the ultimate place to experience rally driving at its best in Ireland.
Address: Mondello Park, Donore, Naas, Co. Kildare
5. Kite surfing
This extreme sport is a hybrid of wakeboarding, surfing, and paragliding. This activity offers people an opportunity to catch waves while being pulled by a parachute that is being powered by strong winds.
Kite surfing is perfect when it comes to activities for adrenaline junkies in Ireland, and we suggest you check out 360Kitesurfing, a mobile school willing to travel to various locations on the Emerald Isle, if you want lessons from the best.
Address: Mobile
4. White water rafting
For those seeking an adrenaline rush, look no further than white water rafting. This extreme sport offers those with a wild side the opportunity to raft downstream while facing intense high-powered rapids.
Check out Boyne Valley Activities in Meath if this sounds like your sort of adventure.
Address: Watergate Street, Townparks North, Trim, Co. Meath
3. Off-road driving
If you're an adrenaline junkie in Ireland looking for the ride of your life, off-road driving may be just what the doctor ordered.
This wild ride promises to be bumpy and boisterous as you take on challenging terrains. Off-Road Driving in Kildare offers some of the best surroundings in which to enjoy this adrenaline activity.
This experience would be a great gift for outdoorsy women and men!
Address: Palmerstown Demesne, Co. Kildare
2. Hovercrafting
This futuristic fad is as adrenaline-pumped as they come, especially seeing as hovercrafts don't have brakes! Slide, glide, and race around a land or water-based course.
Out Doors and Dirty in County Cavan gets our vote when it comes to this new and totally addictive extreme sport.
Address: Prospect Bay, Brackley Lake, Bawnboy, Co. Cavan
1. Skydiving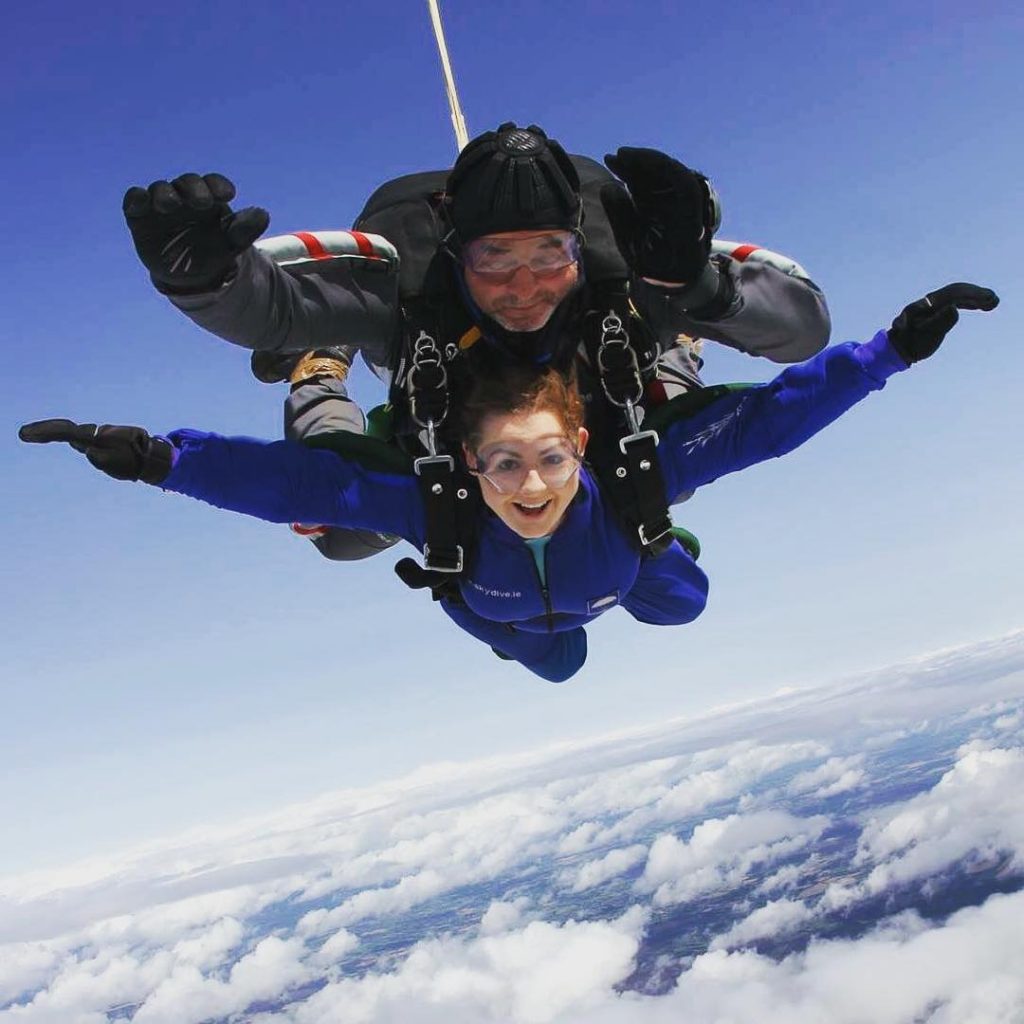 When it comes to activities for adrenaline junkies in Ireland, skydiving may be the most thrilling of all. Unquestionably, it is not for the faint of heart.
Having been around since the 18th century, skydiving involves jumping from a great height and free-falling, before releasing a parachute that safely delivers the diver back to solid ground.
Five places in Ireland offer skydiving (one, however, is indoor skydiving), although we suggest that you check out the Irish Parachute Club in County Offaly.
Address: Clonbullogue Airfield, Clonad, Clonbullogue, Co. Offaly
READ MORE: Want to test it out? Find a place for you in our article on the 5 best places to skydive in Ireland
Your questions answered about thrilling activities for adrenaline-junkies in Ireland
If still have some questions about thrilling activities for adrenaline-junkies in Ireland, then you have come to the right place! Here, we have put together the most frequently asked questions about the topic.
Is it OK to be an adrenaline junkie?
Adrenaline-filled activities must be undertaken carefully. All will involve risk, but do what is possible to minimise that and keep yourself safe.
Why are some people adrenaline junkies?
People who constantly seek adventure are in need of simulation, and so it follows that they engage in adrenaline-filled activities.
What happens to adrenaline junkies?
Adrenaline junkies will get a thrill from their activity. However, there is a risk this becomes addictive, and so all steps must be taken to avoid this.
What is an adrenaline addict?
This is a term used to refer to people who favour high-risk and thrilling activities due to the rush that comes from them.