The 10 Best Things YOU NEED To Do and see in Cork City, Before You Die.
Cork is a dynamic city in the Southwest of Ireland with tonnes of things to do and places to see. Only a couple of hours drive from the Dublin capital, Cork makes for a great additional stop on an Irish trip or weekend away.
If you do find yourself in the city, these are the top 10 things to do and see.
10. Crawford Art Gallery Cork
Located in the city of Cork, Crawford Art Gallery is home to an impressive collection of traditional and modern art.
Having earned the status of a "National Cultural Institution" back in 2006, it has steadily become a key establishment for the research and study of art in Cork.
Open daily (except Sundays), Crawford Art Gallery is a perfect rainy day place to go when in the city.
Address: Emmett Pl, Centre, Cork, Ireland
9. Fitzgerald's Park
Feel like spending a lazy day soaking up the sun on the grass? Well, we don't get too many of those in Cork, but when we do, most locals head over to Fitzgerald's Park.
Home to the Cork Public Museum, as well as endless wandering paths and ponds, this is the perfect place to escape the city crowds and adopt a laid-back vibe.
Address: Mardyke, Cork, Ireland
8. Kiss the Blarney Stone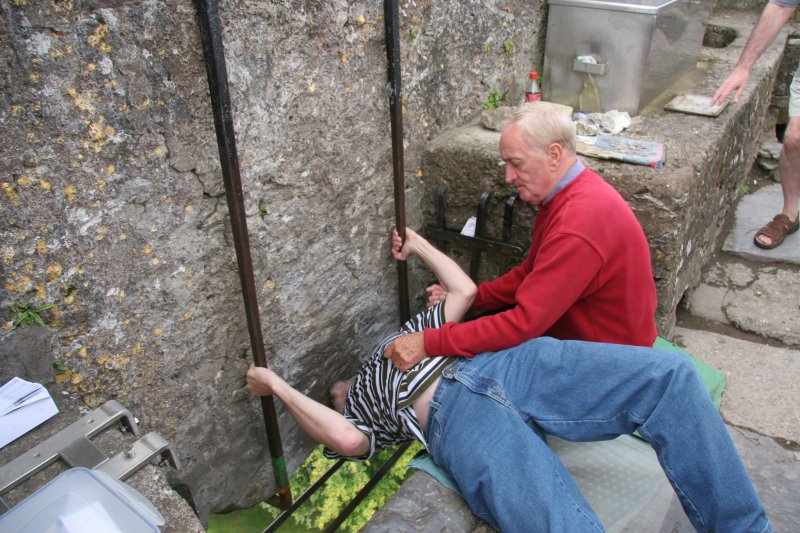 It may be a wildly popular tourist trap in ways, but a first-time trip to Cork wouldn't be complete without a pucker up to this famous Irish stone.
For over 200 years the tradition of kissing this stone has been woven into the fabric of Irish folklore. Originally pilgrims would be lowered by their ankles to kiss the stone.
Now, in a more safety-conscious society, visitors merely lower themselves backwards whilst holding onto an iron rail.
Address: Monacnapa, Blarney, Co. Cork, Ireland
7. Triskel Arts Centre
Triskel Arts Centre in Cork is one of the coolest places to get an art fix in the city. It offers live music, festival happenings, cinema and visual art as well as an intriguing program spanning many mediums.
The venue, which is an impressively renovated neoclassical Georgian church, is the perfect breeding ground for creativity, and you can pop by the Scrypt Café Bar to enjoy its atmosphere, even if you're not attending a show.
Address: Triskel Arts Centre, Tobin St, Centre, Cork, Ireland
6. Mother Jones Flea Market
Soak up local vibes in Cork at the Mother Jones Flea Market which runs every Friday, Saturday and Sunday from 10am – 6pm in Cork city.
Perfect for a rainy day, the flea market is a vintage lover and bargain hunter's dream! Give yourself a couple of hours here; this is the kind of place where the best buys are uncovered only after a bit of digging.
Address: City, 2 York St, Centre, Co. Cork, T23 DX8X, Ireland
5. Old Cork Waterworks Experience
Located in Cork's Victorian Waterworks which have been supplying water to the city for over three centuries is Lifetime Lab, a truly unique and interesting interactive exhibit fit for all the family.
The exhibit which showcases perfectly resorted machinery from various times in history offers guests a great opportunity to learn a little about Cork's history in a fun and engaging way.
Address: Lee Rd, Sunday's Well, Cork, T23 N828, Ireland
4. Cork City Gaol
Set in the heart of town, Cork City Gaol is one of the most popular tourist destinations.
The experiential tour offers guests a look into life in a 19th-century prison, seeing life-like wax prisoners in their furnished cells, whilst the macabre sounds of prison life fill the air.
Interestingly, this site can be booked for private functions, weddings and corporate events.
Address: Convent Ave, Sunday's Well, Cork, Ireland
3. Cork Ghost Tour
This unique tour is bound to keep you entertained from start to finish. As spooky as it is silly, the one-hour walking tour will guide guests around Cork city, with guides unveiling horrid truths and creepy legends.
Packed with real history as well as some scares thrown in for good measure, this is undoubtedly one of the most popular tours to undertake in Cork.
Address: Emmett Pl, Centre, Cork, Ireland
2. Cork Opera House
A trip to this city wouldn't be complete without a trip to the world-class Cork Opera House.
Showcasing an impressive program of international sensations in the world of opera and theatre, this is the perfect place to spend a night on the town, when in town.
Address: Emmett Pl, Centre, Cork, Ireland
1. Fota Wildlife Park
If you're looking to walk on the wild side whilst in Cork you have to check out Fota Wildlife Park, only twenty minutes drive from the city.
This 100-acre wildlife park is home to some stunning exotic animals. It is independently funded, and a not-for-profit charity.
Welcoming over 400,000 visitors per year this is most certainly one of Cork's most-loved attractions.
Address: Fota, Carrigtohill, Co. Cork, Ireland