Ireland is a small country with a big personality. Its people are characterful and known for their warmth, passion, pride and hospitality.
Safe to say, a trip to the island is bound to be a bountiful experience.
Saying that though, here are our top 10 tips to consider when trying to fit in with the locals.
10. Don't Forget Your Manners
Like most countries and places, manners go a long way with the locals. We've been told since day dot that "manners don't cost a thing", so seeing as it won't interfere with your spending budget, manners may as well be packed in advance.
"Please", "thank you", "cheers" and "sorry" (which is used in Ireland in lieu of "excuse me", as well an apology), will be your best mates when visiting the country. As always, people respond to kind, in kind, so, it's a win-win.
9. Don't Think We Are All Alcoholics Who Chase Leprechauns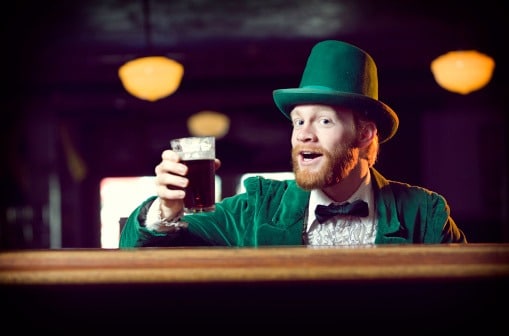 Yes, we know that is how Hollywood media loves to portray the Irish. Yes, us Irish do love a drink. Yes, we have deep roots in mysticism and mythology.
No, that is not all we are. Let's just say, if you want to fit in with the locals, best to forget about any typecasts and just have some fun!
8. Don't Forget to Buy Your Round
When socially drinking in pubs and bars the evening commonly consists of "rounds". This is where one person buys a drink for each member of the group, and then each member of the group takes their turn buying drinks after that.
Whether it is three or thirteen people in the round, it's a matter of manners and principle. If you don't want to end up in the hot seat, walk away from the get-go, otherwise, it's seen as a pretty shabby thing to do to not take your "round".
7. Don't Smoke indoors
Although it has been illegal to smoke indoors, workplaces and enclosed public spaces for over 10 years (the law was brought in May 2007), many tourists still assume it is still legal.
Whatever you do, don't light up inside. Most bars, restaurants and cafes will have an outdoor area with ashtrays, and there are also ashtrays in most public bins.
6. Don't Go to Temple Bar and Say You've Seen "Real" Ireland
If you're going to Ireland to see "real" Ireland, do your self a favour and get out of Temple Bar. Although the "Cultural Quarter" of Dublin – the capital – celebrates Irish Culture endlessly, you'll be amidst mostly tourists.
Always break away from the beaten track, talk to some locals and find out where best to grab a pint of the "Black Stuff" (Guinness) – that's the "real" Irish experience you're looking for!
5. St. Patrick's Day Parade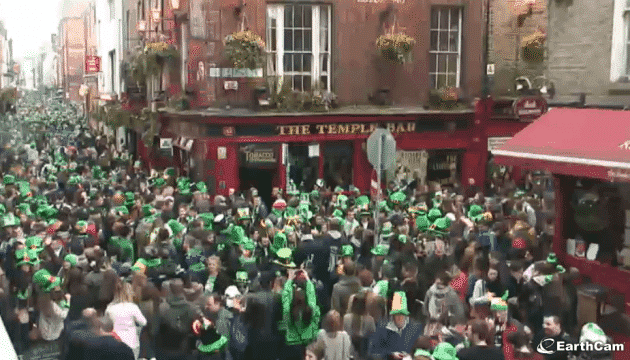 If in search of a quintessentially Irish experience, steer clear of the St. Patrick's Day Parade in Dublin. Not only will it be overcrowded, with over-priced venues and vendors amongst the masses, but it is also the most touristy thing you can actually do in Ireland. If you want a real St. Patrick's day experience, go to the parade in a smaller town or city.
4. Don't Say: "I'm Irish, too"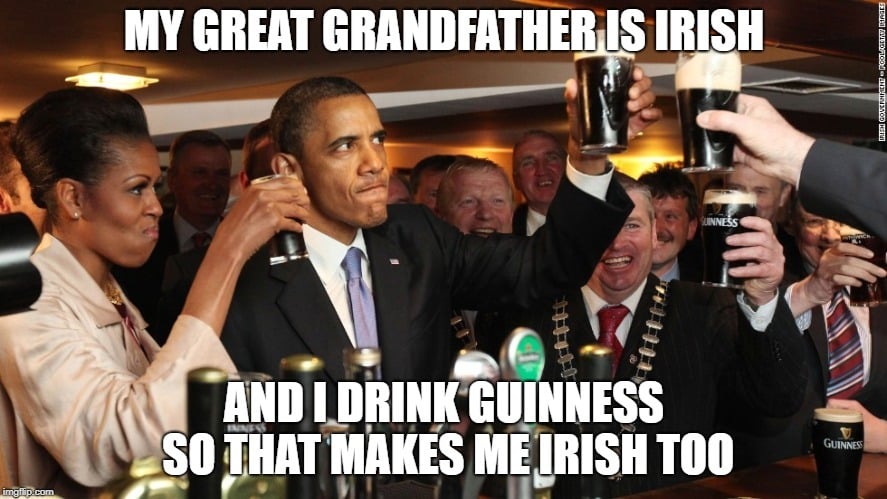 This is a phrase that gets thrown around left, right and centre, and is openly discussed as being one of the nation's biggest pet peeves.
Now, we can understand if you have Irish blood five generations back, you may want to feel a certain sense of camaraderie with a fellow Irish person. Word of advice though, unless your parents hailed from the Emerald Isle (or grandparents at a push), don't utter the phrase "I'm Irish, too".
3. Don't Be Offended by Irish "Banter"
Irish humour is dark and sarcastic and generally is described as "taking the piss". This means to mess or joke with someone, often in a mocking tone.
Please don't be confused though: this "banter" is actually a sign of fellowship and should not be taken with offence.
As good as the Irish are at shovelling it out, they're also good at taking it too. Just remember to read the room, your company and tone, it's not being mean, it's just "taking the piss".
2. Make Jokes About Irish History or the Civil War
Ireland has a troubled past and the Civil War played a huge part in the fabric of our country.
It is still quite a raw topic and your best bet is to ask an Irish companion or a tour guide if you have any questions.
The last thing we would suggest is blurting out statements on Irish history and politics in the pub after a few jars with locals about.
1. Confuse the Republic of Ireland as being a part of UK
Just to avoid any confusion or offended looks, remember the following:
Ireland is not part of England nor the British Isles.
Ireland is an island consisting of the Republic of Ireland and Northern Ireland.
Northern Ireland consists of six countries which is part of the UK.
The remaining 26 counties make up the Republic of Ireland, an independent country.
Again, if you have any confusion or concerns speak to a tour guide with "buts" and "whys", as this topic, if misinformed, can be highly sensitive and inflammatory.