So the parade has been cancelled, but that doesn't mean your celebrations have to be. Check out these St Patrick's Day activities you can still do in Dublin.
With the deadly coronavirus on the rise, the annual and iconic Paddy's Day festivities have been called off. Wallow not; here are the ten things to do on St Patrick's Day (now that the parade is cancelled, which is a St. Patrick's Day tradition).
10. The Little Museum of Dublin
Now, it may not pack the same punch as the Paddy's Day parade, but The Little Museum is as a strong contender in its absence.
Located on St Stephen's Green in the heart of Dublin City Centre, the intimate museum is nestled in a stunning Georgian townhouse. Offering a little insight into Dublin life and its inhabitants, this too will share a slice of culture.
The museum is home to over 5,000 artefacts which have been personally gifted or loaned by Dubliners, and the experience has a horde of accolades under its belt.
Address: 15 St Stephen's Green, Dublin 2, Ireland
9. Make your own Paddy's Day cocktails
St Patrick's Day is an annual holiday known for its loose celebrations that ensure much merriment.
Indeed, the parade is postponed, but the party doesn't have to be! We suggest you take matters in your own hands and make some Paddy's-Day-themed green cocktails!
Not only is this a more budget-friendly approach to festivities, but you can enjoy it from the comfort of your couch, coronavirus-free!
8. Get out of town
There are never enough excuses or opportunities to pack a bag and take a break.
St Patrick's Day in Dublin is a public holiday, meaning most businesses close. Seeing as the festivities are postponed, one of the ten things to do on St Patrick's Day (now that the parade is cancelled) is to get out of town.
Whether you are after a seaside excursion or countryside escape, the opportunities are endless.
7. A Historical walking tour
Indeed, the main show has been put on hiatus, but there are tonnes of other cultural ways to spend St Patrick's Day in Dublin.
We suggest you check out In The Footsteps of St Patrick with Pat Liddy. This historic walking tour by the Dublin historian is sure to share a little insight on the city in question.
Tracing Dublin's history, including pre-Viking development, and the man himself, Saint Patrick, visitors are sure to feel they've had their culture-fix.
Address: Suffolk St, Dublin 2, D02 KX03, Ireland
6. Take a walk in the countryside
One of the ten things to do on St Patrick's Day (now that the parade is cancelled) is a wholesome walk in the country.
Although you may not be donning your most ridiculous green attire, you'll be surrounded by stunning greenery, so it's a fitting alternative.
A short distance from Dublin City lies endless opportunities to take to the tracks and enjoy a good leg stretch.
5. Party with Annie Mac
Iconic Irish DJ and broadcaster, Annie Mac, is set to take the stage at the Guinness Storehouse this St Patrick's Day weekend.
Taking place on Saturday the 14th of March, the Dubliner will not only perform, but host the gig, which sees her play alongside other leading Dublin artists, including Kojaque and Soulé.
Tickets for this one are sold out, but keep an eye on the Facebook group for last-minute sales and giveaways!
4. See some trad music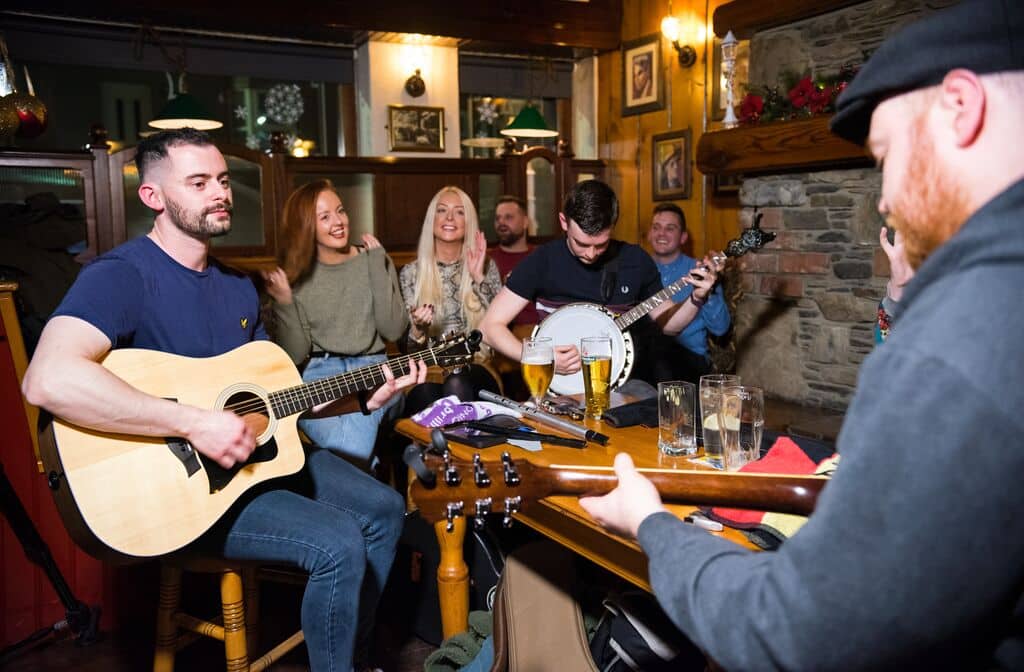 Traditional music is a cornerstone of Irish culture, and when better to experience it than on St Patrick's Day?
There are endless bars in the Irish capital known to share in this majestic art form. However, our top suggestions are O'Donoghue's and The Cobblestone.
Without a doubt, this is one of the top ten things to do on St Patrick's Day (now that the parade is cancelled).
3. Brewer's Banquet
Eat like a king this St Patrick's Day at the Brewer's Banquet, taking place at the iconic Guinness Open Gate Brewery in Dublin.
This epic eating experience is an alternative way to celebrate in Irish culture, and given that the parade is cancelled, this may just be what you're looking for!
Event Link: HERE
2. Have a Dublin pub crawl
We believe that one of the top ten things to do on St Patrick's Day (now that the parade is cancelled) is your very own Dublin pub crawl!
As aforementioned, the city is laden with public houses, so you're sure to be spoiled for choice. Head into Dublin, and crawl your way through the capital streets in search of the best Guinness!
1. Have your very own St Patrick's Day celebration
The parade is cancelled, but that doesn't mean the celebration has to be.
Gather your friends, don your silliest green garb, grab some drinks, and have your very own cultural celebration.
And, it may just be better than the parade! It'll be free from the crowds, overpriced pints, and long lines.
Get featured on Ireland Before You Die
Do you want to get your Irish business more online exposure? Especially to those interested in travelling the best places in Ireland? Then why not get a dedicated feature on Ireland Before You Die. Find out more 
here.