The Emerald Isle's biggest holiday is definitely a unique experience each year, but you can always rely on these 10 things happening on St. Patrick's Day in Ireland.
10. Unpredictable weather
Ireland is infamous for having unpredictable weather. With St. Patrick's Day itself is on the 17th of March, you would think the weather shouldn't be too bad. But things are never that easy in Ireland.
Some years we get sun, some years we get rain, some years we get snow, and some years we get all three of them one after each other. If you do wear a jacket, it will be dry, and if you don't wear a jacket, it will definitely rain. The weather on St. Patrick's Day in Ireland is always a mystery.
9. The Irish-American
If you are in Ireland on St. Patrick's Day, particularly in Dublin, it is only a matter of time before you bump into a few Yanks over for the parade. Now, contrary to what many believe, us Irish people actually like American tourists and American people who are proud of their Irish ancestry and heritage.
But when the people who are born and raised in America start telling you that they are 100% Irish, that will make us actual Irish people say, "Aw, the Yanks are at it again".
8. Underage drinking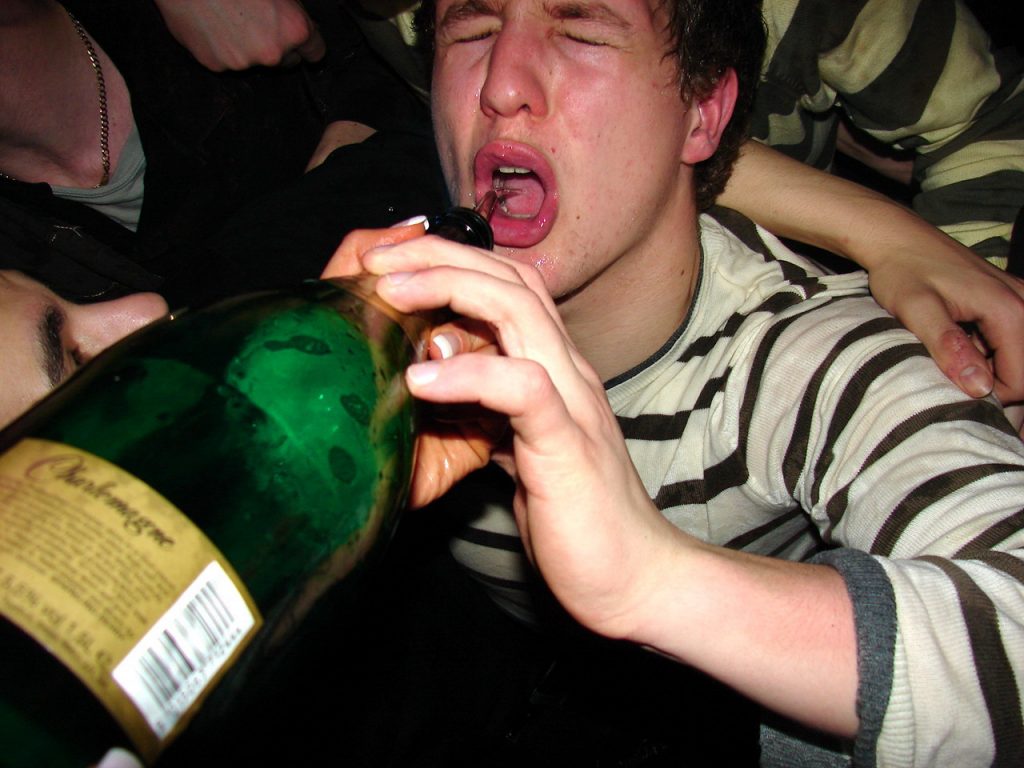 Seeing as St. Patrick's Day in Ireland generally revolves heavily around alcohol, it is no surprise that it is a day infamous for underage drinking. Every Paddy's Day, teenagers up and down the country have their first sip of alcohol and pretend that they are an adult for the rest of the day.
7. Something goes wrong in the parade
In the history of St. Patrick's Day in Ireland, we don't think there has ever been a St. Patrick's Day parade where something doesn't go wrong. Every year there is a mishap; it could be a punctured tire, something might get blown away in the wind, or maybe even a drunk hooligan decides it would be a great idea to join in on the parade.
6. Someone has too much to drink
Every Paddy's Day, without fail, it is only a matter of time until one of your friends becomes drunk. It is almost tradition in Ireland for someone you are with to have too much to drink and start slightly stumbling about and slurring their words before it is even lunchtime.
5. St. Patrick is everywhere you look
If you have never been to Ireland on St. Patrick's Day, then I don't think you would believe the number of people you will see in Ireland dressed up as St. Patrick. Every year it seems one in five Irish dads think that it is the greatest thing ever to dress up like St. Patrick for the day, even including a fake ginger beard.
4. Every Ireland sports jersey in the country comes out
It is safe to say that on St. Patrick's Day, more Ireland jerseys get worn than at any Ireland rugby or soccer game in history. People who have never even watched sports before in their life will still have an Ireland jersey in their wardrobe just to wear it on St. Patrick's Day.
3. Everyone will be at mass
Just like Easter and Christmas, St. Patrick's Day is one of the few times a year where every Irish person, religious or not, will be at mass. The car park will be full 30 minutes before mass even starts, and if you are turning up late, don't even think about trying to get a seat.
2. Inappropriate costumes
Every St. Patrick's Day in Ireland, there will always be at least one man wearing an inappropriate costume. It might be a green speedo or the smallest pair of green shorts you have ever seen or maybe even a green mankini. Either way, no matter what it is he decides to wear, this year everyone will ask him, "Why on earth are ya wearing that?".
1. Someone will be arrested
Every year without fail, someone will be arrested on St. Patrick's Day in Ireland. The reason for the arrest almost always has to do with them consuming alcohol and then deciding to do something stupid.
It might be a fight, they might urinate in public, or they might do something else they shouldn't do, but either way, someone will always be arrested on St. Patrick's Day in Ireland. Will it be you this year?