Enjoy your Pancake Tuesday while you can, this list of things Irish people are giving up for Lent won't be easy.
Ah, Lent. The time of year when millions of Irish people go off Sweet Chilli Sensations for 40 days to honour Jesus' plight in the desert (or Lent as it's commonly known). Looking a basic description of Lent? During the 40 days between Easter and Ash Wednesday, some Christians give up small luxuries to mark Jesus' temptation by Satan on his journey through the desert.
This happens across the world every year, and all over Ireland in various denominations of Christianity. Every year, Irish people come up with new ideas, some productive and some more creative, to honour Lent. Here are our top ten things Irish people are going off for Lent.
10. Chocolate – this one's going to hurt
Chocolate is the most common choice for those afflicted with a sweet tooth. Whether that's giving up your Mars bar at lunchtime, or weening yourself off the Chocolate Digestives in the evening, this one is difficult.
If you can make it until Easter Sunday, you can reward yourself by eating your cereal out of an Easter egg. There are lots of resources out there to give you ideas for alternative healthy snacks. Who knows? You might want to give it up forever. Perhaps it's time to consider a "dechox" this Lent.
9. Crisps – that crunch is addictive
Do we love them so much because they come from potatoes? The Irish people's love for the delicious Irish snack, Tayto, is written into our DNA. It's up there with pints, leprechauns, and Bono as a national treasure. The Irish people giving up crisps for Lent will struggle so much that they will slowly start to miss their cheese and onion breath (though their partners won't).
8. Skipping Mass – we'll be good Christians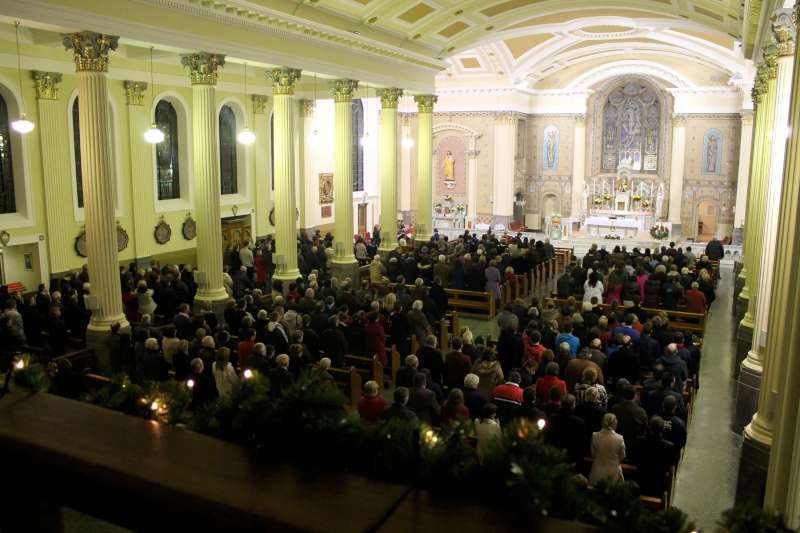 Forgive me, Father, for I have sinned. I'll set the scene for you: it's a Sunday morning, you've been on the pints the night before, the room is still spinning a wee bit, you're debating if it's safe to go to mass or if you'll projectile vomit all over the lady in front of you, but if you don't go your granny will never speak to you again.
Lots of Irish people try to make the extra effort over Lent, and after all, the Holy Spirit will help you more than any paracetamol ever could.
7. Nagging – you know who you are
This one's for all the Irish mammies out there. According to a "Twitter Lent Tracker" website, 1% of people said they are going off nagging for Lent. Whether this means they're going to bottle every little thing they've wanted to nag you about until Easter Sunday, we aren't sure. We think we know who the 1% is…
6. Alcohol – and cigarettes and hangovers
We would all be having Guinness-based hallucinations during Lent like Father Jack if we gave up pints. If there's one thing synonymous with Ireland, it's drinking. Maybe it's a good thing: you would also be giving up hangovers, the "Fear", and that kebab you always get on the way home. Think of it as a spring clean for your liver!
5. Hogging the TV remote – we've all done it
Every family has one…You know who you are. Sort it out.
4. Boojum – this one's near impossible
This one is more applicable for our Belfast, Dublin, and Cork readers. We're not sure how we will get our fix of greasy, tasty burritos, but we'll have to find a way. Boojum is a brand with a devoted following that rivals Christianity. It's a pity Jesus spent those 40 days in the desert. If he had 40 stamps on his Boojum card instead, he would have won a free T-shirt.
3. Swearing – think of the children
Irish people, despite their religious backgrounds, are no strangers to effing and blinding. Our history of swearing is so illustrious that we even have a few of our own swear words that we can't repeat here. Nevertheless, it might be time to train yourself out of the bad habit. Do it for the kids.
2. Meat – you've done Veganuary, now try Vegent
A typical Irish diet centres around meat the way that the furniture in your living room centres around your TV. This makes going veggie/vegan all the more difficult, but Irish people are committed to eating fewer animal products.
The expansion of veggie options in Ireland is growing rapidly, so now is an excellent time to join the veggie bandwagon and reduce your carbon footprint in the process.
1. Social Media – it's the healthy thing to do
This is by far the most popular thing Irish people are giving up for Lent in 2020. Facebook, Twitter, Instagram, TikTok, Snapchat, whatever you spend hours mindlessly scrolling through, it's time to let it go.
Everyone loves a challenge now and then, and in our social-media-oriented world what better challenge than to go off the grid? Enjoying the company of your friends and family is an integral part of Irish culture, and switching the phone off for a bit is the best way to make new memories.
Now you have some inspiration, it's time to decide what you are going off for Lent!