Irish nans teach you so much about life! My own grandmothers were a mixture of Lily of the Valley soap, Hydrangeas in shades of what I call "Blessed Virgin Blue", plastic bottles shaped like the aforementioned Virgin and full of multi-purpose holy water, potatoes going on to boil every day at noon without exception and sweets hidden around the house as surprise treats. They wound their watches and brewed lethally strong pots of tea on eternally hot kitchen stoves called "the range". My Donegal granny called the sink the "jawbox" and knitted gloves with needles that sent off sparks without ever looking down. My Dublin granny was more modern but equally as devoted to the spuds going on in a timely fashion. Let's take a closer look at the top legacies of the beloved Irish Nan.
1. A cup of tea on entry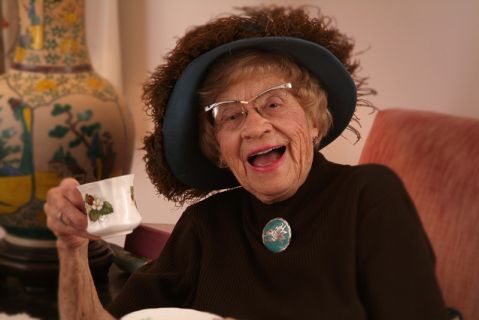 No visitor's backside hits a seat without that kettle going on. I have heard of far distant lands where this doesn't happen but it would be unimaginable in our homes that anyone is in the door more than five minutes without being plied with caffeine (and a plate of the good biscuits).
2. Biscuit tins are excellent for storage
The multiple uses for biscuit tins: they can be holders of sewing kits, cuttings from the newspaper (especially death notices), recipes, photographs and even, now and again, biscuits.
3. Never let anything go to waste
Save wrapping paper and string for no apparent reason and one day it will all become clear. Newspapers, jam jars and elastic bands are other items never to be disposed of and who are we to question why?
4. Omens
If a religious painting (in other words, all the paintings in the house ever) falls from the wall, it's a sign of impending death and not anything as mundane as the string rotting with age. One Magpie is for sorrow unless you salute him and so is spilling salt unless you nullify it by throwing some over your shoulder.
5. Time Management
Saturday's flit is a short sit. Saturday is no day to be moving into a new place unless you want to have to move again very soon. Hold tight till a weekday! If you were about to pop out for a spot of harvesting, don't begin it on a Friday and you might as well put your feet up on Sunday too because "work done on a Sunday will come undone on Monday". You were warned!