Ireland is an amazing place to visit and tourists have usually heard a lot about the magical country. However, there are some things that people only realise once they actually visit. This article highlights ten things foreigners realise when they visit the Emerald Isle.
1. The craic and lad banter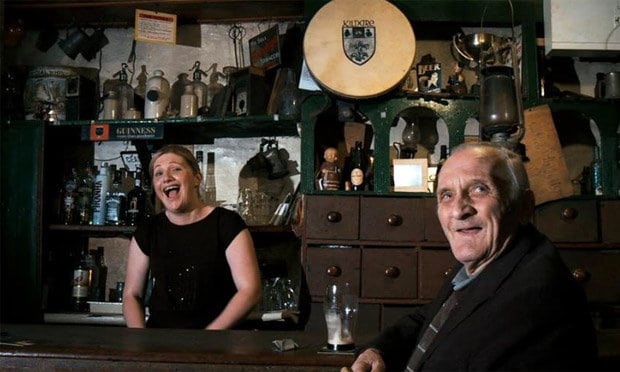 'Having the craic' is a concept which is difficult to explain if one hasn't visited Ireland. Perhaps it can be best explained as light-hearted banter. And you won't even need to set foot on Irish soil before being exposed to one version of this, namely 'lad banter.' On many a Ryanair flight home from one of Europe's party capitals, foreigners look on bemused while the other Irish passengers cringe as the joke inappropriateness increases with the levels of alcohol consumed.
2. Drinking culture
Here, the Irish do not do things by halves. Whereas in other nations, it is very common to go for one beer or a glass of wine, the Irish prefer to water themselves copiously. Perhaps this is also why drinking in public places is also forbidden, which could end in chaos.
3. Ireland is green
Foreigners flock to Ireland seduced by images of rolling green hills and picturesque lakes. They are not disappointed: Ireland boasts luscious green grass, which profits from copious rainfall, something visitors to Ireland complain about. The Irish countryside is one of its greatest offerings, largely unspoilt by tourism and offering excellent hiking opportunities.
4. Cows
"Oh the cows, such happy cows!" exclaimed my Italian friend when visiting Ireland. It's certainly true that you are more likely to see cows and sheep enjoying the outdoors in Ireland than in other large meat producing countries. Irish dairy products have also found a fan base abroad with Kerrygold now a household name in Germany. Whether the cows are psychologically better off is another question.
5. Brave Irish girls
The intrepid tourist to Ireland will probably schedule a trip to Harcourt Street's nightclubs when visiting Dublin. One thing that they often remark is that how the weather doesn't affect an Irish woman's choice of outfit. They may choose to wear a dress on a cold wet December evening. Many continental Europeans are shocked to be turned away at the door for wearing jeans and trainers.
6. The cost
Dublin is up there with the likes of London and Munich in terms of extortionate rent costs. Food prices, as well as cultural and social activities tend to cost more than other nations. Transport costs are disproportionally high and the infrastructure tend to disappoint some tourists.
7. People are friendly
Whether it's asking for directions or drinking in a pub, Irish people tend to go out of their way to be friendly and make new connections with people. Foreigners tend to notice this straight away and are often bemused if the security controllers wish them a good trip on arrival at Ireland's airport. The Irish are also seen as polite, often apologising profusely for the slightest mishap.
8. Colloquialisms
Visitors to Ireland often have difficulty understanding the rich variety of Irish accents. Added to this are funny colloquialisms with superfluous filler words, or expressions that Irish people say and don't really mean. For example, "Hey, how are ya?" tends to expect the response, "Hey how are ya?" Often people are not really asking how you are which tends to flummox non-natives. The Irish also add pointless interlocutors, including the word "like" or "so" for example, "Ah sure go on so…"
9. It rains a lot
With sometimes over 2000mm of rainfall each year, and rain on average almost every other day in the West, Ireland lives up to its stereotype of being wet. Yet there is hope. According to Met Eireann, if you cycle to and from work each day in Dublin, you will probably only get rained on 4 days out of 100. However, when it comes to visitors, the weather tends to be a question of luck.
10. The Language
Irish signposts appear in both the Irish and English language and the Irish language's complex use of vowels and consonants (often appearing three in a row in some words) can perplex visitors. How on earth is pronounced dun-leery? And Caiomhe is pronounced how? That said, 'slainte' is easier to get one's head around-cheers!