The beauty of Northern Ireland is that there is so much on offer. The culture, the scenery, and the people are to name a few of the best bits.
However, one of the most wonderful parts of who we are is that we know how to create the atmospheric 'pub' scene. Why else would so many people around the globe try to recreate the ambience of an Irish pub? It is a unique experience that we often take for granted, especially when you have a pint in front of an open fire, surrounded by friends.
Throw in some live music and it what I imagine paradise to look like, maybe a few degrees colder.
10. Blakes of The Hollow, Enniskillen
This place seemed like the ideal place to start our top 10 journeys. Being one of the oldest pubs in Co. Fermanagh, Blakes has been serving locals since the Victorian Times. It keeps a firm grasp on its traditional Irish heritage and offers live traditional music on Friday nights.
Blakes is home to a very special door that was showcased in Game of Thrones, which is proving to be a big hit. This door along with 9 others was crafted after 2 trees at the Dark Hedges had fallen victim to Storm Gertrude.
9. The Harbour Bar, Portrush
This is one of the most enjoyable experiences when it comes to pubs. Located right on the harbour in Portrush, the Harbour Bar offers live music, a great atmosphere and often the cosiness of a well-lit fire.
If you catch them at the right time, there is bar food available to order, I would definitely recommend that you get onboard with that.
8. The Duke of York, Belfast
This iconic pub is nestled down a stunning cobbled side street in Belfast city centre. I wouldn't even care what it was like inside, the walk to the bar is mesmerizing with the fairy lights across the alleyway.
Thankfully the walk would not be wasted as the pub itself shows off character and style, with an atmosphere that would ensure that you returned for one more pint.
7. The Anchor, Portstewart
This place is one that radiates charm and character while keeping the traditions of an Irish pub.
The stunning Victorian fireplace makes you feel like you are sitting in a ridiculously cosy living room, having a pint with your closest friends.
They run events throughout the week, traditional music, quiz nights and even karaoke.
6. The Jamaica Inn, Bangor
I am a sucker for this place. I don't know if it is the view or the feeling of pure relaxation as I enter the cracking noise of their log fire. I imagine it is a mix of both, it also brings such nostalgia of Christmas to catch up with friends.
This place has it all, located at the end of the town centre of Bangor, away from the business that comes with a town, The Jamaica Inn is worth the journey. Make sure to eat there too, the food is incredible.
5. The Plough, Hillsborough
This is one is located in the very picturesque village of Hillsborough. It is just one of those places that get an A+ for being the whole package.
The environment just attracts the right sort of crowd that you want to spend your evening with. It is worth a visit, but only if you are interested in coziness, good food, and a great atmosphere.
4. The Brewers House, Donaghmore
For culture, The Brewers House is where it is at. Just outside Dungannon in Donaghmore, this pub dates back to the 18th century.
Though it has just been refurbished, it has held on to its original beauty and character nestled in the very heart of the village.
3. Bennetts, Portadown
This seems to be the place to be at as a resident of Portadown. With a welcoming buzz and food that has never let me down, Bennetts is one that keeps you coming back.
A spot that thrives throughout the day and a pretty full menu of events in the evening time.
2. Peadar O'Donnell's Bar, Derry
This epic spot brags that it is the home of traditional Irish and contemporary music. I really can't argue with that.
This place hosts in such a stunning way and has created a pub that shows off its heritage so well. They have plenty of preplanned live music, but you'd better hope that you are there when an impromptu set happens.
1. Kelly's Cellars, Belfast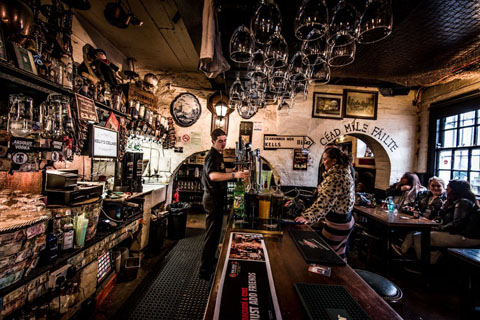 Located in Bank St, Kelly's Cellars is one of Belfast's oldest traditional Irish pub, situated in the heart of the city. Described as "a hidden gem that oozes old traditional values", it is famous for a pint of Guinness, served with homemade Irish beef stew.
Built in 1720, Kelly's Cellars has changed very little in 200 years and still has most of its original features.
Get featured on Ireland Before You Die
Do you want to get your Irish business more online exposure? Especially to those interested in travelling the best places in Ireland? Then why not get a dedicated feature on Ireland Before You Die. Find out more 
here.