We're lucky that we have so many amazing scenic sights and history to discover and explore on this little Emerald Isle.
From the famous Cliffs of Moher to Croagh Patrick, Ireland has so much to offer and fifty years should be enough time to get everything done in.
Here are 10 places in Ireland you should visit before you turn 50.
10. Giant's Causeway, Co. Antrim
This is a very cool natural rock formation you need to check out. The Giant's Causeway is a result of a volcanic eruption.
It is the habitat of rare plants and animals, and it's also a World Heritage site. Join in the half a million tourists who visit this natural scenic attraction every year.
9. The Gap of Dunloe, Kerry
There are some sites that are so naturally beautiful, it's hard to forget them. The Gap of Dunloe is one of these sites.
It's a great place for a hike or a leisurely walk depending on what you feel like. It's a narrow mountain pass running north-south in Kerry, which separates the Purple Mountain Group range in the east from the MacGillycuddy's Reeks mountain range in the west.
8. Titanic Museum, Belfast
Titanic Belfast is a visitor attraction opened in 2012. It was built on the site of the former Harland & Wolff shipyard in the city's Titanic Quarter where the RMS Titanic was in fact built.
Everyone should visit the Titanic museum at least once. The expansive history of the Titanic and its important history with Ireland are all enclosed in this state of the art museum.
7. Bunratty Castle and Folkpark, Clare
Get back to medieval Ireland at Bunratty Castle and Folkpark. See how the Irish lived long ago. They have done their best to preserve the 18th Century castle, and its authenticity is why it is such a popular site.
6. The Stairway to Heaven, Fermanagh
The stairway to heaven, set in Fermanagh's beautiful countryside is like something out of a fairy tale. Hike along a path that seems to continue bang in the middle of rural Ireland as if by magic.
5. Clifden, Connemara
Although Clifden is a small town, it has something for everyone. You're surrounded by breathtaking scenery, in a town that is nicknamed the capital of Connemara. It is the largest town in Connemara, nestled between the Twelve Bens mountain range and the Atlantic Ocean.
It's also a great base to explore the rest of beautiful Connemara, a must for anyone.
4. Croagh Patrick, Westport, Mayo
Before you're 50 make sure you follow in thousands of other's footsteps by taking on the Croagh Patrick mountain pilgrimage. People of all ages and fitness levels undertake the climb.
It's website states that, "the tradition of pilgrimage to this holy mountain stretches back over 5,000 years from the Stone Age to the present day without interruption". So you'll be in good company.
On average, it takes about two hours for the average person to reach the summit, and it then takes one and a half hours to descend it. It is recommended to bring sturdy footwear, rainwear and some drinking water. If you need a climbing stick, you can rent or buy them at the centre.
When you reach the summit of the mountain, you'll be greeted with fantastic views of Clew Bay in County Mayo.
3. Ballybunion beach, Kerry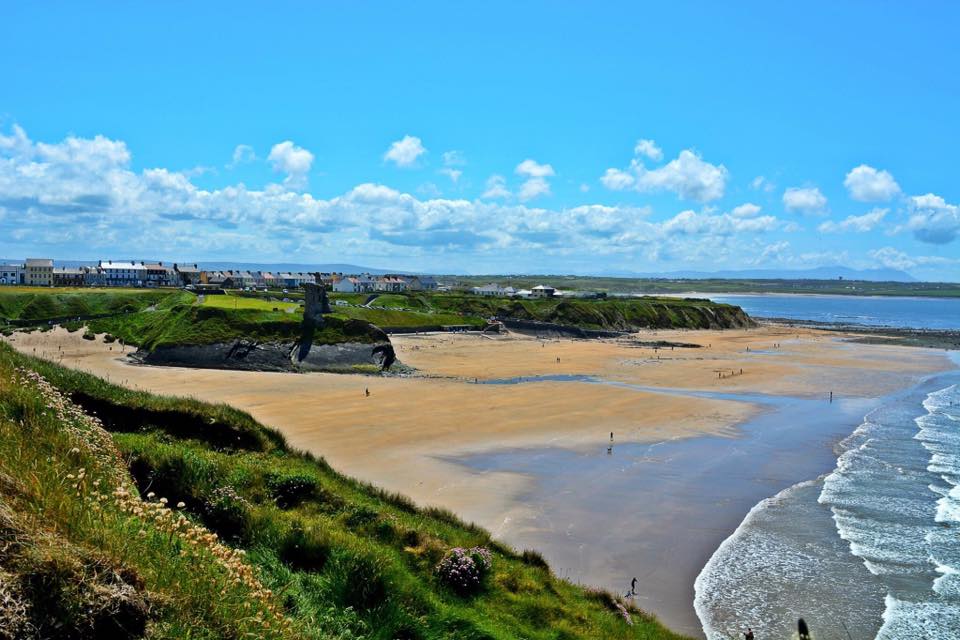 Here you get not just one but two beaches. Long ago men used to bathe on a different beach from women and children. Today everyone, men, women, children, dog enjoy both beaches, but they still have distinctive names.
The beach to the left of the castle (when looking toward the sea) is called the "Men's Beach", and the beach to the right is called the "Ladies Beach".
Both beaches are equally beautiful. It also has a great little ruin of a castle and viewing point. The sheer cliffs over the beach have a scenic walking path,
2. Achill Island, Co. Mayo
Go take a cycle in Achill Island. The scenery is absolutely breathtaking, and the cycle routes cannot be beaten. Get in touch with nature and realise just how beautiful Irish scenery is.
1. Cliffs of Moher
The Cliffs of Moher are a definite for your bucket list. It's one of Ireland's top tourist attractions for a reason. Every year people visit the cliffs in their thousands.
In 2017 they reached a record-breaking number of visitors at over a million people coming to see the natural wonder throughout the year. There are over 750 meters of safe pathways for people to explore the cliffs and raised 5557Brien's Tower.
To learn more about the cliffs, you can visit their modern eco-friendly visitor centre.