The Emerald Isle is renowned for its beauty and its wide variety of locations and places to see. There are many many places in Ireland the locals don't want you to know about as they are that good!
While everyone is familiar with Ireland's biggest attractions, there are many other places spread out over the Irish landscape that fall off the radar but are no less deserving of a visit as they can offer a fantastic experience.
In this article, we will list what we believe are the ten best places in Ireland the locals don't want you to know about.
10. Carrick-a-Rede Rope Bridge, County Antrim – take the perfect picture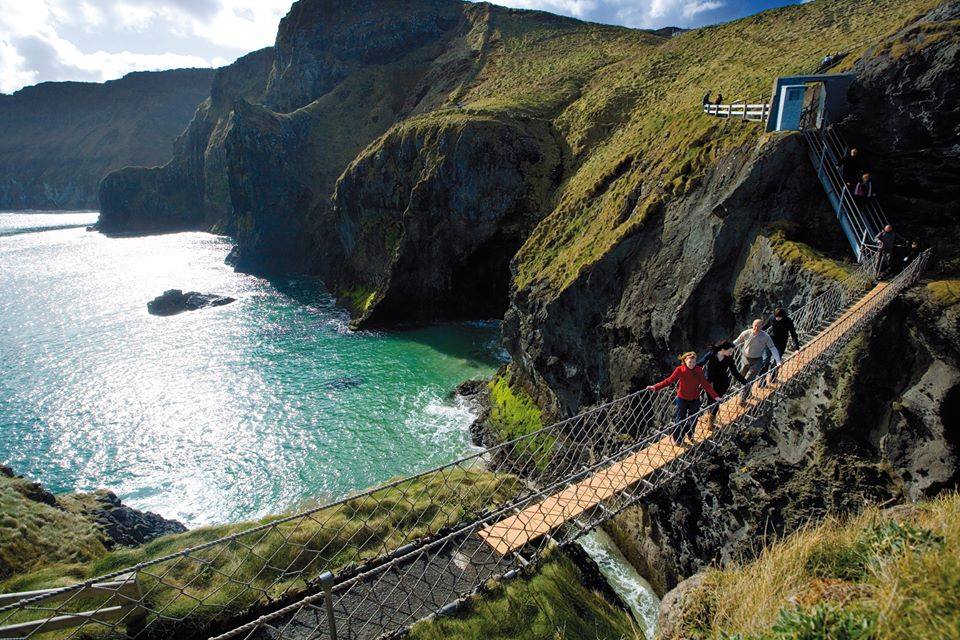 While almost a million people visit the Giant's Causeway every year, only a quarter of them visit the nearby Carrick-a-Rede Rope Bridge. The rope bridge connects the small island of Carrick-a-Rede to the mainland. Crossing the 66-foot bridge has become popular for those looking for the perfect Insta photo!
9. Dalkey Island, County Dublin – a peaceful escape
Dalkey Island provides a needed and relaxing escape from the hustle and bustle of Ireland's capital. Dalkey Island can be reached by a boat from Coliemore Harbour, and the island itself is full of history as it is over 6,000 years old. It also offers stunning views of the mainland.
8. Great Western Greenway, County Mayo – the perfect cycling experience
What better way to soak up the lush Irish countryside than by taking a leisurely cycle through it? The Great Western Greenway is a 42-kilometre, picturesque cycling route which connects mainland Mayo to Achill Island.
7. Loughcrew Cairns, County Meath – ancient and historical
When in Meath, most people who wish to see Ireland's most ancient sites tend to visit the Hill of Tara and Newgrange, but often overlook Loughcrew Cairns which is also an ancient area full of historical importance. The site is even older than Newgrange and also possesses the highest hill in Ireland at 276 metres from the top of which you will be rewarded with jaw-dropping views.
6. Beara Peninsula, Counties Cork and Kerry – the perfect scenic treat
While the Ring of Kerry is one of Ireland's most popular scenic routes, it does come with its own disadvantages as it can be full of buses and tourists all year-round. The Ring of Beara on the Beara Peninsula has excellent scenery to enjoy and is a treat for hikers with its rambling footpaths.
5. Rock of Dunamase, County Laois – an atmospheric fortress
The Rock of Dunamase is dripping in atmosphere. The historic fortress, which dates back to the ninth century, is a place of historical importance in Irish history and has also been the setting for many films. It also offers unparalleled panoramic views as on a clear day you can see Timahoe to the south, the Wicklow Mountains to the east, and the Slieve Bloom Mountains to the west.
4. Dunmore East, County Waterford – a seaside haven
In recent years, Dunmore East was named one of Europe's best secret villages, and it still remains to be a great Irish secret today, often overlooked by those looking for a trip by the seaside. Dunmore East is full of charm complete with seaside cliffs and sheltered coves; it's the perfect place for those wishing to enjoy an aquatic pursuit.
3. Mourne Mountains, County Down – be inspired
Many a writer has found inspiration from exploring the Mourne Mountains, most famously the author of Narnia, C.S. Lewis was said to be inspired to write his fantasy series because of the location. It's not hard to see how the Mourne Mountains can instil inspiration with their wild and untamed terrain full of forests, rivers, caves, and grottos.
2. Hore Abbey, County Tipperary – an intimate castle experience
While the most famous castle in Tipperary is, of course, the Rock of Cashel, its popularity means that it can be full of crowds a lot of the time. If you want to have a more intimate experience, look no further than the nearby Hore Abbey. Hore Abbey is a breathtaking ruin with no entrance fee, no tour guides, and no crowds most of the time making it a very intimate experience.
1. The Lost Valley, County Mayo – a window to the past
The Lost Valley is unique as it has been unaffected by modern times, this is because it has remained, for the most part, untouched since its villagers were forced to leave because of the effects of The Great Famine of the mid-1800s. The Lost Valley's unspoiled beauty makes it the perfect place to take an insightful look into Ireland's history.
Now that our list of ten places in Ireland the locals don't want you to know about is complete, make sure to tell us how many of them you have already discovered on your Irish travels!