From the Burren to the Giant's Causeway, here are our top 10 places in Ireland that will never cease to amaze visitors.
Ireland is well-known universally for its charming allure, rugged scenery, and unforgettable authentic experiences. Around every bend in the road is another place just waiting to take your breath away, and it is simply impossible to not fall in love with this remarkable isle and the diverse natural beauty it boasts.
There are so many amazing locations to visit in Ireland that it can be immensely difficult to choose where to go. However, we are here to help inspire and have compiled a list of some of our favourites.  
Here is a selection of our top 10 places in Ireland that will never cease to amaze!
10. Dublin Northside – the home of Dublin's DNA
First on our list is a place where an extraordinary amount of Dublin's history and heritage can be found. Lying north of the River Liffey, the Dublin northside is home to a multitude of top tourist attractions that are collectively known as the Dublin Northside Attractions (DNA).
These attractions make up the central strands of Dublin's DNA and offer visitors unforgettable experiences and a deeply personal glimpse into Dublin's fascinating past. Learn about Ireland's heroes and heroines at Glasnevin Cemetery Museum, the origins of the GAA at Croke Park Stadium, the history behind the Dublin tenements at 14 Henrietta St., the home of Jameson Whiskey in Bow St., and the life and works of writer James Joyce at the James Joyce Centre.
Without a doubt, the Dublin Northside offers endless opportunities to discover Dublin's history and will never cease to amaze visitors!
Location: Northside, Co. Dublin
9. Connemara National Park – a western wilderness along the Wild Atlantic Way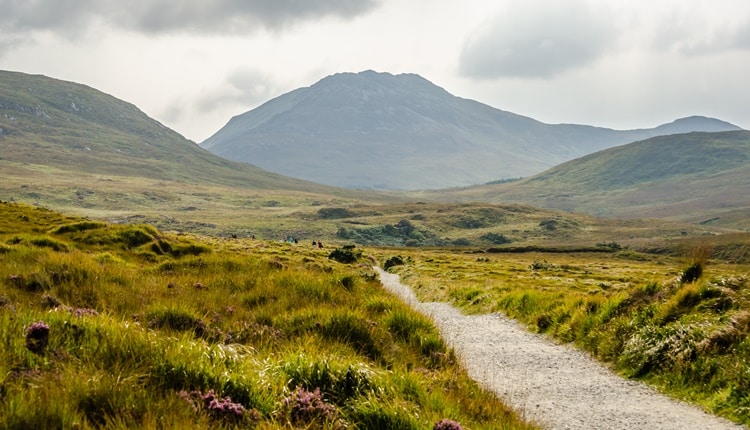 Next on our list is Connemara National Park, located in County Galway. It is one of six scenic national parks in Ireland and is made up of 2957 hectares of stunning bog, grassland, and woodland. The park's mountains include the stunning Twelve Bens (or Twelve Pins), offering a range of scenic routes and nature trails.
The Connemara consists of serene expanses of countryside radiating a distinctly rugged charm. Remnants of ruined houses, ancient walls, and herds of Connemara ponies dot this exquisite landscape and provide a surreal sense of timelessness to this stunning wilderness. In contrast, phenomenal sites such as the impressive Kylemore Abbey can also be found hidden within this western wilderness. This is truly a walk on the wild side!
Location: Letterfrack, Co. Galway
8. Mullaghmore Peninsula – a surfer's paradise
Located in Country Sligo, the small yet stunning Mullaghmore Peninsula juts out into the North Atlantic at the northern point of Sligo. Straddling both land and sea, Mullaghmore is one of the most breath-taking places Ireland has to offer.
The peninsula's shape forms a natural bay, and this, combined with the powerful waves of the Atlantic, makes Mullaghmore a surfer's paradise. Not only is the land here sensational, but the powerful waves that crash against this stunning coastline are a force to be reckoned with.
Near the tiny village of Mullaghmore is Classiebawn Castle sitting in a few hundred meters from the sea and overlooked by the spectacular Benbulben mountain. We think that Mullaghmore is well worth a visit as you continue your Wild Atlantic Way journey.
Location: Mullaghmore, Co. Sligo
7. Glendalough – a magnificent Monastic City
Our next stop can be found in County Wicklow, also known as the Garden of Ireland. Glendalough (meaning 'valley of the two lakes') is a strikingly beautiful glacial valley and is home to one of the most important monastic sites in Ireland. Founded by St. Kevin in the 6th-century, this monastic settlement gradually developed into an influential 'Monastic City' and thrived as one of Ireland's greatest ecclesiastical foundations until the 13th-century.
The extensive medieval ruins of Glendalough lie waiting to be explored and can be found scattered across the 3km long valley. They include a collection of several gorgeous ruined churches, a magnificent cathedral, multiple high crosses, and a striking 30-meter-high round tower. This place is most definitely one for the bucket list!
Location: Derrybawn, Glendalough, Co. Wicklow
6. The Dingle Peninsula – rugged, rural and remarkable
Next on our list is one of Ireland's most atmospheric places, the Dingle Peninsula in County Kerry. Boasting beautiful beaches, majestic mountains, rugged coastlines, and dreamy deserted islands the Dingle Peninsula is a place that will never cease to amaze!
Stretching over 48km westwards from Tralee, this peninsula is home to a selection of colourful and characterful towns, an abundance of emotive scenery as well as the perfect dose of ancient ruins. One of the most popular towns along this peninsula is the town of Dingle, a great base for exploring the peninsula in full and famously known as the home of the bottlenose dolphin Fungie.
Slea Head Drive, Dun Chaoin Pier, Coumeenoole Beach, Valentia Island, the beautiful Blasket Islands, and the mystical Skelligs can all be accessed along the peninsula and really add to the charm of this remarkable place.
Location: Dingle Peninsula, Co. Kerry
5. The Burren – an extraordinary ecological sanctuary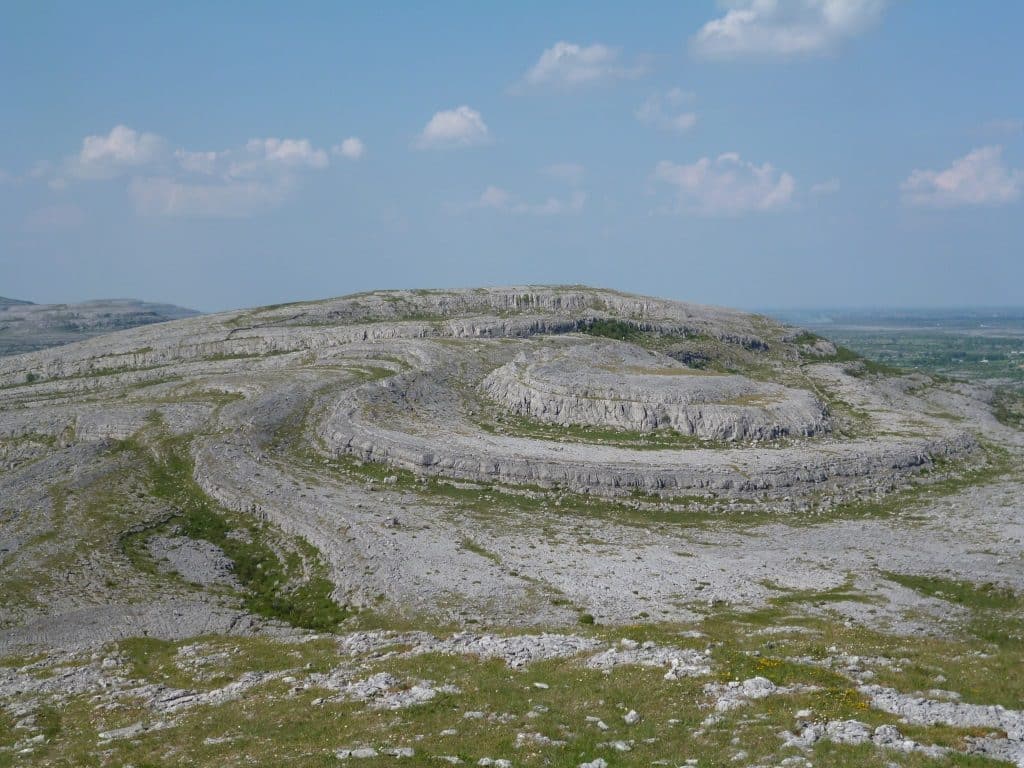 Number five on our list is the beautiful Burren, located in Country Clare and extending into County Galway. This extraordinary place is most certainly one of the jewels of Ireland's crown and is a region of outstanding significance in terms of geology, natural history, and archaeology.
The Burren is a stunning ecological landscape and is home to over 700 different flowering plants and ferns. While the Burren only accounts for 1% of the landmass of Ireland, 75% of native Irish species are contained in this area of outstanding natural beauty, now designated as a Special Area of Conservation.
Likened to a lunar landscape, the Burren is a glacio-karst landscape and is also part of the Burren National Park. The spectacular limestone plateau that dominates this place is also home to many man-made structures including several megalithic tombs and early churches. Make sure to take some time to explore the Burren on your next Irish road trip!
Location: Corofin, Clare
4. Slieve League Cliffs – terrific views from the edge of the world
Next on our list of places in Ireland that will never cease to amaze is the Sieve League Cliffs. Located in County Donegal, these are the highest accessible sea cliffs in Europe reaching a height of 1,972 feet and offer stunning panoramic views of the Atlantic Ocean, and dazzling views of Donegal Bay.
This location offers various walking trails for walkers of all levels of fitness and is a place of pilgrimage, rich Irish heritage, and culture. To fully enjoy the spectacle of Slieve League Cliffs, we recommend that you walk to the viewing point, so as not to miss the exhilarating views from what feels like the edge of the world.
Location: Shanbally, Co. Donegal
3. The Giant's Causeway – where myth and science meet
At number 3, is the Giant's Causeway. Located in County Antrim, the Giant's Causeway is an iconic World Heritage Site, and visitors can learn more about this amazing landscape at the award-winning Giant's Causeway Visitor Centre.
Around 60 million years ago this landscape was subject to intense volcanic activity resulting in the formation of the distinctive basalt columns seen today. According to legend, the columns are the remains of a causeway built Fionn mac Cumhaill (Finn MacCool) so he could fight the Scottish giant Benandonner. Across the sea, there are identical basalt columns at Fingal's Cave on the Scottish isle of Staffa. Without a doubt, it is here that myth and science truly meet!
Location: 44 Causeway Rd, Bushmills, Co. Antrim
2. Brú na Bóinne – a sacred and mythical landscape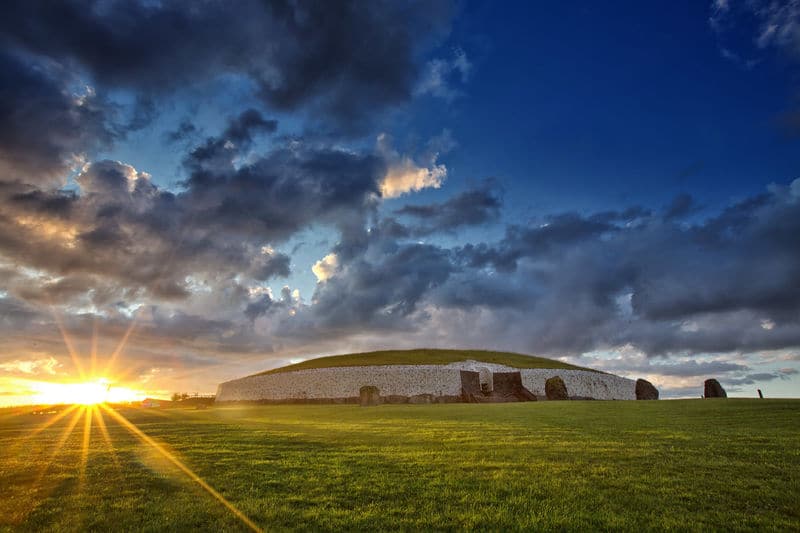 Next on our list is the outstanding Brú na Bóinne (Boyne Valley) in scenic County Meath. This sacred and mythical landscape is also known as Ireland's ancient capital and covers 9,000 years of history! Located on the bend of the River Boyne, Brú na Bóinne is dominated by three well-known passage tombs: Newgrange, Knowth and Dowth.
Knowth, particularly, is known to contain the largest collection of megalithic art in Western Europe. Ninety additional monuments have been recorded in the area giving rise to one of the most complex and important prehistoric landscapes in the world.
Location: Glebe, Co. Meath
1. Aran Islands – a truly authentic Irish experience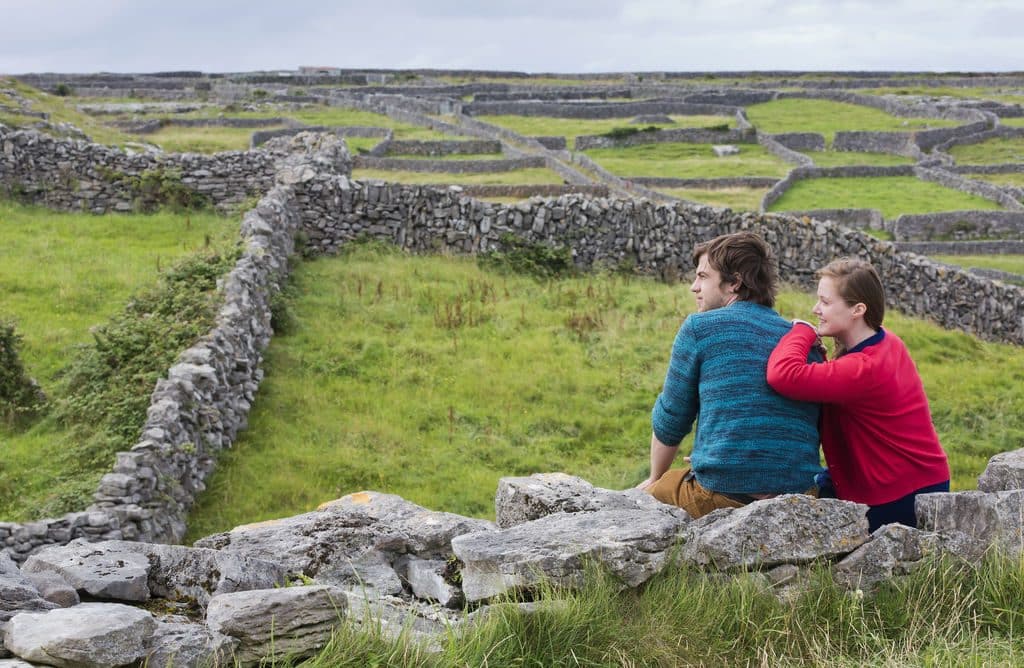 Topping our list of places in Ireland that will never cease to amaze are the idyllic Aran Islands – Inis Meáin, Inis Mór, and Inis Oírr. Lying just outside Galway Bay, off County Galway, these islands are home to a labyrinth of picturesque stone walls, cozy traditional homesteads, and renowned hospitality.
The Aran Islands offer a truly authentic Irish experience and are a precious sanctuary from the rush of modern life. Their distinct isolation guarantees their place as a stronghold of traditional culture, language, and history.
Among their many highlights is Dún Aonghasa, the best-known of several prehistoric hill forts on the Aran Islands and is located on Inis Mór. The semi-circular stone fort overlooks the Atlantic and consists of three terraced walls surrounding an inner enclosure containing a platform on the edge of a three-hundred-foot-high cliff. Make sure to include the Aran Islands on your next itinerary!
Location: Aran Islands, Co. Galway