These are our top picks of the most beautiful places to visit in Northern Ireland in your lifetime.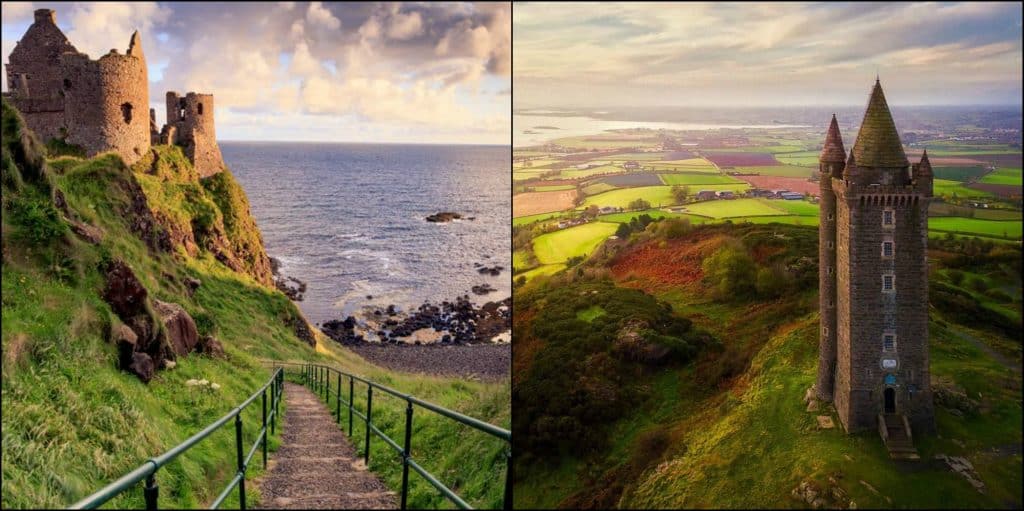 From its coastal views and bucket-list drives to its gorgeous greenery and majestic mountains, Northern Ireland is every bit as gorgeous as the Republic. If you haven't been to this part of the Emerald Isle, we recommend you put it on your bucket list ASAP.
Here are the 10 most beautiful places to visit in Northern Ireland.
10. Causeway Coastline – for a range of historic and beautiful locations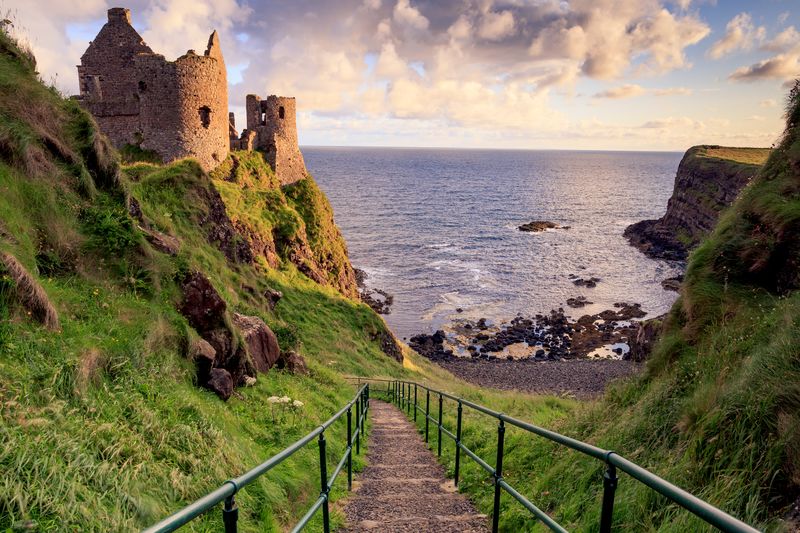 We're cheating a bit with this one as there's just so much to do and see along this route. On the coastline, you might know the Giant's Causeway most famously—40,000 basalt columns created in the aftermath of volcanic eruptions that occurred around 60 million years ago. It's a must-see.
You'll also want to check out the Carrick-a-Rede rope bridge, which is suspended about 30m above sea-level and was erected almost 350 years ago by salmon fishermen.
If historic ruins are your thing, then make sure to visit Dunluce Castle, which dates back to the 1500s and towers sublimely over the Atlantic.
9. Mussenden Temple – for a spectacular coastal view
Perched on the cliffs that overlook Downhill Strand, this historic building dates back to the 18th century and forms part of the Downhill Demesne.
Mussenden Temple offers spectacular views over the sea towards County Donegal in the west and Castlerock Beach in the east, so make sure it's on your itinerary!
8. Belfast's Titanic Quarter – to soak up architectural magnificence and maritime views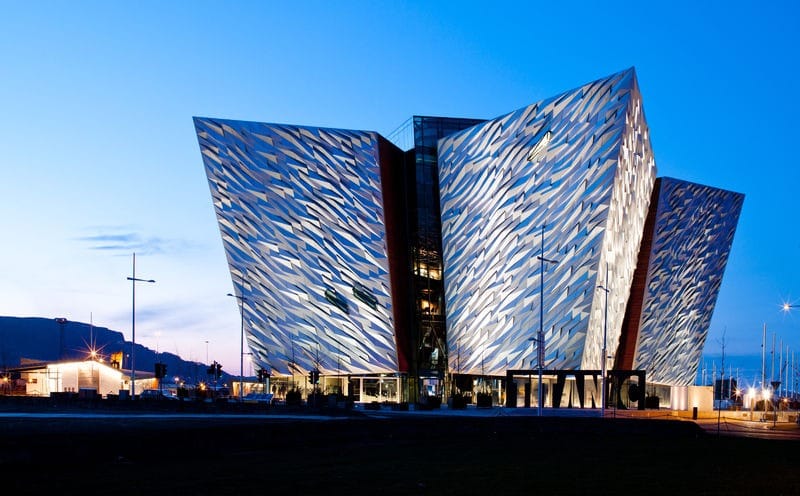 Belfast has many beautiful areas worth checking out, but none more scenic than its Titanic Quarter. The area is composed of many cultural landmarks, including the architecturally magnificent Titanic Belfast museum, filming studios, and the majestic SSE Arena.
But in addition to its spectacular buildings, the Titanic Quarter's beauty also lies in its maritime location. At night you can watch the city light up and reflect onto the water as you explore the area's cobbled streets. You can also catch the Tall Ships pulling into the marina in summer as part of the Belfast Titanic Maritime Festival.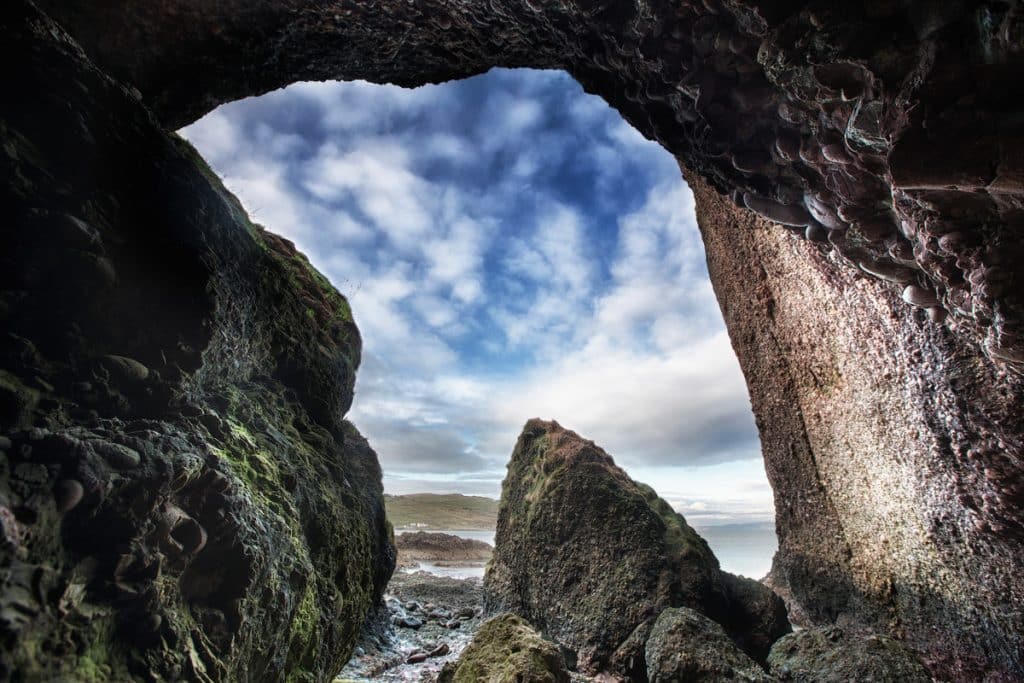 These majestic rock formations overlook the Irish sea and can be found tucked into the Antrim coastline. One of the most beautiful places to visit in Northern Ireland, they sit at the northeast of the country by the town of Cushendun – you can reach them in just 10 minutes from here.
Recently these caves have become famous for more than just their natural beauty; if you're a Game of Thrones fan, you might remember Red Priestess Melisandre giving birth to a spirit here.
6. Portstewart Strand – to enjoy a walk across stunning beaches
This is one of the most visited and spectacular beaches in Northern Ireland. It's beauty even garners its protection from Northern Ireland's National Trust in honour of its innate splendour and historical importance.
Take a walk (or drive) along its pristine sands for impressive views no matter the time of year, and discover the wildlife that has called the neighbouring dunes their home.
5. Tollymore Forest Park – to lose yourself in the quiet of the forest
Located at Bryansford, near the town of Newcastle, Tollymore is an area of outstanding natural beauty that spans an area of 630 hectares. It was Northern Ireland's first state forest park and was established back in 1955.
Here you can uncover lush, diverse greenery while you cross the Shimna River that runs softly through the shrubbery. Impressive archways, overgrown ruins, and quaint bridges also stipple the forest, some of which date back to the 18th century. This is a peaceful retreat that you could spend all day relishing.
4. Cave Hill – where you can feel on top of the world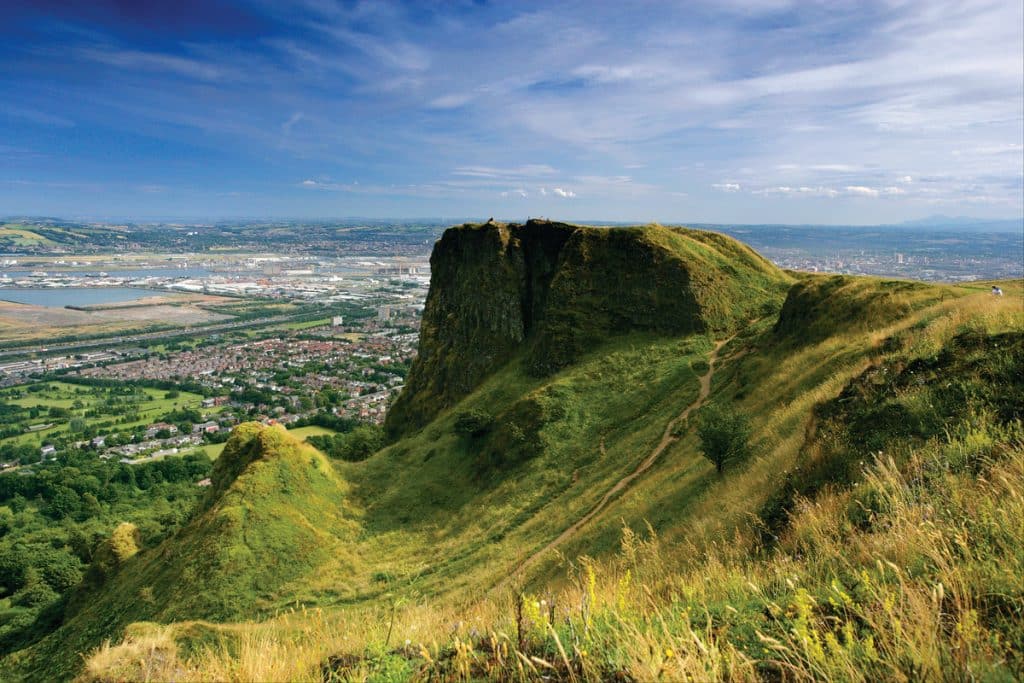 The mountain face that towers over Belfast is known for its characteristic "Napoleon's Nose," a gigantic basalt cliff that some say resembles the French emperor. The hike up the mountain is a steep one, although there are various routes you can take to reach the top and most are highly accessible.
All of Belfast can be seen from the summit—and even some of Scotland on a clear day. Enjoy a few spooky caves on your way up the mountain, and make sure to pay a visit to the ostentatious Belfast Castle and its floral grounds on your way down.
3. Silent Valley – to get off the beaten track
This massive reservoir takes you to a world where time stands still. Surrounded by mountains, the Silent Valley offers beautiful grasslands and bodies of water that create a magical sense of peace for its tens of thousands of visitors every year.
The reservoir can be found in Kilkeel, though it supplies the water for most of County Down and Belfast, making it an extremely important facility ever since it was completed in 1933—and easily one of the most beautiful places to visit in Northern Ireland.
2. Scrabo Tower – for an easily accessible yet beautiful viewpoint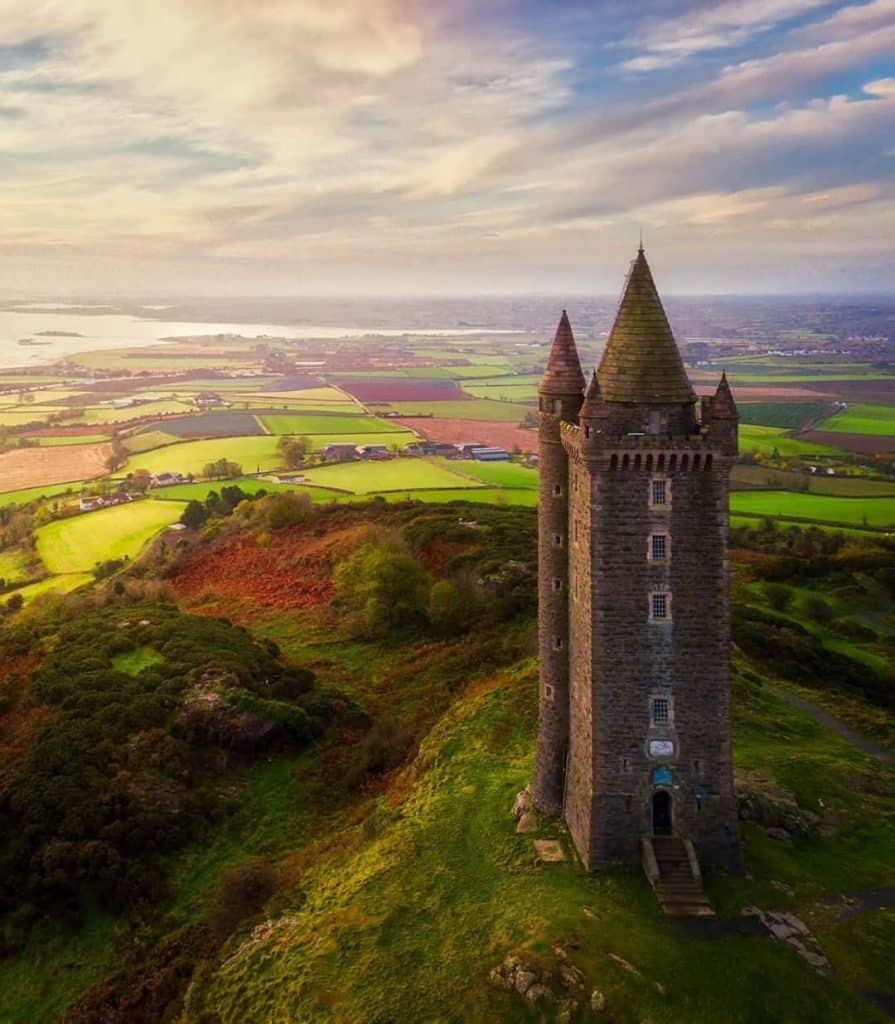 Looming 135 feet into the air atop Scrabo Hill, Scrabo Tower can be seen far and wide across Northern Ireland. It was originally constructed as a monument in the late 19th century by famous architects Charles Lanyon and his partner, William Henry Lynn.
Today, it is enjoyed for the magnificent views it offers across County Down, County Antrim, and Scotland. Scrabo is just a short drive from its neighbouring town, Newtownards, though there are many walking routes to the castle through Scrabo Country Park and Killynether Wood.
1. Strangford Lough – for incredible vistas hosted in a range of localities
Strangford Lough is situated only 30 minutes from Belfast, and it offers gorgeous views across Northern Ireland. Marvel at the lough from many different locations—from the ferry-filled shores of Strangford town, the shrubbery of Castle Espie, the tranquillity of Downpatrick's Qoile River, or many other scenic locations.
The lough is also a wonderful place to go to enjoy sailing, water sports, or fishing. Take the ferry from Strangford to Portaferry in just 90 minutes; with some luck of the Irish, you might even see some dolphins, seals, or porpoises along the way.
If these 10 incredible destinations don't quell your travel bug, then why not check out our bucket list that includes more scenic locations to visit in Northern Ireland.