The Emerald Isle is home to some stunning courses across all four of its provinces. But which are most costly? Read our article on the most expensive golf courses in Ireland to find out.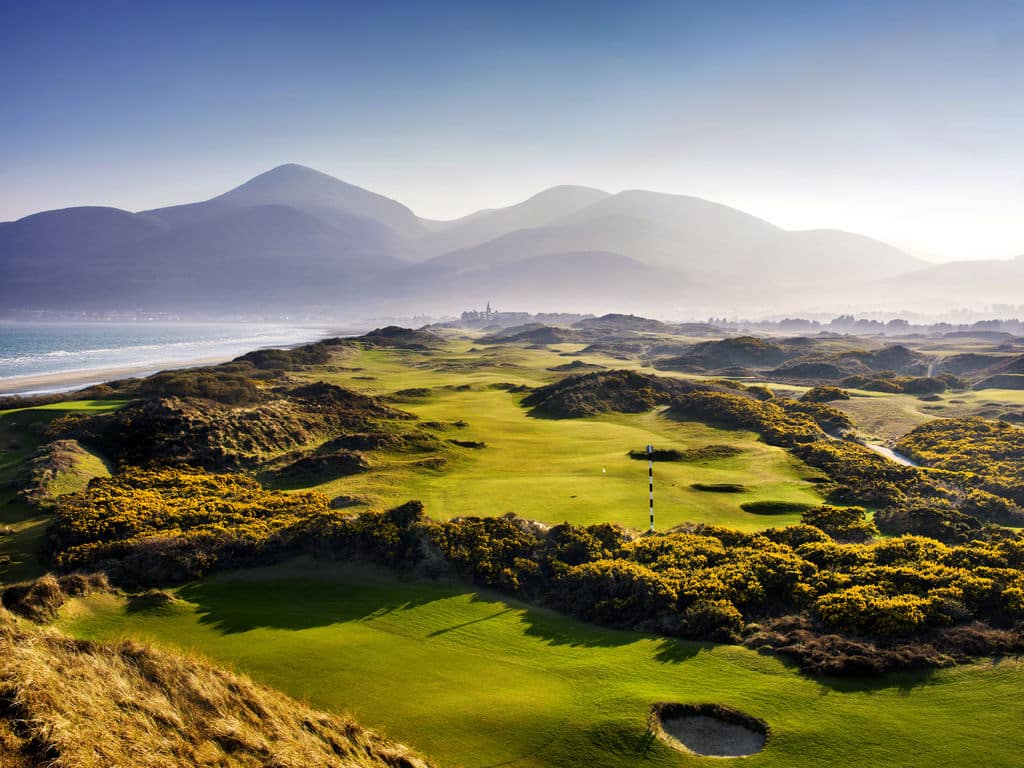 Ireland is one of the most beautiful places in the world to enjoy a round of golf. The climate lends itself well to keeping the grass in emerald green condition while the landscape provides a stunning backdrop.
There are more than 300 golf clubs in the country, many of which are 'links' courses, linked to the coast with natural terrains often build on or within sand dunes.
The majority welcome visitors but usually prioritise members so it is best to check availability in advance.
The more exclusive clubs are not so easy to enjoy unless you decide to become a member or are close comrades with the captain.
Either way, your wallet is sure to feel the effects either on fees or celebratory drinks in the clubhouse.
Here are 10 of Ireland's most expensive golf courses but don't let the list put you off. All are well worth the fees and offer a superb golfing experience. (Just bring your wet gear!)
10. Royal Portrush Golf Club, Antrim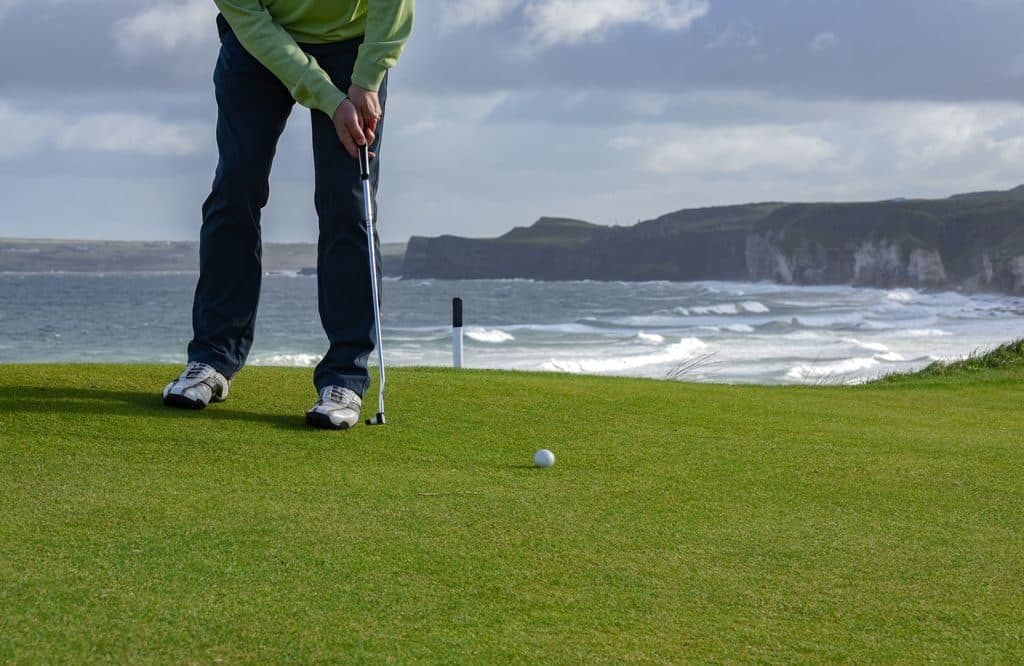 Royal Portrush Golf Club is home to the stunning Dunluce Links and Valley Links courses.
Originally one of Ireland's oldest country clubs, this Antrim hot spot has been around since 1888 and is one of the main attractions on North Antrim's gorgeous causeway coast.
Green fees cost £220 per player during peak season and allotted visitor times are restricted. As with all the golf clubs in Ireland, there is a strict dress code for both course and clubhouse.
Address: Dunluce Rd, Portrush BT56 8JQ
READ MORE: See where the iconic Royal Portrush Golf Club ranks on IB4UD's list of the top 10 highest-rated golf courses in Northern Ireland
9. Portstewart Golf Club, Derry
Host to the Irish Open in 2017, Portstewart Golf Club in Derry has three stunning courses to choose from.
The Championship Strand Course epitomises quality links golf while the Old Course offers a glimpse into where the story began and is a great starting point for groups and novice golfers.
The Riverside Course along the River Bann has its own unique qualities and perfect for those who enjoy a challenge but are not up to the Strand.
Green fees for The Strand Course cost £175 for 18 holes while The Old Course and Riverside are a very reasonable £29 and £15 respectively.
Address: 117 Strand Rd, Portstewart BT55 7PG
8. Portmarnock Golf Club, Dublin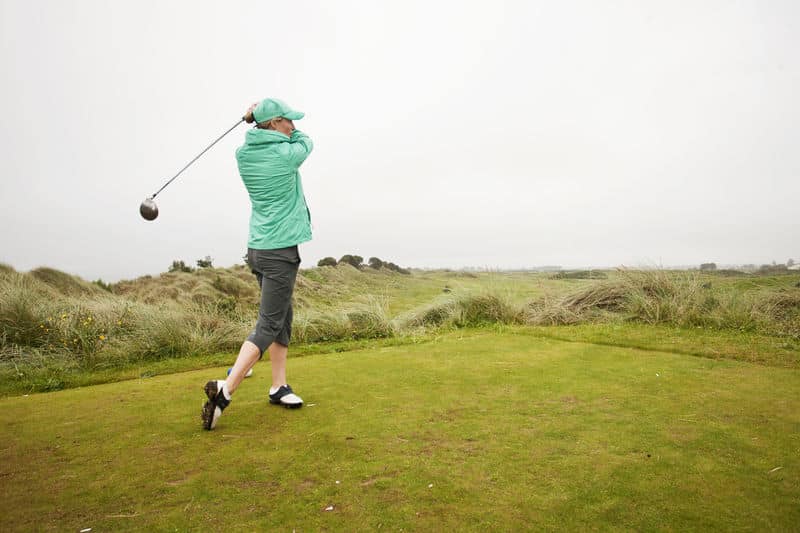 Portmarnock Golf Links has been ranked as one of the top courses in the world. Sitting on shallow duneland next to a long stretch of beach it is a very enjoyable yet challenging course.
It is considered one of the fairest golf courses in the world by some of the greatest golfers in the game. It is conveniently located about a 15-minute drive from Dublin airport and close to the picturesque fishing villages of Malahide and Howth.
Green fees start at €225 for a mid-week game with the options of booking 27 or 36 holes rising as high as €395 per person.
Address: Golf Links Rd, Stapolin, Portmarnock, Co. Dublin, D13 KD96, Ireland
RELATED: Want to golf more in the capital? Then check out our article on the top 10 best golf courses in Dublin, ranked
7. Druids Glen, Wicklow
Host to the Irish Open four years in a row, Druids Glen is a very special golf club. It welcomes visitors all year round and offers very affordable green fees averaging €80 per person.
The heathland course is surrounded by mature trees and enjoys views of both the Irish Sea and the Wicklow mountains.
The golf resort is perfect for a celebratory occasion or weekend getaway with stylish décor and an ideal location … a special place for anyone visiting Wicklow.
Address: Leabeg Upper, Newtown Mount Kennedy, Co. Wicklow, Ireland
SEE MORE: Choose from Druid's Glen and more in our rankings of the 5 best golf courses in Wicklow
6. Ballybunion Golf Club, Kerry
Nestled among golden sand dunes, overlooking the Atlantic Ocean and in the heart of the Kingdom of Kerry are two world-class golf courses brought to you by Ballybunion Golf Club.
Choose either the Old Course at €230 per person or the Cashen Course for €80 for a challenging golfing experience in stunning surroundings.
Caddies are recommended and cost €60 for a senior and €40 for a junior. Visitors are welcome during the week but the courses are held for members use only at weekends.
Address: Sandhill Rd, Ballybunion, Co. Kerry, Ireland
5. The Royal County Down Golf Club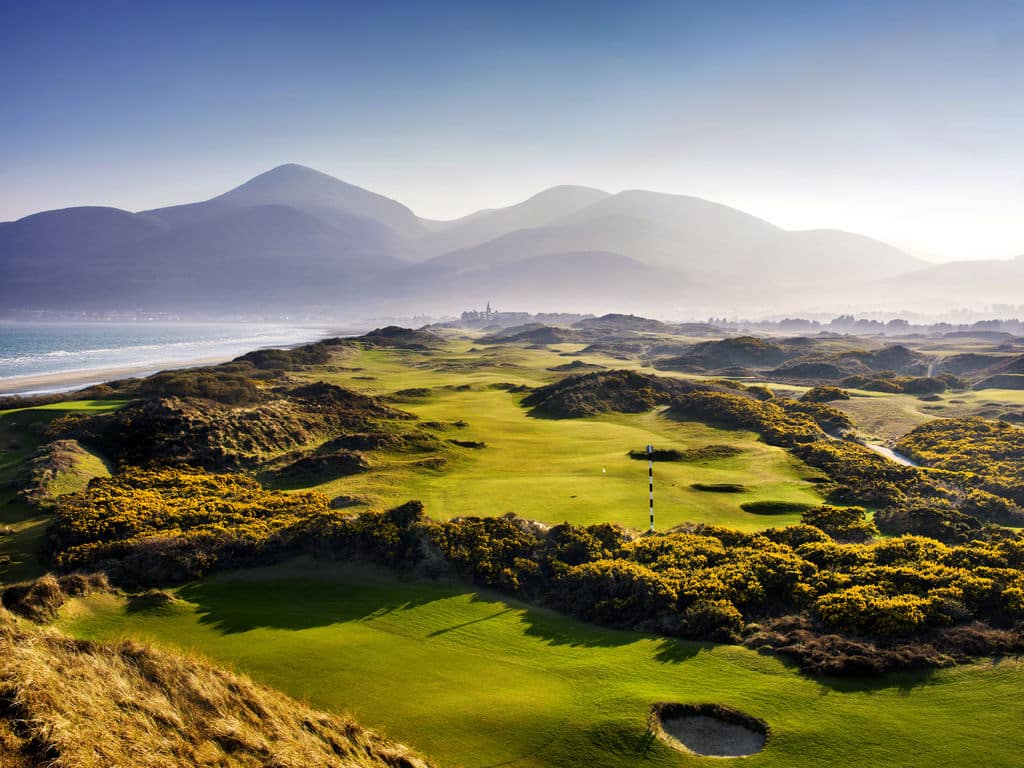 Voted The Best Golf Course in the World by Golf Digest, The Royal County Down has to make the list of prestigious golf clubs in Ireland.
Green fees average £250 per person during high season with only caddies (no carts) permitted on the course.
Set in the foothills of the Mourne Mountains and linked to the shores of Dundrum Bay, the backdrop to the course is breath-taking and lends itself well to a very special golfing experience.
Flanked by purple heather and golden gorse, the fairway is pleasing to both sight and smell. Just try not to allow the ball to stray too far off course.
Address: 36 Golf Links Rd, Newcastle BT33 0AN
4. Lahinch Golf Club, Clare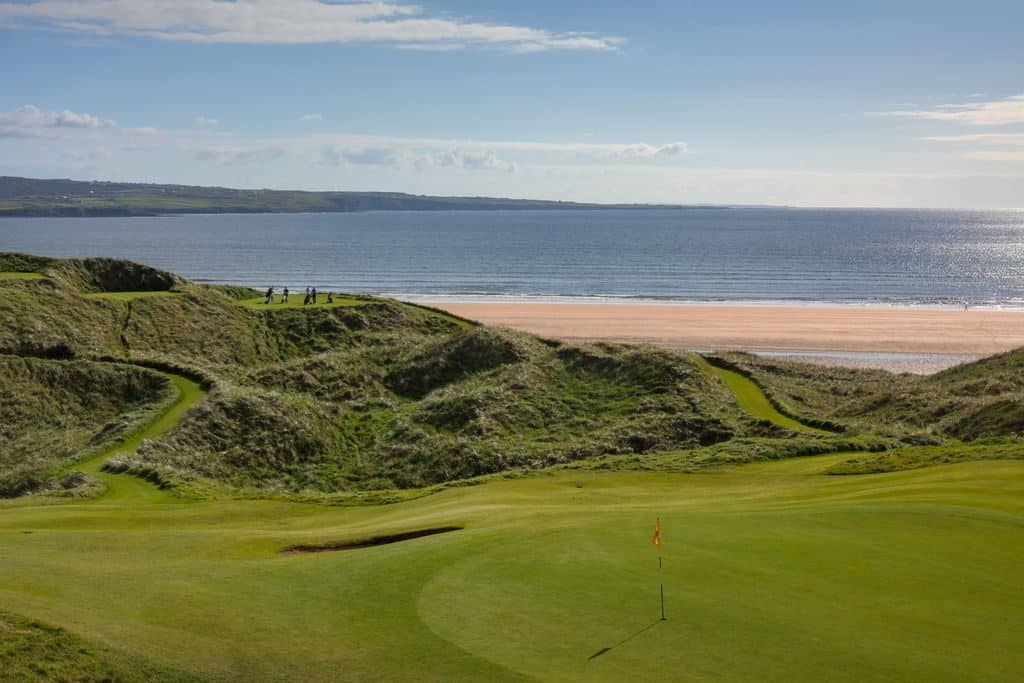 Lahinch is a gorgeous links course on the Wild Atlantic Way. The old course will set you back a hefty €230 for 18 holes during high season but the experience will last so much longer.
There is a more affordable option of playing the Castle Course for €40. Both are walking courses with no golf carts available for hire and caddies should be booked in advance.
Address: Dough, Lahinch, Co. Clare, Ireland
3. Old Head Golf Links, Cork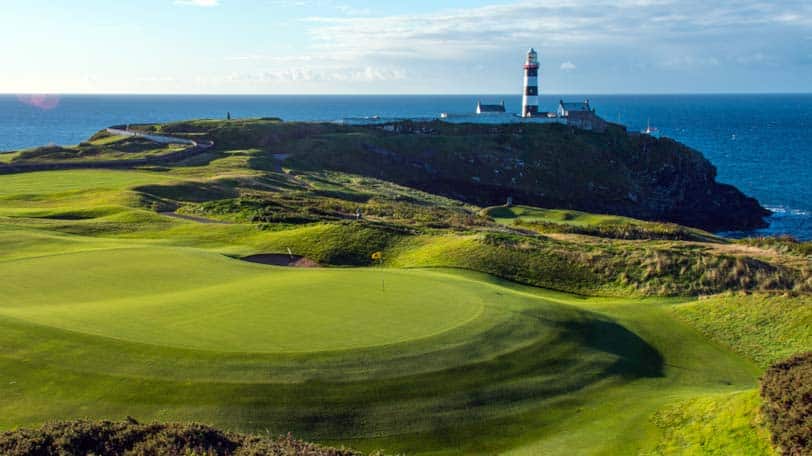 Spanning 220-acres of stunning land that stretches a breath-taking two miles into the Atlantic Ocean in the south-west of Ireland this golf course speaks for itself.
The 'Old Head' Experience is something every keen golfer should enjoy at least once and Kinsale is such a beautiful place to stay.
They even have a helipad to accommodate those who wish to see Ireland from the air or be transported between golf courses without going near any roads.
Rates are unsurprisingly on the higher end of the scale at €350 during high season with a golf cart costing €60 and €50 for a senior caddy.
Address: Downmacpatrick, Kinsale, Co. Cork, Ireland
READ MORE: Top 10 best golf courses in Cork, ranked
2. Royal Belfast Golf Club, Down
The Royal Belfast is the oldest golf club in Ireland. After enjoying a few rounds of golf at St Andrews in Scotland, Thomas Sinclair returned to Northern Ireland with some great ideas and even bigger plans.
He gained permission from the then Lord of Holywood, Captain John Harrison, got Harry Colt on board and the course was complete by the end of the year.
The course sits beautifully on a 140-acre site on the south shore of Belfast Lough in Craigavad with the former manor house now the luxurious clubhouse.
The green fees are very reasonable and cost an average of £100 per person with deals often on offer via the website.
Address: Station Rd, Holywood BT18 0BP
1. Adare Manor, Limerick
The plush resort at Adare Manor in Co. Limerick is said to be the most expensive place in Ireland for a round of golf.
An impressive revamp in 2017 resulted in a massive hike in green fees with the current cost to play 18 holes an eye-watering €375 during peak season.
Caddies must be used on the course, costing a further €75 while cart hire adds another €60 to the tab. Lessons come in at €90 each and I don't even want to think about the price of a drink in the clubhouse (which I'm guessing you will need after all that!)
Former Manchester United sponsor and owner of the golf club hopes to host the 2026 Ryder Cup after the Invitational Pro AM in 2020. Another bonus is the meticulously maintained course and Tom Fazio design.
It is by far Ireland's best parkland course.
Address: Adare, Co. Limerick, V94 W8WR, Ireland
Your questions answered about the most expensive golf courses in Ireland
If you still have some questions about the most expensive golf courses in Ireland, then we have you covered! Below, we outline the most frequently asked questions from our readers and online about this topic.
Where is the most expensive golf course to play?
The Shadow Creek Golf Course in Las Vegas, Nevada is reportedly the most expensive, costing between $600-$1,000 per round.
How much does it cost to join the old head of Kinsale?
As far back as 2016, it was reported that it cost 30,000 euros to join the old head of Kinsale.
How much is a membership at Muirfield Scotland?
For one round, it costs £325 and for two rounds in a day it costs £495.
How much is it to play Royal Birkdale?
The summer rate for visitors is £340, £370 on a Sunday. The autumn rate is £240.
MORE IB4UD ARTICLES ABOUT GOLF COURSES IN IRELAND
6 of the best golfing destinations in Ireland
Top 10 best golf courses in Ireland, ranked
Top 10 best golf courses in Northern Ireland, ranked
Top 5 best golf courses in Killarney, ranked
The 10 best golf courses in Galway, ranked
Top 10 best golf courses in Donegal, ranked
The 10 best golf courses in Belfast, ranked
Get featured on Ireland Before You Die
Do you want to get your Irish business more online exposure? Especially to those interested in travelling the best places in Ireland? Then why not get a dedicated feature on Ireland Before You Die. Find out more 
here.