We are pretty sure any adventure you take on the Emerald Isle will stay in your mind for many years to come (unless it involves a lot of Guinness when you might struggle to recall some finer details). But just to make sure you make the most of your trip we have made a list of some of our favourite places to visit.
Ireland is full of remarkable spots, mystical islands and breath-taking beauty. It is a destination chosen by tourists from all corners of the globe each year with many returning to their 'happy place' time and time again.
So, why not join them and put Ireland at the top of your bucket list this year? Here are some of the most memorable places to visit during your stay.
10. Bunratty Castle & Folk Park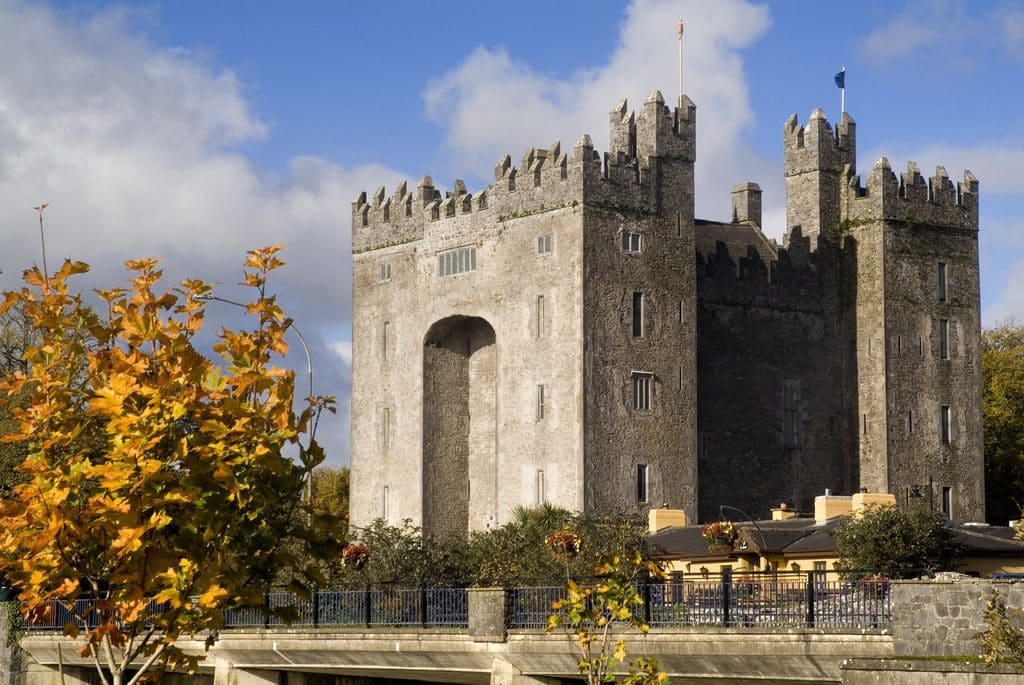 When it comes to 'happy places' Bunratty Castle and Folk Park is an all-time favourite. The medieval village has been recreated to depict how the people of Ireland lived in the middle ages, with an array of houses representing dwellings of all the different community folk.
A fantastic day out for all ages, there is nothing better than strolling through the quaint village, exploring every nook and cranny of each house as you go. Inhale the warm smell of burning turf on the fires and taste the delicious homemade scones from the Bean an tí. Visit Irish Wolfhounds, Meabh and Saoirse, the resident donkeys and Storm the billygoat for extra fun.
End a perfect day at the medieval banquet held at the castle where you are met with a goblet of honey wine and served a traditional meal in the candlelit banqueting hall. Enjoy the wonderful sound of the Bunratty singers while avoiding the dreaded dungeon. An experience that will stay in your heart forever.
9. A match at Croke Park
For any football fanatics, watching a Gaelic football match at Ireland's largest sports stadium in Dublin is an experience to treasure. It holds 82,300 fans and is bursting with unadulterated passion on match days. Home to the GAA (Gaelic Athletic Association) since 1913, Croke Park (or Croker!) is THE place to experience a football game in Ireland.
The GAA is embedded in communities all over Ireland. It is more than sport, it brings families together and unites Irish people through culture, history and pride. It is something you will witness at Croke Park and keep in your heart forever.
8. Inishowen, Co. Donegal
It is no secret that the trail along the Wild Atlantic Way is one of Ireland's most exhilarating places to visit and the starting point is no exception. Inishowen Peninsula in Co. Donegal boasts Malin Head at its tip, the beginning of the Wild Atlantic Way.
The most Northerly spot on the Emerald Isle, it offers epic backdrops from the viewing point that are so inspiring they even appear in Star Wars: Episode VIII. Flanked by two stunning lakes, the peninsula is a place of raw-beauty and a small part of the country you will find 'out of this world!'
7. The Ring of Kerry
For a road trip with a difference, drive the 179 Km around the Ring of Kerry and take a journey you will never forget. Essentially a ring road through some of the most scenic parts of Co. Kerry in the south–west of Ireland, you should make time for all the places to visit along the way.
From fantastic views of the Skellig Islands, location for Stars Wars Episode VII and VIII, to the white sands of Derryname Beach in Sneem, there is so much to explore on this trip. Ideally taken in warmer weather, the Ring of Kerry is one road you won't want to end.
6. Giant's Causeway
Fans of Irish mythology will be in their element at the Giant's Causeway in Co. Antrim, especially those familiar with our all-time hero, Fionn Mac Cumhaill. In this particular story, Fionn appears as a giant who has been challenged to a duel with a Scottish giant. Gallantly he agrees and builds the causeway so his opponent can reach him.
Legend has it that as Fionn watched Scottish giant, Benandonner, approach Ireland, he became fearful of his size. He convinced his wife, Oonagh, to help. She disguised her husband as a baby and when Benandonner saw the monstrous size of her 'infant' he fled in horror, leaving the size of her husband to his vivid imagination.
As Benandonner returned to the safety of Scottish soil, he destroyed any causeway in his path. And so it remains, a vast area of interlocking basalt columns. Scientists say it is a result of an ancient volcanic eruption but I prefer to believe it was Benandonner.
5. The Dark Hedges
For any Games of Thrones fans, a visit to the Dark Hedges in Co. Antrim is a must. Originally planted by the Stuart family, the mysterious avenue of beech trees lead to Gracehill House, home to James Stuart and his wife Grace Lynd in 1775.
Walking beneath the entwined branches towering above is an experience that will stay with you forever. And if you're feeling especially brave why not hang around until the sun goes down and you might come across the Grey Lady, a spirit that reportedly haunts the road and can be seen passing through the trees before disappearing towards the estate.
Some believe the ghost is 'Cross Peggy', Stuart's daughter while others think it is the spirit of a maid from a nearby residence. For a hair-raising experience, you might want to forget, visit at Halloween when troubled souls from a nearby cemetery are said to join her.
4. Croagh Patrick
For a spiritual experience that will enrich your life and take you on a path that is sure to have an impact – even if that is a vow never to climb a mountain again! – then the popular trek up Croagh Patrick is one of the top places to visit in Ireland.
Embarked on by people from all over the world every year, Croagh Patrick is believed to be where Saint Patrick took a Lenten fast for 40-days during which time he banished the snakes out of Ireland.
Many Catholics complete the climb bare-foot as an act of their own penance while others use the experience as a personal journey of reflection and soul searching. Either way, it is a trip that will stay in your mind for many years.
3. The Stairway to Heaven
If a pilgrimage to Saint Patrick is not your thing but you still crave your own little piece of heaven then this stunning 7.5km hike in Co. Fermanagh's Marble Arch Caves Global Geopark could be the one. Set in a rural part of Northern Ireland, protecting a rare blanket bog, is a wooden stairway.
All you need is about four spare hours, some water, snacks, good boots and steely determination.
The Legnabrocky trail is by no means an easy stroll and can be challenging at times, especially if the weather is not on your side, but the breath-taking surroundings are enough to take plenty of mental snap-shots to last you a lifetime. Highly recommended as one of our top places to visit!
2. Cliffs of Moher
One of the most memorable places to see in Ireland has to be the stunning Cliffs of Moher in Co. Clare. Towering a massive 700 feet above the Atlantic Ocean, the cliffs provide a mind-blowing experience of the West Coast of Ireland.
Walks along the cliffs are best taken via designated trails and it is also advisable to check the weather beforehand. It can get very windy along the edge, making it quite dangerous at times.
The 8 km stretch along the cliffs not only offers heart-stopping views over the water but some more familiar snap-shots along the way.
Harry Potter fans might recognise a large cave beneath the high cliffs, shot in Harry Potter and the Half-Blood Prince, while more mature movie buffs might spot The Cliffs of Insanity from 1987 film, The Princess Bride.
1. The Aran Islands
Finding places to visit that will stay in people's hearts and minds is not as easy as you would think. But I can safely say that anyone who has ever visited the Aran Islands off the West Coast of Ireland will remember the trip.
Whether you visit just one of the islands or all three you will be taken back to a world where the air is clean, the landscape unspoilt and the people are friendly.
Ponies run free and fresh ocean spray whips the air on these mystical islands in the middle of the Wild Atlantic. Boats go from the pretty village of Doolin in Co. Clare or Rossaveal in Connemara, Co. Galway.
A truly authentic experience, the Aran Islands are the perfect place to reconnect with the elements, gather your thoughts or simply make memories with family and friends. They will be memories to last a lifetime, in a place that will stay in your heart.