Ireland is a hotbed of hidden gems; a pirate's map of natural treasure; a Rubik's Cube just waiting to be solved. While places on the tourist trail boast their benefits, sometimes it is essential to trot away from the trodden path.
Most top attractions include the Guinness Storehouse in Dublin, Giant's Causeway in Antrim and the Cliffs of Moher in Clare, but have you ever heard of the following wonders of Ireland?
Here are the top 10 hidden gems in Ireland which should be on everyone's bucket list!
10. Poolbeg Lighthouse, Co. Dublin – for a city-side stroll
The towering Poolbeg Chimneys define Dublin's Docklands. This site is synonymous with the capital of Ireland, although seldom visitors and residents have ever had a close look at these twin chimney towers.
The towering Poolbeg Chimneys define Dublin's Docklands. This site is synonymous with the capital of Ireland, although seldom visitors and residents have ever had a close look at these twin chimney towers.
Enjoy a leisurely walk along The Great South Wall pier, which ends with the picturesque Poolbeg Lighthouse. On looking back, visitors can enjoy close-up views of the Poolbeg Chimneys, Dublin Bay and cityscape.
Address: S Wall, Poolbeg, Dublin, Ireland
9. Bluebell Wood, Co. Roscommon – for utter enchantment
Bluebell Wood in County Roscommon is as enchanting as they come. Imagine a landscape fit for a fairytale: this is Bluebell Wood.
As the name implies, lavender bluebells blanket the terrain. Perfect for a peaceful stroll or some outdoor meditation in the warmer months, this hidden gem in Ireland is a sight for sore eyes.
Address: R285, Turlagh, Co. Roscommon, Ireland
8. Dursey Island, Co. Cork – for something different
Located just off the mainland from County Cork is Dursey Island. This is another one of our top 10 hidden gems in Ireland that locals are even not too familiar with.
Bonus points go for the getting to and from the island; an experience in itself via cable car. This is the only cable car on the island of Ireland and the only one in Europe which travels over wild ocean seas!
7. Iveagh Gardens, Dublin – a Dublin city hidden gem
A key hidden gem that is favoured by locals in Dublin city is the Iveagh Gardens. This city park is hidden behind grand Georgian buildings and the National Concert Hill, sheltering it from plain sight.
It is only a stone's throw from Stephen's Green Park – a major stop on the tourist trail – and offers silence amidst the busy bustle of city life. Give it a try next time your in Dublin city!
Address: Clonmel St, Saint Kevin's, Dublin, D02 WD63, Ireland
6. Conor's Pass, Co. Kerry – the ultimate scenic drive
No trip to Dingle (or the Ring of Kerry) would be complete without enjoying the Conor's Pass Scenic Drive.
This narrow mountain pass is so highly elevated that your head will quite literally be in the clouds as you meander along the side of a mountain. Simply put: one of Ireland's top 10 hidden gems!
Address: R560, Co. Kerry, Ireland
5. Keem Bay, Achill, Co. Mayo – for island vibes
Keem Bay is a peaceful and scenic spot located on the far side of Achill Island, just off the coast of County Mayo.
The bay is busy in the Summer months with locals who are lapping up the sun on the sand, but this is entirely off the tourist trail giving it true "hidden gem" qualities.
Address: Keel West, Keem, Co. Mayo, Ireland
4. The Cuilcagh Legnabrocky Trail, Co. Fermanagh – for a wilderness walk
The Cuilcagh Legnabrocky Trail (colloquially known as the "Stairway to Heaven") is a mind-blowingly beautiful 16-kilometre return track along a wooden boardwalk in the heart of County Fermanagh.
Visitors get a unique opportunity to venture amidst the vast expansive landscape, while not interfering directly with the integrity of the natural flora or fauna.
Address: Unnamed Road, Enniskillen BT92 1ER
3. The Swiss Cottage, Co. Tipperary – for unique architecture
This unique hidden gem in Ireland is a certain one for the bucket list due to its unusual architecture against the Irish landscape.
Near to the town of Cahir in County Tipperary, The Swiss Cottage was built in the early 1800s and is open in the warmer months of the year for guided tours only.
Address: Farrannagark, Cahir, Co. Tipperary, Ireland
2. Carrick-A-Rede Rope Bridge, Co. Antrim – for thrill-seekers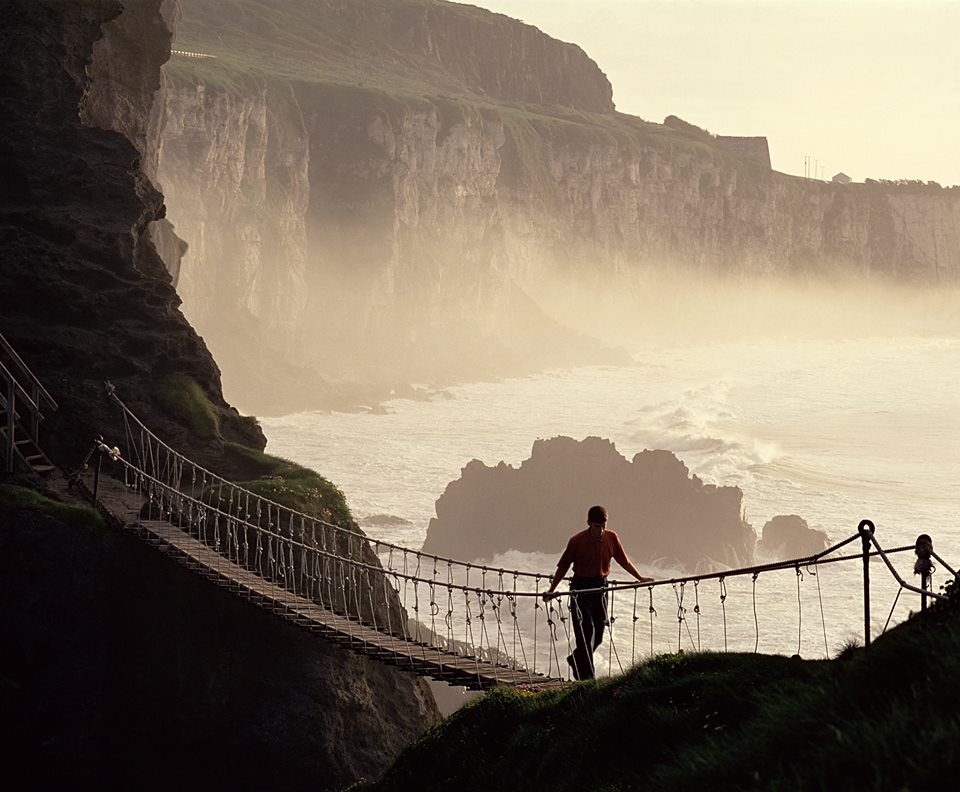 A top thing to do in Ireland is the Carrick-A-Rede Rope Bridge in County Antrim. While the location has drawn more significant numbers since it was a filming site for HBO smash-hit TV series, Game of Thrones, the attraction itself is somewhat of a hidden gem worth noting.
Visitors can walk the rope bridge which connects the mainland to the island of Carrickarede. The bridge towers over the crashing wild Atlantic Oceans and proves popular with adrenaline junkies, also.
Address: 119a Whitepark Rd, Ballintoy, Ballycastle BT54 6LS
1. The Coral Strand, Co. Galway – for beach vibes
This unique hidden gem in County Galway is well worth a visit if you're on the West Coast.
The beach – unlike the majority of others in Ireland – is covered in tiny pieces of detached red calcified seaweed and maërl (also known as coralline algae). Unlike genuine coral, this material is perfectly comfortable to walk on and merely feels like fine gravel underfoot.
Note: our travel articles should be used only to plan future trips. Please stay at home until the government has advised otherwise.