Think you know your stuff about Dublin? Here are ten fun facts about Dublin that you might not have known about the capital of Ireland.
Dublin is now Ireland's capital city, the epicentre of all activity in the country and a popular spot for tourists, with an estimated five million people visiting the city in 2017 alone.
Consequently, a lot is known about Dublin and there are many interesting facts about Ireland as a whole. However, there is a lot to this unique city that remains unknown to many as well as many fun facts about Dublin.
Here are ten fun and interesting facts about Dublin that you never knew.
10. Dublin senior footballers – history makers
In September 2019, Dublin defeated Kerry in the All-Ireland final replay to record a stunning piece of history, claiming their fifth All-Ireland title in a row.
The side have won six of the last seven, and are unbeaten in Championship football since 2014. They are many people's favourites to win six in a row.
9. Small county, huge population – the power of the city
The county of Dublin is Ireland's third-smallest county in size, beat only by bordering Louth and County Carlow, yet it is home to a third of southern Ireland's population, and 20% of Ireland's population as a whole.
This is thanks to the influence of Dublin City, home to a population of around 1.36 million people. The population of Ireland as a whole is about 6.63 million, north and south.
8. O'Connell Bridge – cross the Liffey
One of the most famous places in Dublin City is O'Connell Street in the city centre, this includes the O'Connell Bridge, a citizen's route across the Liffey.
It is believed the bridge is the only one in Europe to be the same size in width and length and was built far back in 1863, replacing a wooden bridge that stood there from 1801.
7. Pubs – the social hub of Ireland
It's no secret Irish people's favourite social outing is going for a few pints, and Dublin certainly caters for this demand, with 666 pubs in total.
These pubs are scattered throughout the entire city and county. However, the premier collection of pubs can be found in the Temple Bar area of Dublin, located in the centre of Dublin City.
6. The MGM Lion – Dublin at Hollywood
Here's another of the most interesting facts about Ireland, and Dublin specifically. We've all watched a famous film with the roaring lion introducing us. Well, the very first lion used by MGM was a lion named 'Slats', who was born in Dublin Zoo in 1919, undoubtedly one of the most interesting facts about Dublin.
'Slats' was initially named 'Cairbre' and starred on all black-and-white MGM films between 1924 and 1928.
5. Famous figures – faces of Dublin
Some of Ireland's most famous figures are born and bred Dubliners. The world of literature owes its appreciation to the city for the likes of James Joyce, Oscar Wilde, and George Bernard Shaw.
The musical world is represented by U2, the sporting world by Brian O'Driscoll and Conor McGregor, and Colin Farrell, a world-famous actor.
4. Trinity College graduates – some of Ireland's finest minds
Trinity College, located in Dublin City Centre, was established in 1952, Ireland's oldest university. It ranks as the 108th best university in the world.
The prestigious institution taught some of Ireland's finest minds, such as Oscar Wilde, former presidents of Ireland Mary McAleese and Mary Robinson, and famous Irish rebel Robert Emmet.
3. The oldest pub in Ireland – one of the best fun facts about Dublin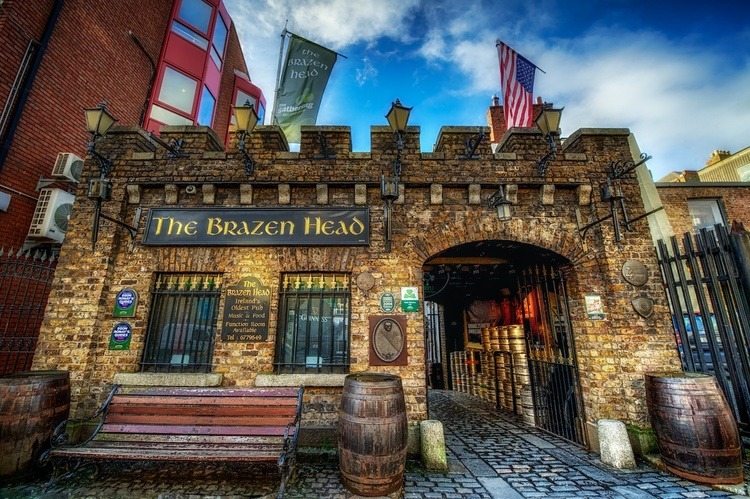 One of the most interesting facts about Dublin is that it is home to the oldest pub in the entire country, the Brazen Head, established in 1168.
The bar is raining down with history and offers a uniquely Irish feel to complement the pint of Guinness you will undoubtedly order.
2. Viking settlement – origins of the city
Dublin was founded by the Vikings, who settled in the city in the 9th century, and dubbed their new land the "Norse Kingdom of Dublin".
From 841 AD onwards, Dublin became the most important town in Ireland and a hub for Viking expansion and trade, another of the numerous interesting facts about Ireland.
1. Irish meaning – the native tongue
In Irish, Dublin translates to 'Dubh Linn', which means "Black Pool" and is derived from Old Irish Gaelic. It was a lake used by the Vikings to moor their trade ships, and this was connected to the Liffey, which partitions Dublin today.
The other is 'Ath Cliath', which means "Ford of the Reed Hurdles", or 'Baile Átha Cliath' for Dublin City, which means "town of the hurdled ford".
The next time you visit Dublin, you will know a little more about the famous city, hopefully making you appreciate the intricacies of the town that bit more. We hope you enjoyed these interesting facts about Ireland and Dublin specifically.