Dublin is the capital of Ireland and the Number One spot where tourists will taste their first Guinness on Irish soil. There is a vast range of nightlife in Dublin, but it is traditional bars that you must experience if you are in Dublin as they are famous worldwide! Here is our top 10.
10. McDaid's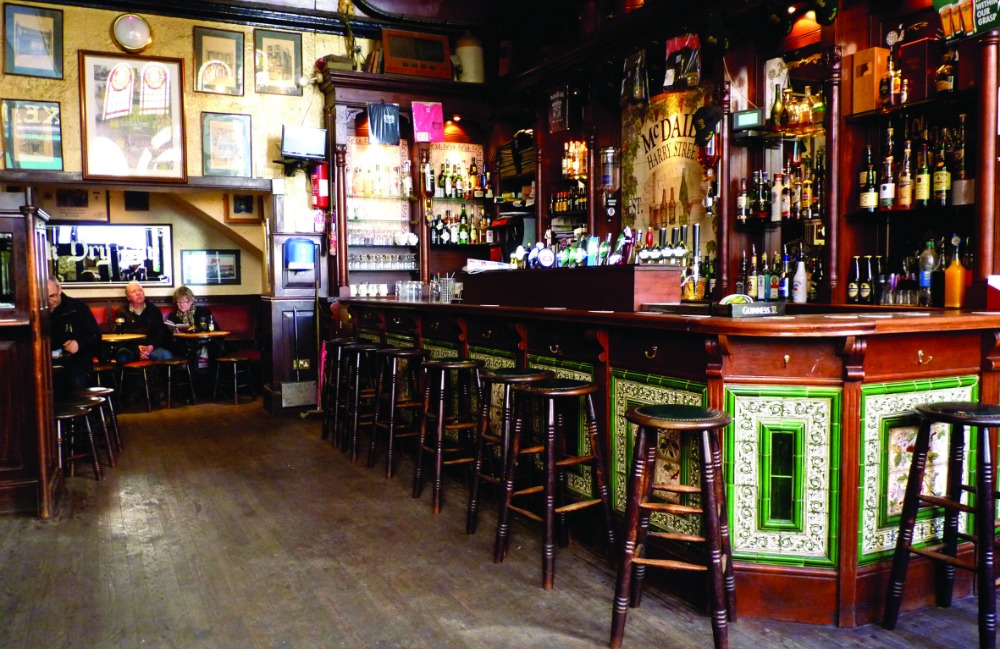 With a great city centre location just off Grafton Street, McDaid's ornate high ceiling is one of the first things you'll notice as you walk in here (the more observant might notice the trapdoor behind the bar with a steep stairs leading down into the cellars). If you're settling in for the evening, head up the narrow stairs to one of the upper levels.
Details: Harry Street, Dublin 2, +353 1 679 4395
9. L Mulligan Grocer
This is the place to go if you're looking for a Mountain Man, a Crafty Hen or a Belgian Blonde. Don't even think of trying to order a Guinness or a Budweiser here – it's craft beer all the way, and these are some of the labels. As the name suggests, L Mulligan Grocer pub in Stoneybatter once had a grocery shop in it and the rear section of the pub is now a superb restaurant serving Irish produce with a clever creative twist. Try the spiced potted crab or slow roasted pork belly.
Details: 18 Stoneybatter, Dublin 7, +353 1 670 9889, lmulligangrocer.com
8. Toner's

Another traditional pub, Toner's on Baggot Street dates back to around 1818 and has an old wooden bar full of memorabilia and drawers which date back to its time as a grocery store. One of the nicest features in the pub is the large 'snug' just inside the front window which has wooden benches and its own door. The poet WB Yeats is said to have liked drinking here.
Details: 139 Baggot Street Lower, Dublin 2, +353 1 676 3090, tonerspub.ie
7. Johnny Fox's Pub
Johnny Fox's is quite a legendary pub to visit and really not that well known. This is one of those "off the beaten paths" pub experiences to whisper to your mates about. There is a catch though, you are going to need a car or some money for a cab (I've just discovered they now have a booze bus that runs from the city there – bonus). Johnny Fox's is famed as being the highest pub in Ireland, sitting on top of the Dublin mountains in Glencullen about a 25 minute drive from the city centre. Johnny Fox's is a unique and atmospheric Irish pub, and is well known for its entertainment, and famous visitors such as U2 and the Coors.
Details: Glencullen, Co. Dublin, Ireland
Phone:+353 1 295 5647
6. The Cobblestone
This is amazing for traditional Irish music. Although its not exactly in the city centre, its worth the trip if you get a bus or taxi. Traditional music is played in the front bar and creates a fantastic atmosphere. Be prepared for lots of foot tapping and some thigh slapping!
Details: 77 King St North, Smithfield, Dublin 7, +353 1 872 1799, cobblestonepub.ie
Page 1 2