There are many creepy places in Dublin, one of Europe's oldest cities. Here are the top ones you may want to avoid once the sun goes down!
While Dublin, in general, is an extremely inviting and safe city to live in and to visit, it is also home to some very spooky and creepy places that tourists and locals alike tend to avoid unless they are looking for a scare.
From haunted houses and eerie castles to possessed pubs and spooky churches, there are many creepy places in Dublin that can claim to have their fair share of ghostly activity.
In this article, we will list what are in our opinion the top 10 creepy places in Dublin.
10. Malahide Castle – haunted by five ghosts
Malahide Castle is one of Ireland's oldest and most haunted castles. This is in no small part thanks to the fact that no fewer than five ghosts have allegedly been haunting its halls since the 12th century.
Address: Malahide Demesne, Malahide, Co. Dublin, Ireland
9. Saint Michan's Church – rest in peace?
This 9th-century church is home to many vaults which contain a number of mummified remains. While this is meant to be a place of rest, things don't seem to be as peaceful as they should be. Many visitors have reported hearing the sounds of strange whispers and feeling an eerie presence, as if they were being watched.
Address: Church St, Arran Quay, Dublin 7, Ireland
8. Trinity College Dublin – ghost of Edward Ford
If you are studying at Trinity College, you may want to walk around with one eye over your shoulder, as apparently the ghost of Edward Ford who was shot in Trinity is still said to haunt certain parts of the college. Many students and staff have reported witnessing a ghost dressed in a "wig, gown, and knee-breeches" located near the Rubrics building.
Address: College Green, Dublin 2, Ireland
7. The Brazen Head Pub – haunted by Robert Emmet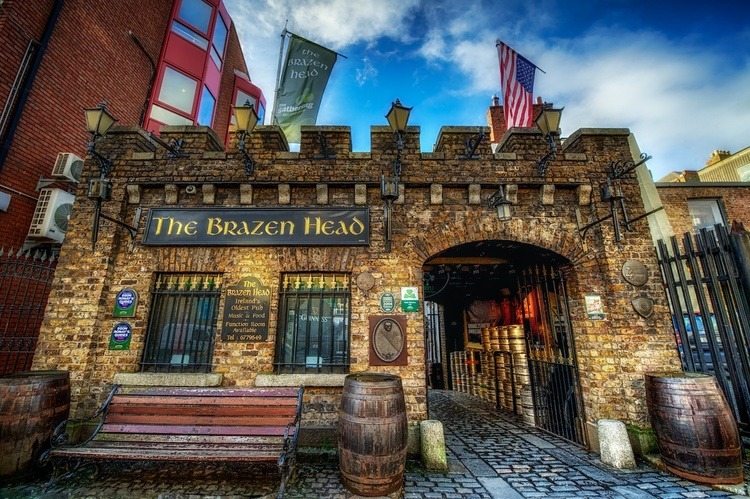 The Brazen Head Pub is one of Dublin's oldest pubs and is also believed to be one of its most haunted. Famous Irish revolutionary Robert Emmet, who was hanged in September 1803, is said to have haunted the establishment since the early 1800s.
Robert Emmet was a regular drinker at the pub and it's even said that he allegedly plotted the 1803 rebellion here.
Address: 20 Lower Bridge St, The Liberties, Dublin, D08 WC64, Ireland
6. The Shelbourne Hotel – ghost of Mary Masters
The Shelbourne Hotel is reportedly haunted by the spirit of Mary Masters, who was a seven-year-old girl who died of cholera in 1791. It's said that Mary likes to haunt the most luxurious rooms of the hotel, as several terrified customers in the past have reported sightings and hauntings from her in these rooms.
Address: 27 St Stephen's Green, Dublin, Ireland
5. Corkagh Park – the Devil's Passage
While Corkagh Park is a lovely place to visit and take a stroll in during the day, it can be a frightening place at night. This is due to the fact that there is an area in the park known as the Devil's Passage, which has become renowned for its creepy sightings and strange occurrences.
There have been numerous reports by horrified visitors who have claimed to see a headless horseman galloping throughout the park.
Address: Naas Rd, Newlands Cross, Dublin 22, Ireland
4. Ardgillan Castle – the Waiting Lady
Ardgillan Castle can claim to be the home of many reported sightings of paranormal activity, most common of those sightings are the apparent sightings of a female ghost who has become infamously known as the 'Waiting Lady'.
According to the myth, the woman who became known as the 'Waiting Lady' was a woman who witnessed her husband drown at sea while she watched on from the bridge. Apparently, she has haunted the castle ever since waiting for the day her husband returns.
Address: Strifeland, Balbriggan, Co. Dublin, Ireland
3. Kilmainham Gaol – tortured souls
Considering the building's bloody history, it perhaps should come as little surprise that Kilmainham Gaol is said to be haunted by dozens of tortured souls. Visitors and staff alike have all reported witnessing many strange occurrences such as mysterious lights and ghostly footsteps not to mention a very tense and palpable atmosphere.
Address: Inchicore Rd, Kilmainham, Dublin 8, D08 RK28, Ireland
2. Drimnagh Castle – the grieving ghost
The dark tale behind this castle is that it was once home to Lady Eleanora de Barnewall who upon hearing the tragic death of her lover Hugh O'Byrne in battle was said to have taken her own life in grief by throwing herself from the tower.
Visitors to the castle have reported smelling strange fragrances such as the scent of lilies and hearing the sound of sobbing throughout the castle.
Address: Restoration Project, Long Mile Rd, Drimnagh, Dublin 12, Ireland
1. The Hellfire Club – satanic rituals and debauchery
This creepy Dublin Mountains property was initially built in the 1740s on the site of a Neolithic passage tomb and is widely regarded as one of the most haunted places in the country.
It is believed that members of the Hellfire Club used to meet there for hedonistic activities which involved heavy drinking, satanic worship and all manners of sexual depravity.
Address: Montpelier Hill, Co. Dublin, Ireland
The next time you visit Ireland's capital, be sure to watch out for these creepy places in Dublin!