The 17th of March is fast approaching, and you know what that means: St Patrick's Day! No matter what you're planning on wearing, we bet it isn't as crazy as these guys.
St Patrick's Day is a day to get dressed up in a crazy green outfit, descend onto the streets, and enjoy the festivities. Some people go all out for the big day, dressing up as leprechauns, pots of gold, and even St Paddy himself. Here are ten crazy St. Patrick's Day outfits we found on Instagram that people have actually worn.
10. This shamrock suit
If you're working this Paddy's Day, why not give your professional attire an Irish-themed makeover? We love this green shamrock suit from New-York-based car salesman Rudy – we bet he made loads of sales that day!
9. All green everything
Kim and Debbie from Yarmouth, Massachusetts, went all out for the annual St Patrick's parade. They are both sporting matching green tutus and jumpers, but they each give their outfits a flair of individuality.
Debbie spiced her outfit up with an Irish flag scarf and the cutest little green top hat headband. At the same time, Kim chose to accessorise with a huge shamrock-beaded necklace, a shamrock headband, and shamrock glasses… does anyone else see a theme here?
8. This guy dressed up as St Patrick himself
If you're going to get dressed up for the day, you might as well just go all out and dress as the big man himself – but we doubt you'll be able to find a costume as fantastic as this one of St Patrick.
7. Try neon green hair if you want to go the extra mile
If you feel like your outfit just isn't quite festive enough this St Patrick's Day, why not go that extra mile and dye your hair green too?
That's exactly what this guy from Elmhurst, Illinois, did and we think it looks epic. We love the ultra-green outfit and Irish themed accessories, but the green hair and beard just tip it over the edge to make it into our top ten craziest outfits.
6. The biggest hat we have EVER seen
We love all the outfits in this photo, but Sa Dao's is our favourite… that big green hat is incredible!
This is St Patrick's Day Hollywood style, and we are here for it… green upon green upon green. We also just want to give a special mention to the cute little face tattoos!
5. The best way to celebrate St Patrick's Day in 2020 is with a meme
Is it just us or does incorporating a meme make everything at least ten times funnier? We love these t-shirts Felipre and Elizabeth wore at the Asbury Park St Patrick's Parade in New Jersey!
Not to mention the hilarious green facial hair.
4. A shamrock balloon for the perfect finishing touch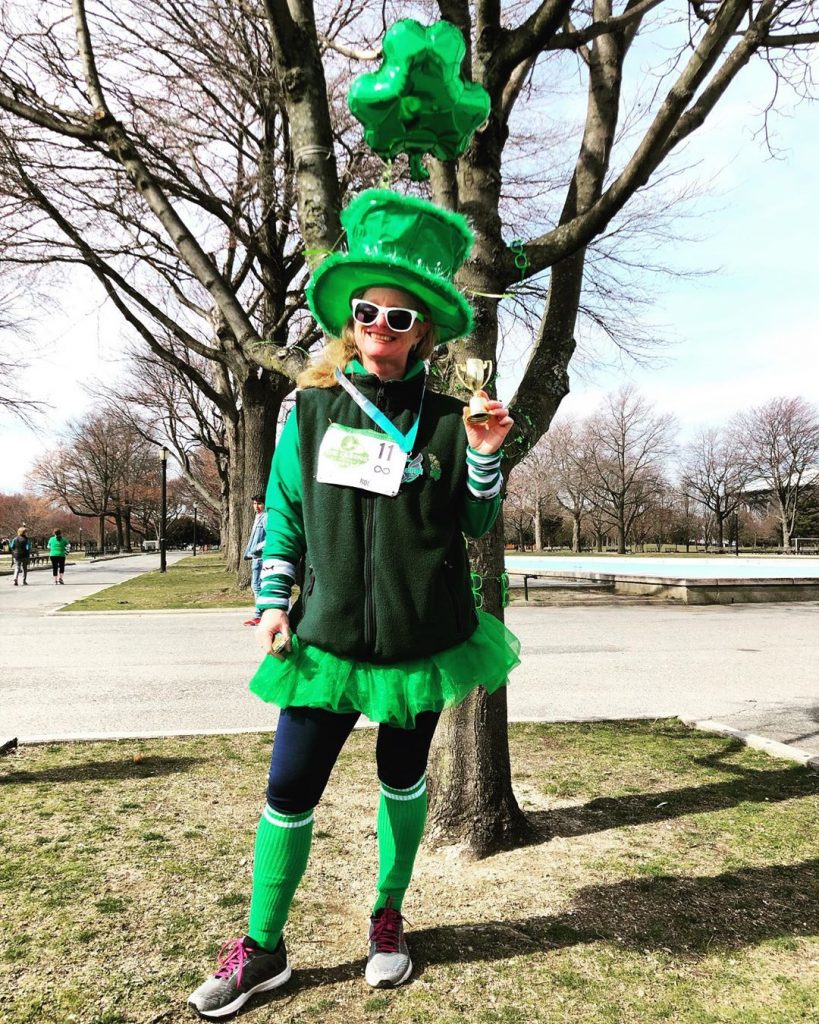 We aren't surprised this outfit won best dressed at the St Patrick's race day in Corona Park, New York. The fully green outfit would be a winner for us too… we love the stripy socks!
What sets this outfit above the rest, though, is the shamrock balloon. Now that's dedication!
3. We found the pot of gold at the end of the rainbow
When you can't find the pot of gold at the end of the rainbow, become the pot of gold at the end of the rainbow… and why not make it sparkly?
Jenny was feeling lucky at the New Orleans St Paddy's Day parade in this fantastic pot of gold outfit… where can we get one?
2. Get a piggyback from a leprechaun
The lads were looking fab at the 2018 St Patrick's Parade in Dublin – we love the green shamrock suits.
However, the guy on the left got a bit tired from walking about the city all day, so he decided to get a piggyback from a leprechaun.. only in Ireland!
1. Don't forget your pot of gold!
If there's one thing you need to make sure you don't forget when you're celebrating St Patrick's Day, it's your pot of gold from the end of the rainbow.
We love this guy's green shamrock suit, hat, and necklace, but we just can't take our eyes off that big pot of gold!
Think your outfit is cooler? Then send us your photos and be featured on our website or social media channels!
Get featured on Ireland Before You Die
Do you want to get your Irish business more online exposure? Especially to those interested in travelling the best places in Ireland? Then why not get a dedicated feature on Ireland Before You Die. Find out more 
here.