Looking to get some body art inspired by Ireland? Here are 10 crazy cool Irish tattoos we found on Instagram.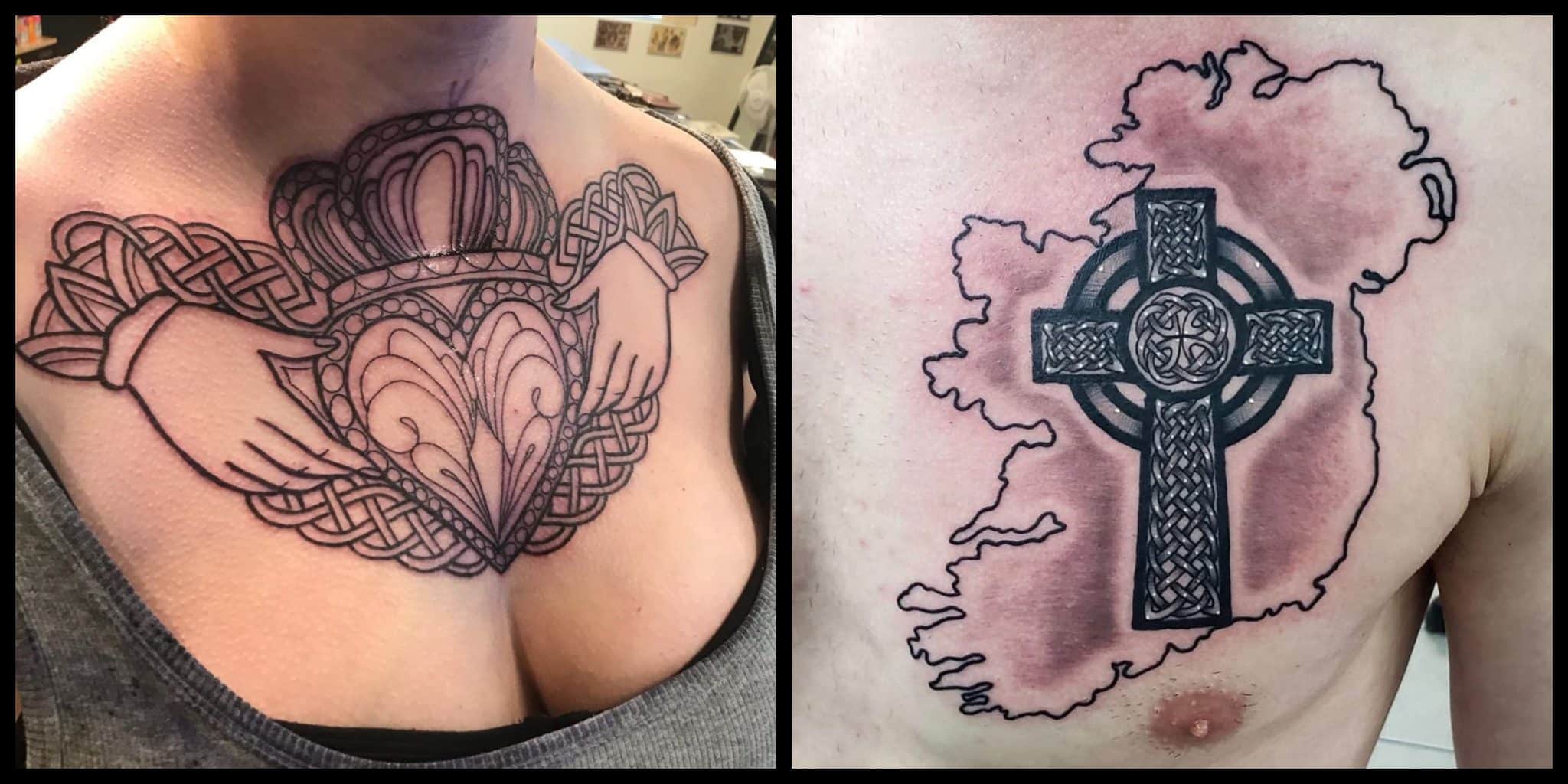 Ireland has a rich history steeped in mythology, religion, traditions, and, with that, comes some cool designs and Celtic symbols. Think of the shamrock, leprechauns, and countless mythical creatures.
Many of these things make fun images, and some are even pretty badass, making them the perfect designs to get as a tattoo.
After scouring Instagram, we have made a list of our top 10 favourite Irish tattoos that people have actually gotten.
10. The Dagda – a cool tribute to Irish mythology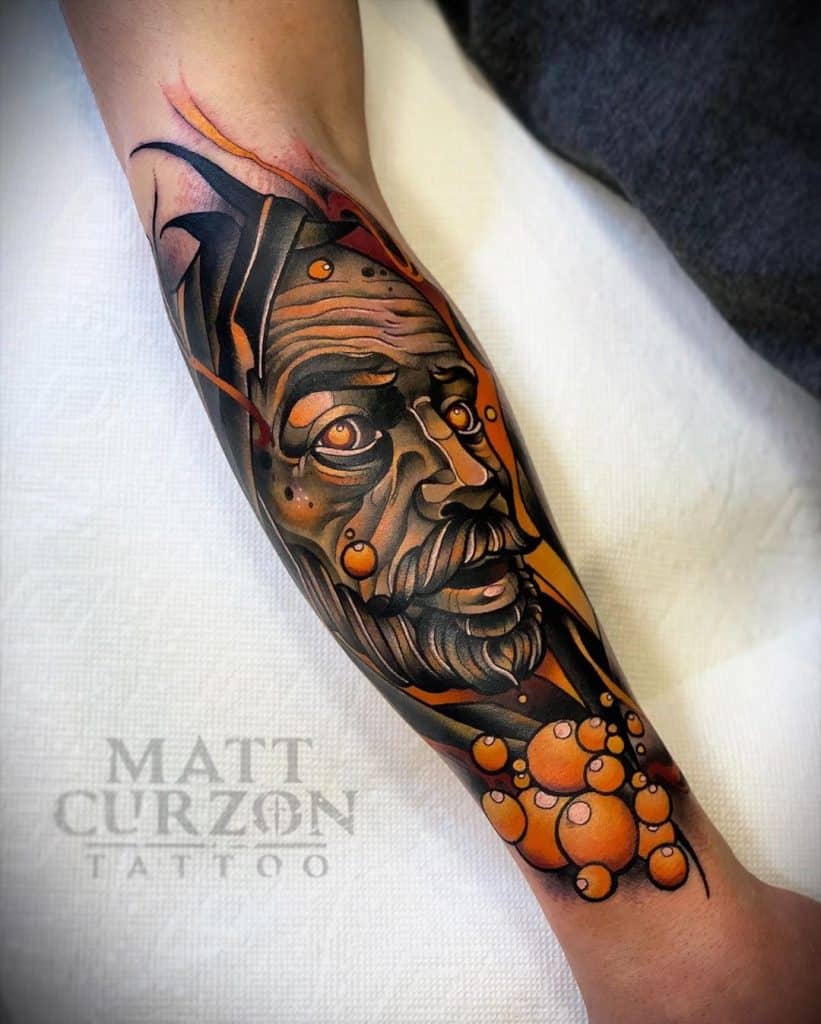 The Dagda, which translates as 'good god', is an important god from Irish mythology who is associated with life, death, agriculture, and fertility.
Hailing from Brú na Bóinne, this club-wielding god was the chief of the Tuatha dé Danann and thus held a lot of power over seasons, agriculture, fertility, magic, and druidry.
We think this tattoo of the Dadga by tattoo artist Matt Curzon is a pretty cool way of paying tribute to Irish mythology.
9. Leprechaun – but not your typical one
There are a few things people think of when they think of Ireland: St. Patrick, drinking, green, and leprechauns. This tattoo is a pretty cool depiction of the latter.
Kyle Behr's depiction of a leprechaun in this tattoo isn't exactly the friendly little, green suit-wearing guy we normally think of when we think of a leprechaun. Instead, this one smokes a pipe and looks pretty intimidating.
We also love the ginger beard!
8. A harp – a simple yet striking Irish tattoo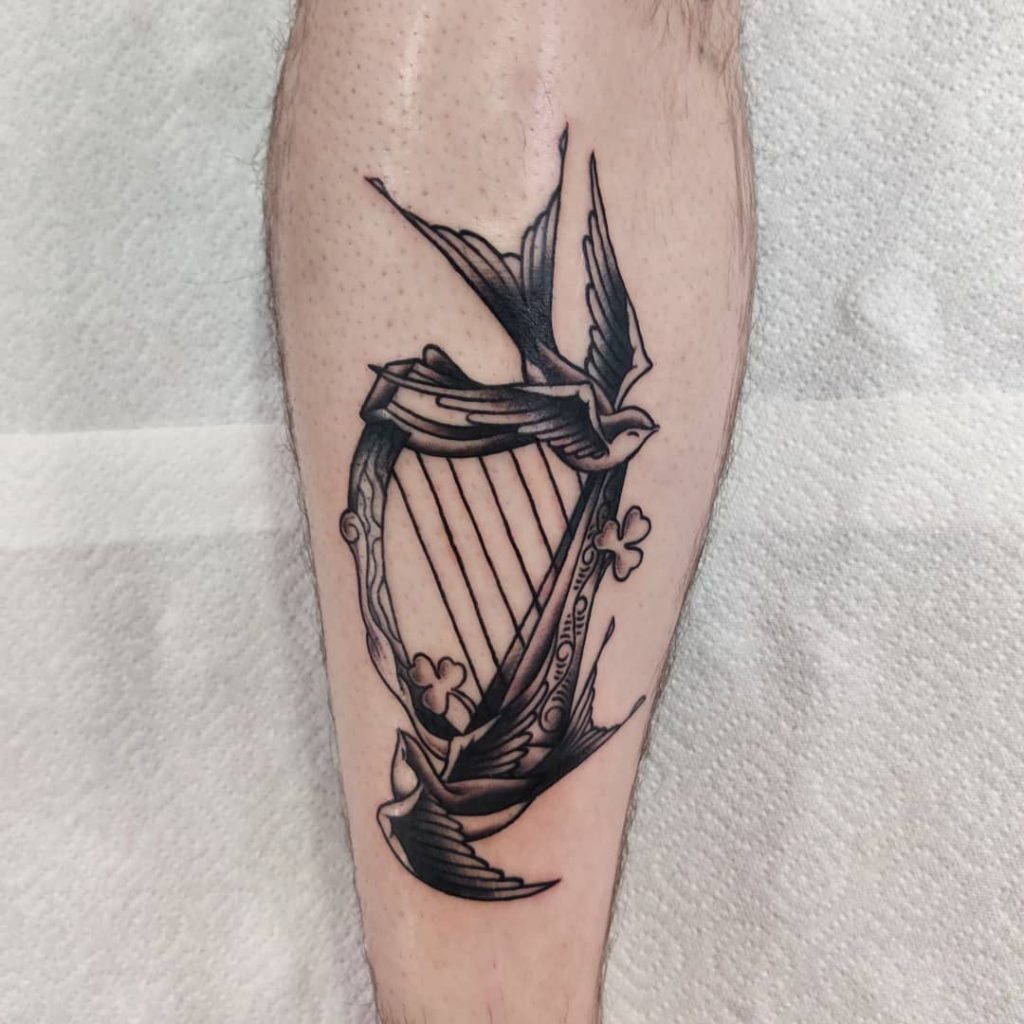 This tattoo of a Celtic harp by James Kennedy is simple, effective, and elegant.
His depiction of the stringed instrument pays tribute to a number of Irish traditions, including the well-known shamrock and swallows.
On Kennedy's page you can also see a number of other cool Irish tattoos he has done in the past, including the Claddagh and the lucky horseshoe.
7. Claddagh – colourful and meaningful
Sean from Snakebite in Dublin created this colourful Claddagh tattoo, and we are loving it!
The Claddagh is a traditional Irish ring that represents love, loyalty, and friendship. It gets its name from the area in Galway from which it originated in the 17th century.
Each part of the Claddagh represents something different. The hands represent friendship, the heart represents love, and the crown represents loyalty.
6. Celtic griffin – a symbol of duality (lion and eagle)
One of our favourite Irish tattoos on Instaram is this cool Celtic griffin tattoo by Sean Kealy, also from Snakebite in Dublin. It is so intricate, weaving a number of different Irish elements into the one design.
In Celtic mythology, the griffin is a symbol of duality. Combining the lion and the eagle, the ancient creature symbolises courage, strength and intelligence, so it's a pretty cool animal to get tattooed.
5. Conor McGregor – the Irish boxer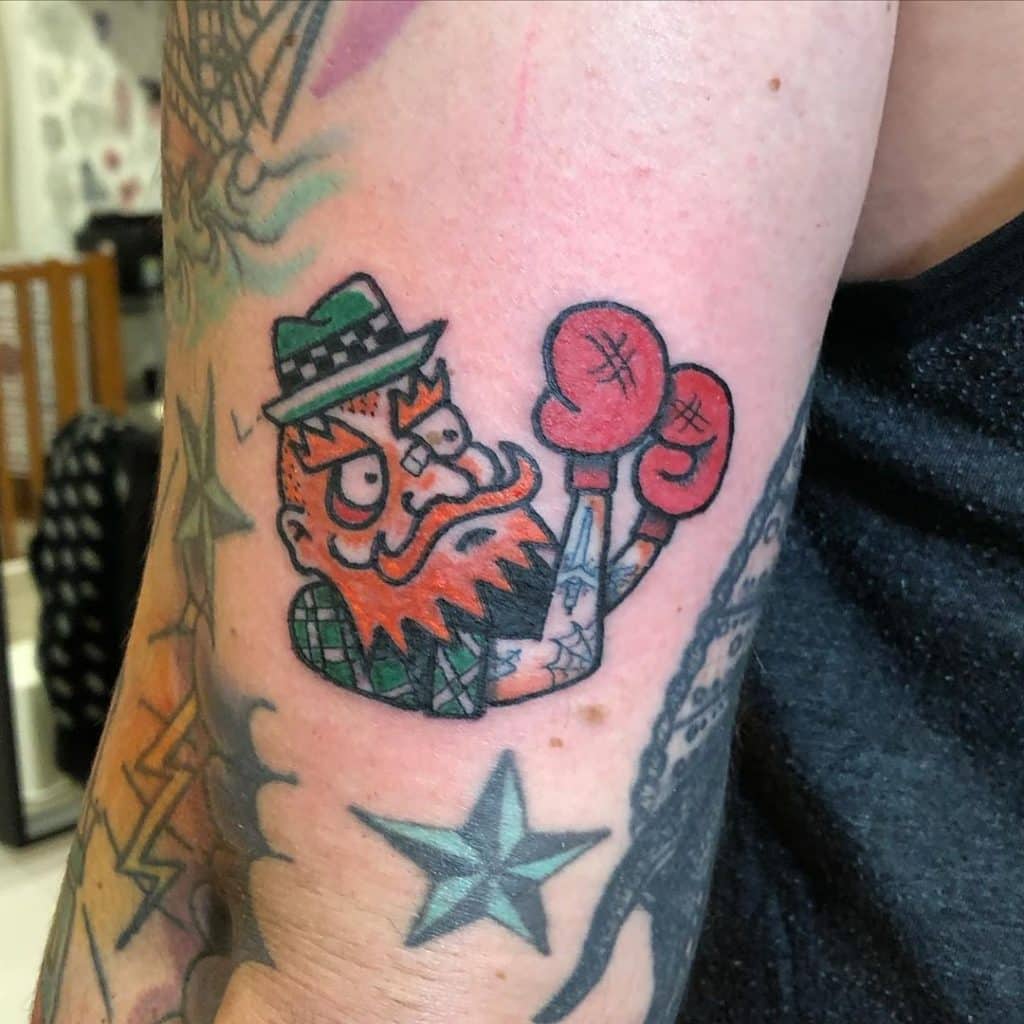 While the caption of this tattoo just reads 'Irish boxer', it really reminds us of a certain famous MMA fighter with the tattoos and ginger beard.
This hilarious tattoo by Metz-based tattoo artist Tom Connor is a fabulous tribute to Conor McGregor.
4. Celtic cross – right over the heart
We absolutely love this tattoo of a Celtic cross inside of an outlin of Ireland by Chicago-based tattoo artist Angelo Tiffe. The intricate detail of the design on the cross is amazing!
The Celtic cross is a Christian symbol featuring a nimbus or ring that emerged in Ireland during the Early Middle Ages so Angelo's tattoo is a great tribute to Irish history and tradition.
3. Celtic Warrior – an epic tattoo of Cú Chulainn
This tattoo by Billy Irish depicts a Celtic warrior, Cú Chulainn, who is an Irish mythological demigod who appears in the stories of the Ulster Cycle.
In Irish literature, Cú Chulainn was the greatest of the Knights of the Red Branch and in times of rage would become monstrously deformed and uncontrollable.
2. Game of Thrones – highlighting the epic show filmed in Northern Ireland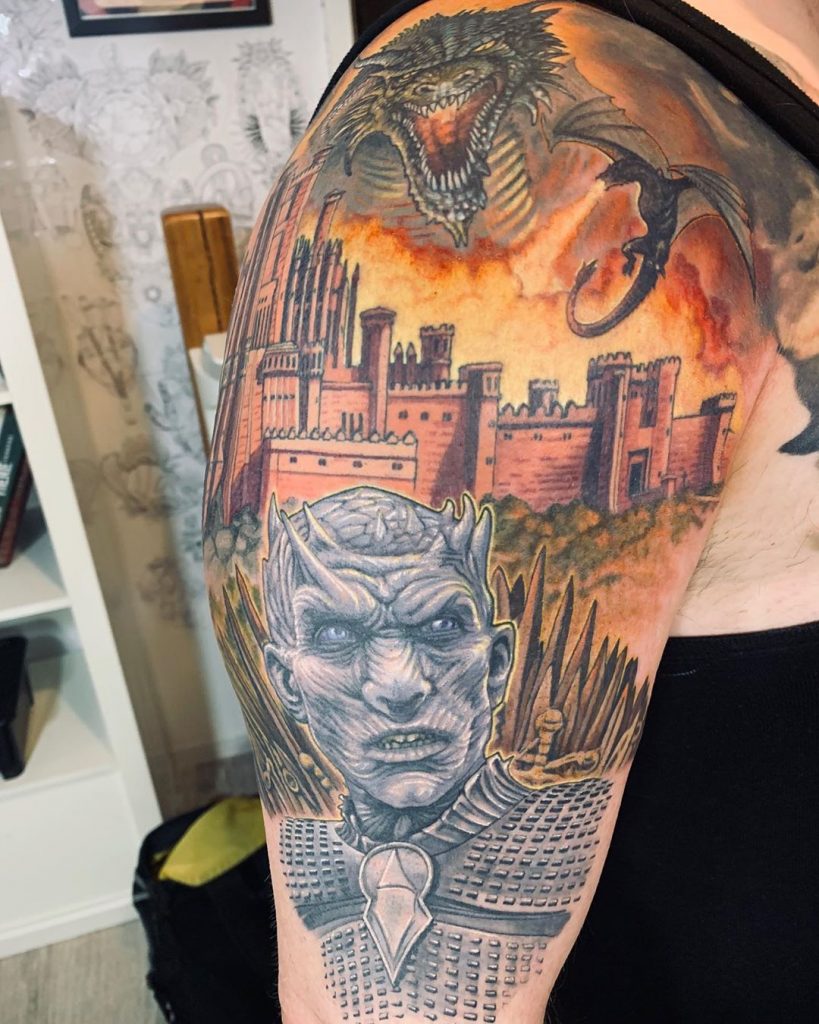 Since the books and television series, Game of Thrones, became popular, Northern Ireland (where much of the series was filmed) has seen a massive spike in its tourism industry, so it would be wrong to not include at least one tattoo dedicated to the story.
We love the detail of this one by German tattoo artist Sebastian Schmidt as it features a number of the main elements of the show, including a dragon, the throne, a White Walker, and King's Landing.
1. Claddagh ring – bold placement of beautiful Irish symbol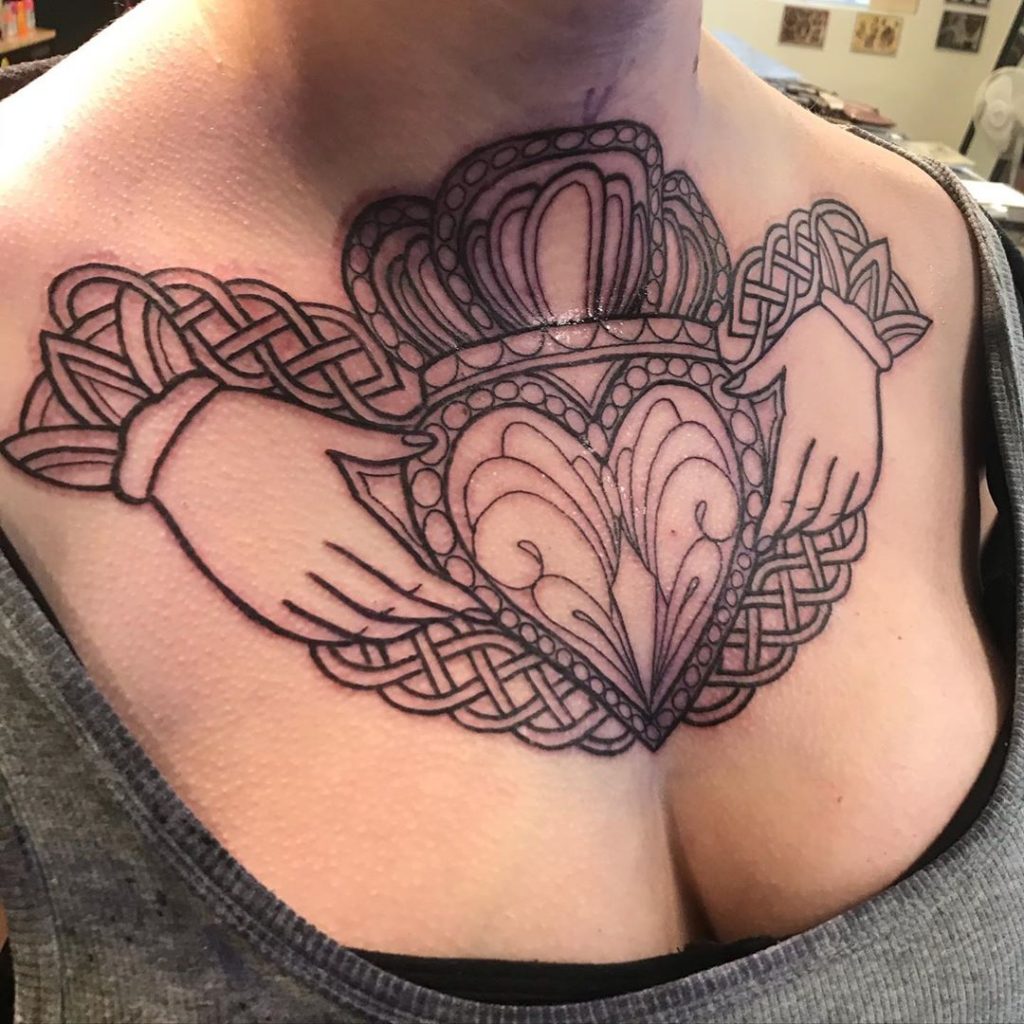 This impressive Claddagh ring tattoo by Jesse Rae Pountney from Nova Scotia has to be one of our absolute favourite Irish tattoos.
In the photo's caption she writes, 'Started this little claddagh piece on Christie last week. Claddagh's represent love, loyalty and friendship and was the first ring she gotten from her husband. Thanks for trusting me with your special piece'.