Ireland is a massive tourist destination. Included on many online bucket lists, Ireland has a number of draws, from scenery and social scenes to culture and craic (Irish humour).
For such a little island, we pack quite a punch, and people from all over the world flock to visit us. But saying that, there are 10 big mistakes tourists tend to make when planning a trip to Ireland.
Want to make sure you avoid these mistakes? Check them out below!
10. Expecting to have phone coverage throughout
Ireland has (for the most part) kept up with modern developments. Saying that, there are still some pockets of the island that are largely undeveloped—it's part of Ireland's beauty.
In these areas, phone coverage isn't exactly a top priority. So, if you're planning to make a lot of calls or use your phone's data network to document every stretch of the country on Instagram or Facebook, forget it.
9. Spending too much time on the tourist trail
Some of the most common tourist errors include sticking to guide books only and following tour guides with little yellow flags, who direct herds of out-of-towners.
Although this sounds like the ideal trip to some, we can promise you're sure to find some truly authentic experiences if you veer off the beaten track.
8. Spending most of your trip in cities
Yes, the cities are fantastic—don't get us wrong. Some of the most genuine and exciting experiences can be had, however, away from the humdrum of central hubs.
One of the most unique elements of Ireland is that city life and the wild exist side by side. You are never too far from a natural wonder, forest trail, or cliff walk, so remember to be curious and explore outside the city walls!
7. Only going to tourist attractions
Tourists attractions are great. They can provide an understanding of the place in question, offer insight into a new culture or aspect of history, or serve educational purposes, no doubt.
We suggest you balance your trip with "off days," though. These are days in which you wander and explore on your own time. You may not run into as many tourists, but you may experience a different and exciting side to your new surroundings.
6. Not renting a car
One of the biggest mistakes people make when planning a trip to Ireland is not renting a car. A bonus to the Irish landscape is that Ireland is small in size and easy (mostly) to navigate.
No distance is really too far to drive in one day, and with major roadways connecting Ireland's top destinations, you'll be assured a more authentic experience on your own time, in your own car.
5. Only going in the summer
It is no secret that Ireland doesn't have the best weather in the world. To give it a bit of credit, though, it doesn't have the worst either.
One of the biggest mistakes tourists make when they're visiting the Emerald Isle is to only do so in summer.
Although you're less likely to experience rainy days during the mid-year months, spring and autumn can be quite dreamy and less touristy (i.e. less expensive and less busy) too.
4. Spending all your time on your phone
Ireland is a gem full of natural wonders, sights to see, and adventures to experience every step of the way.
One of the biggest mistakes people make when in Ireland—especially in the social media generation—is spending all of their time looking at their phone screen.
We know you'll want to use your phone to take photos, post them on Instagram or Facebook, and check your email, but we don't want you to miss out on seeing Ireland with your own eyes. Remember to put the phone away, look up, and take it all in.
3. Not talking to the locals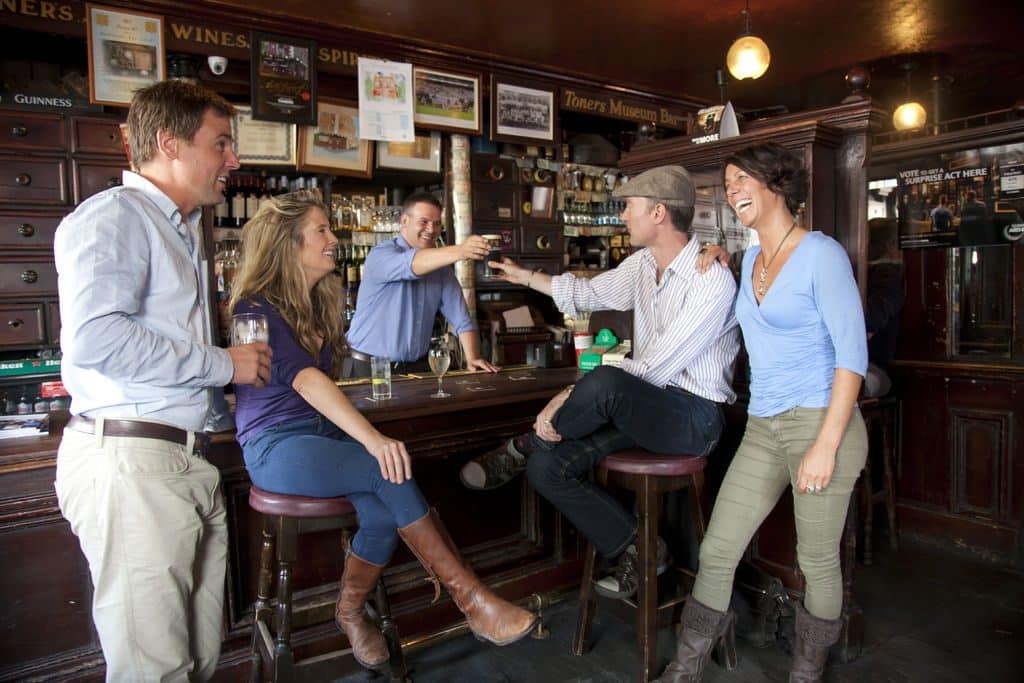 When planning a trip to Ireland, take into consideration that you will be visiting one of the friendliest countries on Earth.
In fact, Dublin, Galway, and Cork have all been voted as top "friendly cities," so you're going to get along just fine.
A top mistake when planning a trip to Ireland is forgetting to engage with the locals.
Always make an effort to learn a little bit of the language (though English is predominantly spoken here, other than in the Gaeltacht), and remember to respect the local people and their customs.
2. Cramming too much in
Without a doubt, one of the biggest mistakes tourists make when planning a trip to Ireland is cramming too much in.
Yes, there's lots to see, but you won't appreciate any of it if you're rushing from A to B. Give yourself time to stop and smell the roses. Quite literally, they grow in abundance here!
1. Not visiting Northern Ireland
This must be the biggest mistake people make when planning a trip to Ireland: not visiting Northern Ireland.
Northern Ireland is often forgotten during trip planning, with a focus on sites in the South, and that's a shame in our opinion. The North is not only beautiful, but also safe and bountiful with things to do and sites of cultural and historical significance.
The Antrim coast, including the Giant's Causeway and Dunluce Castle, offers some of the most breath-taking scenery out there, after all.
Note: our travel articles should be used only to plan future trips. Please stay at home until the government has advised otherwise.