From wild wilderness experiences and indoor water worlds to seasonal amusement parks, here are the ten best theme parks in Ireland for a fun adventure.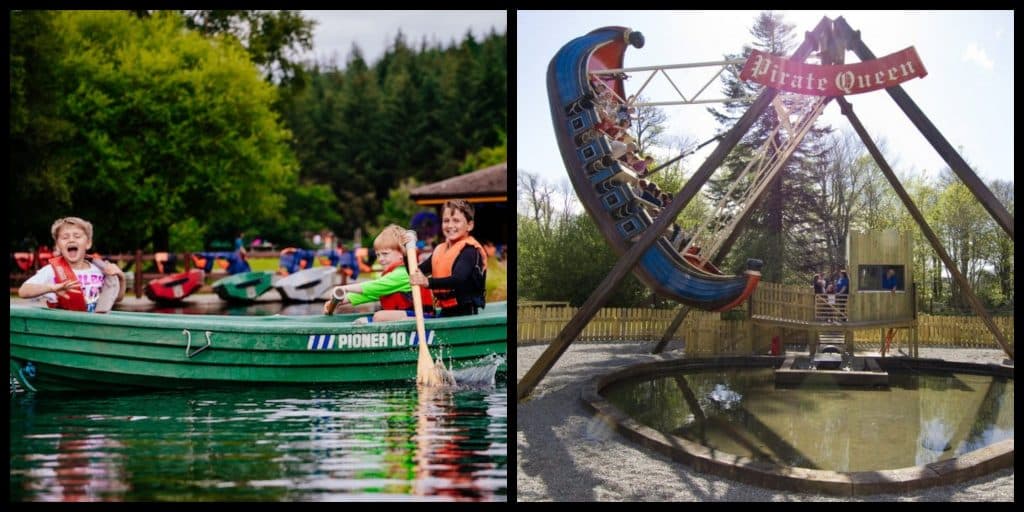 Ireland is home to stunning landscapes that play as a stage to entertainment centres and activity parks. There are plenty of amazing fun parks and adventure parks all across Ireland.
With a wild and vibrant energy that characterises Irish culture and its land, it comes as no surprise that the Emerald Isle is home to endless opportunities for excitement. If you are planning your next trip in, or around, Ireland, check out these ten best theme parks in Ireland for a fun adventure.
IB4UD's top tips for visiting theme parks in Ireland
Research the park beforehand, including the attractions, shows, and any special events. Check the park's website for maps, schedules, and important information.
Buy your tickets in advance. Purchasing tickets online before you go can save you time and sometimes even money.
Wear comfortable clothing and shoes suitable for walking and standing all day. Attractions at theme parks in Ireland are often spread out and can have a long wait time.
Bring a small bag or rent a locker to store your belongings safely while you enjoy the rides and attractions of Irish theme parks.
Work smarter, not harder, by identifying the most popular attractions beforehand and visiting them during off-peak hours or using a fast pass if they are available.
10. Clara Lara Fun Park, Co. Wicklow – the family classic
Clara Lara in County Wicklow is a longstanding player on the Irish adventure centre scene. The park is open annually, May (weekends) and June-August (daily). 
Set in the great outdoors and embracing all-weather conditions, this adventure park is suited for young families, as well as older kids looking for a thrill.
Address: The Vale of Clara, Knockrath, Rathdrum, Co. Wicklow, Ireland
9. Tramore Amusement Park, Co. Waterford – an old-school experience
Tramore Amusement in Waterford is another one of the fun parks in Ireland worth a visit this summer. 
Operating during the balmier months, this old-school amusement park offers a variety of fairground rides and carnival games, as well as an indoor arcade.
Address: Tramore West, Tramore, Co. Waterford, Ireland
8. Castlecomer Discovery Park, Co. Kilkenny – for tree-top adventure
This not-for-profit organisation is one of the top adventure parks in Ireland.
Spanning over 80-acres of Kilkenny countryside, visitors can take to the tree-tops as well as enjoy tonnes of other activities. There are walking trails and play areas for the younger kids, as well as ziplining, axe throwing, and catapult building.
Address: The Estate Yard, Drumgoole, Castlecomer, Co. Kilkenny, R95 HY7X, Ireland
RELATED: Top 5 things to do with kids in Kilkenny
7. Dunmore Adventure, Co. Waterford – for outdoor watersports
Located in County Waterford, Dunmore Adventure offers some of the best watersport experiences for those who want to make a splash. 
The park is home to Ireland's largest Wibit Wipeout water obstacle course and also offers sailing, kayaking, and stand-up paddleboarding.
Address: The Harbour, Dunmore East, Co. Waterford, Ireland
READ ALSO: The 4 Best Outdoor Aqua Parks in Ireland
6. Fort Lucan Outdoor Adventureland, Co. Dublin – for the ultimate playground
Fort Lucan Outdoor Adventureland is undoubtedly one of the best fun parks in Ireland.
Not far from Dublin City, the park is essentially one giant playground; a maze of fun just waiting to be conquered. Fully supervised, the park is suitable for ages 2-14 years.
Address: Westmanstown, Lucan, Co. Dublin, K78 E678, Ireland
5. Aqua Dome, Co. Kerry – for an indoor waterpark
For those of you in search of the finest indoor theme parks in Ireland, the Aqua Dome in Tralee, County Kerry, is a top contender. 
Not only is this Ireland's largest indoor waterpark, but its proximity to the Wild Atlantic Way and all of Kerry's sights make a trip to this top park a winner all across the board.
Address: Aqua Dome, Tralee, Co. Kerry, V92 T6TW, Ireland
4. Funtasia, Co. Louth – one of the best theme parks in Ireland for the whole family
Funtasia is home to one of the largest theme parks in Ireland. There are two locations: Drogheda in County Louth and Bettystown in County Meath. Although surveys say the former packs a better punch!
Bursting with activities, Funtasia offers a little something for everyone, from outdoor carnival rides to an indoor games arcade.
Expect bowling, crazy golf, ziplining, and an indoor waterpark, as well as an adults-only casino!
Address: Unit 1, Donore Road Industrial Estate, 1 Donore Rd, Lagavooren, Drogheda, Co. Louth, Ireland
READ ALSO: Top 10 best waterparks in Ireland
3. Pirate Adventure Park, Co. Mayo – for a family summer holiday
Located on the grounds of Westport House, Pirate Adventure Park is one of the most-loved theme parks in Ireland.
It is a three-time winner of Best Family Visitor Attraction in Ireland. It offers endless rides and activities to keep the entire family entertained. Make it your family summer holiday and stay on the grounds, with tonnes of accommodation to choose from!
Address: Quay Rd, Westport Demesne, Westport, Co. Mayo, Ireland
2. Funderland, Co. Dublin – one of the best theme parks in Ireland
Funderland is an annual event, opening during the Christmas holidays each year in Dublin.
When it is in the capital, it is handy for everyone as there are tons of amenities and hotels nearby.
Iconic in its community, Funderland is one of the largest travelling amusement parks in Europe and is considered one of the best theme parks in Ireland.
Expect endless thrills, hair-raising rides, carnival fun, and entertainment for all ages. Funderland also visits Cork, Belfast, and Limerick throughout the year.
Address: Pembroke Rd, Rathmines, Co. Dublin, Ireland
1. Emerald Park, Co. Meath – for the love of Tayto
Formerly known as Tayto Park, Emerald Park ultimately wins top spot on our list of the leading theme parks in Ireland.
Conceptualised in honour of Mr Tayto – the Irish crisp brand mascot – this park is as quintessentially Irish as one could get and one of the best things to do in Meath.
It is home to the Cú Chulainn Coaster, Ireland's first and Europe's largest wooden rollercoaster, as well as tonnes of fairground attractions and a zoo!
Address: Emerald Park, Kilbrew, Ashbourne, Co. Meath, A84 EA02, Ireland
Your Questions answered about theme parks in Ireland
If you have more questions about theme parks in Ireland, worry not! In the section below, we've compiled some of our readers' most popular questions that have been asked online about this fun topic.
What is the biggest theme park in Ireland?
Emerald Park is the biggest theme park in Ireland and is home to Europe's largest wooden rollercoaster.
How many roller coasters are there in Ireland?
There are 8 extant roller coasters in Ireland. The largest and most popular roller coasters in Ireland can be found at Emerald Park.
What is the scariest roller coaster in Ireland?
This one is up to personal opinion, but the largest roller coaster in Ireland is The Cú Chulainn Coaster of Emerald Park. This roller coaster rises to a height of 105 ft, which some people would definitely find scary.