They say diamonds are forever, but we say you can't go wrong with the top ten best Irish jewellery brands you need to know.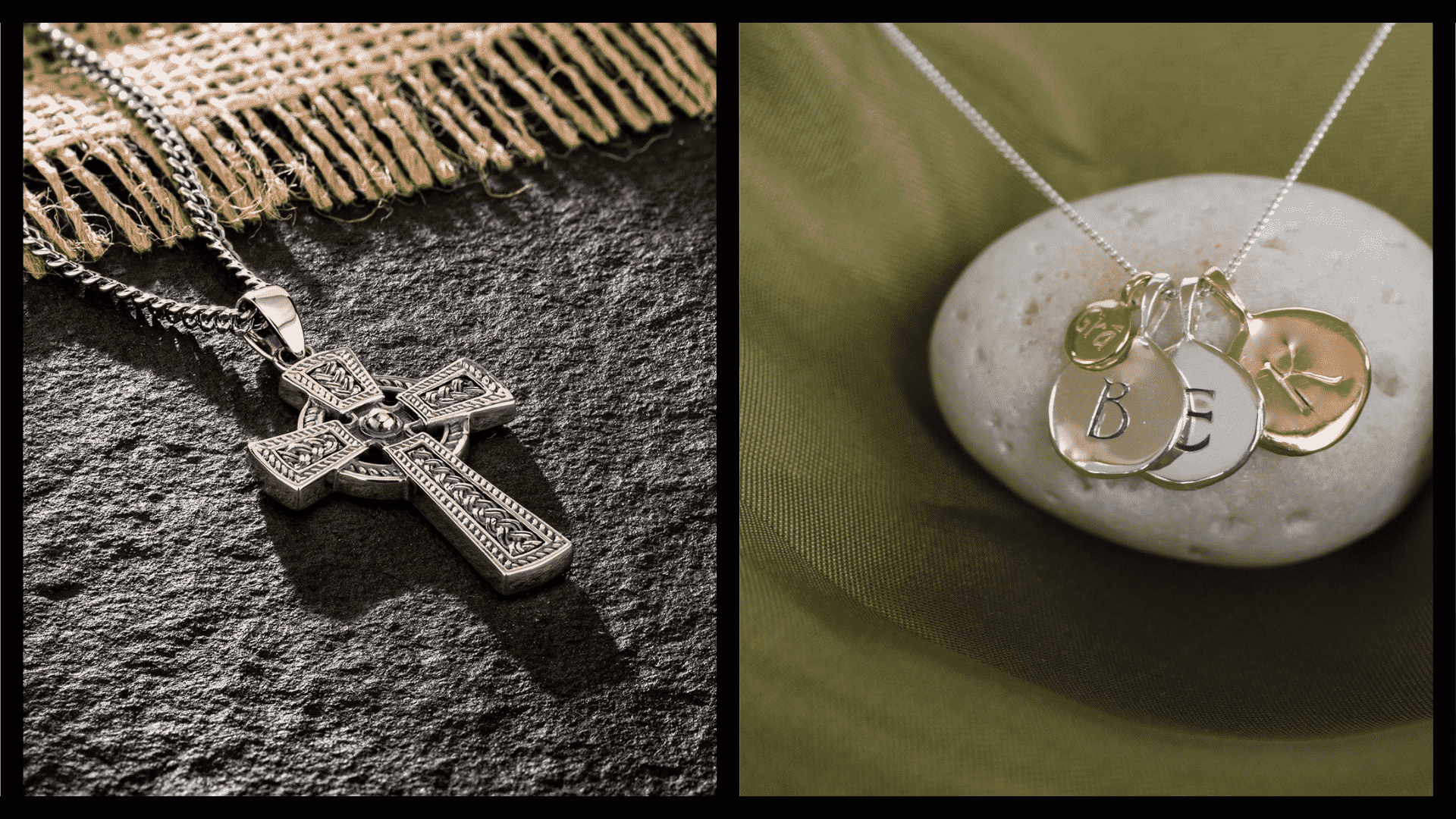 Popular symbols in Irish jewellery include the Claddagh ring, the Celtic Tree of Life, and the Trinity knot. All of these and more can be found across an abundance of Irish jewellery brands, but where to start?
The Irish scene is comprised of vintage jewellery, contemporary jewellery, handmade jewellery, and more. Whether it be jewellery boxes, marbled rings, or jewellery of solid gold, the Emerald Isle has you covered. 
And whether you seek gorgeous green or dainty silver, the answer waits for you in our countdown of the top ten best Irish jewellery brands.
10. Belleek Living – add some colour to your life
If you like a pop of colour in your accessories, Belleek Living is the Irish jewellery brand for you.
Enlighten your body with bright reds, purples, and greens. Belleek has some cute and quirky designs, too, such as the flora ring or honeybee earrings.
9. Waterford Crystal – a classic Irish jewellery brand
The sterling silver Claddagh ring is unlike any other jewellery in the world. Luckily for you, Waterford Crystal has a gorgeous selection of these treasured rings.
While browsing through, why not get a pair of classic silver studs to match?
8. Solvar – one of the top ten best Irish jewellery brands you need to know
Solvar is your one-stop-shop for gold and pearls. Like Connemara Marble, this Irish jewellery brand incorporates many Irish symbols in its designs. It has many beautiful pieces and is one of the best Irish brands.
Try a rhodium-plated Celtic cross pendant for €25.95 or step things up a gear with 9K gold shamrock earrings worth €139.95.
7. Loinnir – the Irish word for light and brightness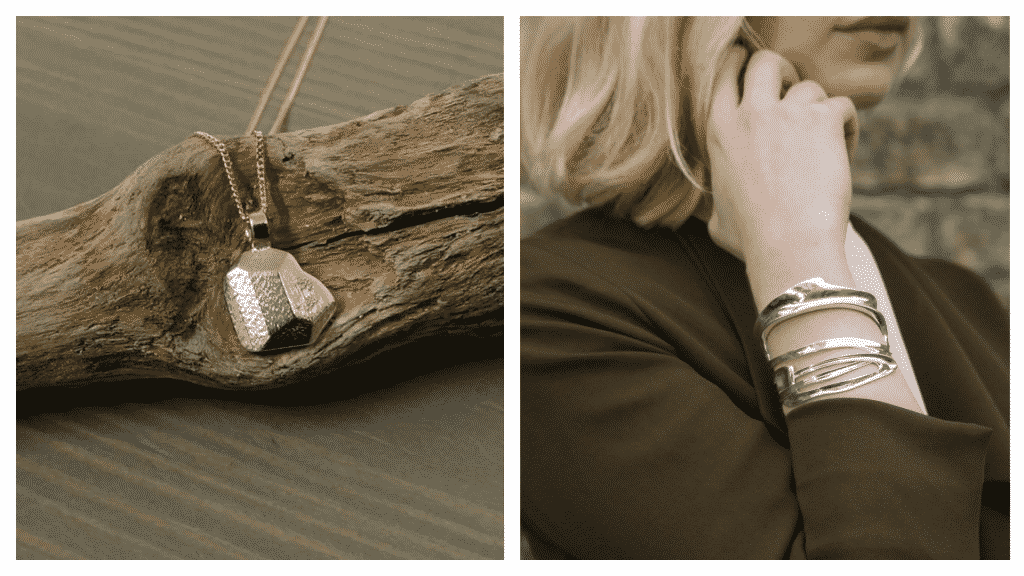 Loinnir pride themselves on representing Ireland's heritage but in a new and contemporary light.
Let your ears shine with the gold-plated hare three pence drop earrings, a fresh take on Ireland's old currency. This brand also offers an array of ear and nose piercings if that's what you're looking for.
6. Tipperary Crystal – an Irish jewellery brand you must know
Tipperary Crystal is another affordable pick for you while shopping for jewellery in Ireland. Our favourite piece by this brand is the infinity rose gold pendant that comes in many variations to suit your liking.
We also love the personalised heart necklaces and personalised jewellery that can be engraved with a name of your choice.
5. Alan Ardiff – moving and memorable
The work of Alan Ardiff may be pricey, but love, care, and consideration go into every single piece of his luxury jewellery.
The most impressive aspect of this jewellery brand is that many of the pieces incorporate kinetic parts. What's more, Ardiff offers exhibitions and commissions that are worth keeping an eye out for.
4. Enibas – for Irish language gifts
Enibas, the jewellery brand from West Cork offers pretty chains and charms inscribed with Celtic letters and Irish words.
The signature 'Croí Álainn' ('beautiful heart') collection makes for a great gift or an elegant piece to wear on any occasion.
3. Galway Crystal – for all things Claddagh
Known to many as the best of the Irish crystals, Galway Crystal presents good quality earrings, bracelets, rings, and necklaces.
As Galway is the birthplace of the Claddagh ring, you will find the Claddagh symbol in all four categories. These are perfect for everyday wear.
2. Newbridge Silverware – the popular Irish jewellery brand
Newbridge Silverware has been around since 1934, crafting quality homeware, gifts, and jewellery on the Curragh plains of County Kildare.
This jewellery brand is well known for its simple but stylish red ribbons and light blue packaging. Whether silver or rose gold, Newbridge is a fashionable and affordable choice on our list of the top ten best Irish jewellery brands.
1. Connemara Marble – keep Ireland close to your heart
Connemara Marble presents beautifully crafted jewellery with rare green marble inside.
Here, you will find necklaces entwined in Celtic fillagree, shamrock pendants, Trinity knot earrings, and more. You can be sure that this Irish jewellery brand has something for every style.
Notable mentions
Stonechat Jeweller: Dublin-based jeweller set up by Ann Chapman in 2012 with a beautiful range of boutique jewellery. 
Eva Dorney: A jewellery designer with a wide range of gold, silver, and platinum rings. There are also cufflinks and earrings which make for the perfect gift. 
Cosmic Boulevard: This was created by Sinéad Murphy in her Dublin workshop in 2017. She works with recycled metals and ethically-sourced stones. 
FAQs about Irish jewellery brands
What is Celtic jewellery? 
Celtic jewellery is a distinctively Irish jewellery design, and refers to the Iron Age culture of around 1,000 BC.
What jewellery is Ireland known for? 
Perhaps the piece of jewellery Ireland is most known for is the Claddagh ring, alongside the likes of Claddagh Earrings and Tara Brooch.
What jewellery brand is best? 
The best jewellery brands in the world are Tiffany & Co, Cartier, Chopard, and Piaget.