Like every historically Christian nation, Ireland adds it's own nuances to the Christmas season.
While there are many ancient practices for the winter festival such as candles in the window, there are some more modern ones too that are equally important to our unique experience of Christmas. Here are ten Irish Christmas traditions that make up a very Irish Christmas.
10. The Ghost of Christmas Past
We are a nostalgic nation and often sentimental after a few liquid refreshments. The ghosts of Christmas past will usually appear in tales of getting a balloon and a mandarin orange stuffed in a sock if you were lucky from one generation and descriptions of that Fisher Price Big Yellow Teapot from another.
Christmas isn't complete without reminiscences about other Christmases and remembering those who aren't with us anymore. A good dose of introspection usually punctuates our evening before Father Ted comes on the telly to cheer us all up.
9. The Last Freddo: Fighting over The Selection Box
As a born and bred Irish woman in my fourth decade I can't conceive of Christmas without Selection Boxes and the bargaining and bartering they produce (not just among the kids) A Freddo might swap for a Chomp bar but nobody is going to give up a Curlywurly!
8. Snoring In A Stupid Hat
The need to have a little snooze after the heavy festive feast is understandable and the less than melodious snores of someone's Dad over Songs Of Praise can be heard in most residential areas on Christmas day.
It's safe to say an elderly family member snoozing in their Christmas Cracker hat and only waking up to cackle at Mrs. Brown's Boys can be crowned a Great Irish Christmas Tradition.
7. Penneys Pyjamas
A new set of PJs and possibly fluffy socks and a dressing gown to go with them. What's Christmas if you aren't wrapped up like a polar bear in Penney's finest?
You won't mind listening to Wham's Last Christmas for the 500th time as you grab stocking fillers while standing in a 5km queue, 'tis the season!
6. The Christmas Panto
One of the best Irish Christmas traditions. Cross-dressing, cheesy jokes, mild innuendo, and audience participation have brought hoards to the theatre every Christmas since 1874. Love it or loathe it, the voices of Maureen Potter and Twink as the good fairy will remain with a certain demographic of Irish all their days, OH YES THEY WILL!
5. Midnight Mass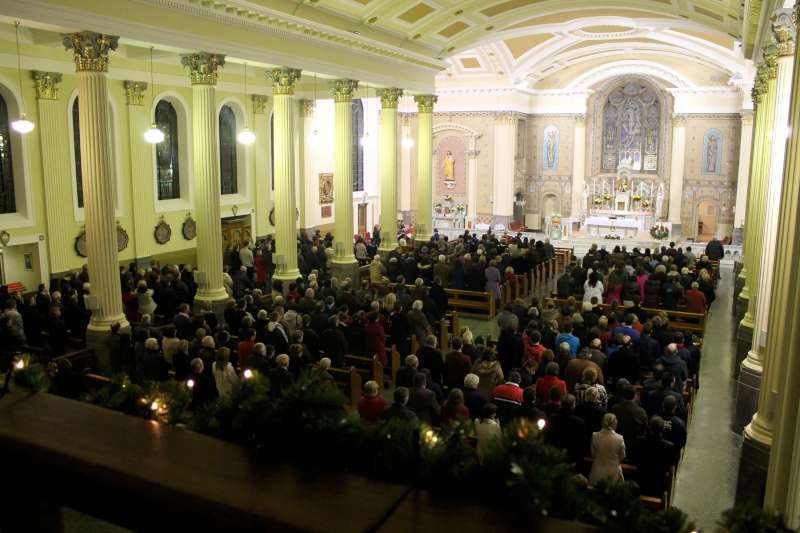 You didn't want to go but then you were glad you did. It was strange to be in the church so late (or even at all for some of us) but it could muster up a special feeling, especially on those rare white Christmases.
Bells, hymns about baby Jesus, the smell of candles and billowing incense from that swinging mechanism can combine to give even a big Grinch a few hours of goodwill to all men, or most men, or at least some people.
4. The Christmas Day Swim
The tradition of the Christmas Day swim (often in freezing temperatures) is growing all the time and is often done for charity.
The only other reasons I can think of might be to clear the head from the Christmas Eve pints tradition or a disturbing exercise in masochism but whatever floats the boat of these nautical champions they've earned their mince pies and brandy butter without a doubt!
3. The Christmas RTE Guide
It wasn't so long ago that we were a country with 5 TV channels (2 for some people) and our Raidió Teilifís Éireann production company had the monopoly on our viewing.
I don't think anybody would wish to return to those days but RTE is still a relevant part of our island's society. So, even in this era of countless channels, box sets, Netflix and myriad methods of choosing your own viewing, many Irish still buy the RTE Guide at Christmas and go through it circling their favourites in serious-strategic-planning-mode.
2. A Tin of USA Biscuits and a Tin of Rose's
What would an Irish Christmas be without sneaking into the second layer of the USA tin to get the jammy rings and tins of Roses that only have your family's least favourite (Orange Creams in our house) melted at the bottom?
1. The Late Late Toy Show
Since the year of our Lord 1975, The Late Late Toy Show has ushered in "that Christmas feeling" in Ireland. The tree will be up, the lights lit, the hot port poured and all ages will settle in to see the selected kids perform and play with the year's best toys.
The unpredictability of the kiddos warms the cockles of hearts or reminds us of back when all we wanted in life was the Big Yellow Teapot or the Fisher Price Circus Train.
This is our favourite of the Irish Christmas traditions that the world needs!