If you fancy drinking like your favourite actor, actress, or celebrity in the capital, then read on to discover ten bars in Dublin that celebrities have been to.
Celebrities love to visit Ireland. With Dublin being the capital, it's no surprise that they'd be spotted out for a drink or two in bars around the city.
Whether it's a singer enjoying a post-performance pint, or an actor blowing off steam after a long day of shooting, there are many bars in Dublin that celebrities have been to.
We Irish have a reputation when it comes to having a drink, are these celebrities trying to keep up? Here is our list of ten bars in Dublin that celebrities have been to, that you might want to visit on a pub crawl.
10. Temple Bar – hip-hop star Drake loves a Guinness
The Temple Bar Pub has seen some really famous faces across the years. A tourist must-visit, you might be in with the chance of rubbing elbows with some of the biggest celebrities in the world if you take a visit.
Canadian rapper and singer Drake was spotted in the world-famous Temple Bar after a sold-out gig in the Dublin 3 Arena.
Locals and regulars were star-struck as Drake was seen drinking and partying until the wee hours. He even shared the events of his night through several videos and photos on his Instagram page.
He wasn't the only celebrity partying in the Temple Bar that night. Former Ireland football captain Robbie Keane and his wife Claudine were alongside Drake, drinking the night away.
Address: 47-48, Temple Bar, Dublin 2, D02 N725, Ireland
9. 37 Dawson Street – get me a pint, b**ch
Fans of Breaking Bad were shocked to discover that Aaron Paul was spied by many indulging in pints and good food at 37 Dawson Street. The actor happily posed for photos with fans in the quirky whiskey bar and food emporium.
He was later seen in several bars around Dublin city, including The Globe and Dicey's. It seems there were many opportunities to bump into the star as he went on a bit of Dublin pub crawl.
Priyanka Chopra and Jeremy Kyle have also made appearances in this cool cocktail bar.
Address: 37 Dawson St, Dublin, D02 W220, Ireland
8. Hacienda Bar – where many a celebrity go for a tipple
Good vibes, good drinks and good company, Hacienda Bar is a regular stomping ground for celebrities.
Singer-songwriter Loyle Carner is among many famous faces to grace this cosy, comfortable spot. Oscar-nominated actor Ciarán Hinds was spotted there.
The owner of the establishment snapped a picture with the 'Loose Ends' singer, along with Arlo Parks after their gig that night at popular music and events venue, Vicar Street.
Other famous faces that have visited the pub include Ed Sheeran and Saoirse Ronan, making this one of the top-visited bars in Dublin that celebrities have been to.
Address: 44 Arran St E, Smithfield, Dublin 7, D07 AK73, Ireland
7. Coppinger Row – Queen B is in the house
Beyonce had said she made some memories for life while in Dublin with her family. She, along with her husband and rapper Jay-Z, was seen leaving the low-key Mediterranean bar and restaurant after enjoying some food and drinks.
The bar and restaurant have unfortunately since closed down, but will go down in history with one of the biggest stars in the world gracing their doors.
6. Grogan's Pub – Amy Schumer and Judd Apatow, wedding crashers
Grogan's Pub is a great place for a bite to eat and a pint. Amy Schumer and Judd Apatow seemed to have thought the same when they joined a wedding party while in Dublin promoting their film Trainwreck.
The pair were heard singing karaoke with a wedding party, as well as sharing the mic with Irish songwriter Glen Hansard.
The newly-weds and other pub-goers on the night shared photos and videos of the celebrities really joining in with the craic.
Address: 15 William St S, Dublin 2, D02 H336, Ireland
5. O'Donoghue's Pub – Rihanna found love in a Dublin bar
O'Donoghue's is no stranger to singers' unexpected mini-gigs at the establishment. Highly respected Irish musicians have played there, including Christy Moore and The Fureys.
Rihanna was said to have found her new favourite bar in Ireland when she hosted a Thanksgiving party at the pub, ordering food and drinks for all of her guests.
Although we're not sure that she put on a performance while there, it's still something to boast about.
Address: 15 Merrion Row, Dublin, Ireland
4. Yamamori Sake Bar – thanks for the divine ramen
Meryl Steep loved Ireland so much while filming Dancing at Lughnasa in 1997 that she decided to move her family here for the duration of the shoot.
While she was here, she stopped by Yamamori to enjoy sake and delicious Asian food.
The Addams Family actress Anjelica Huston also visited this spot and complimented the bar and restaurant on their 'divine ramen'.
Address: 72 South Great George's Street, Dublin, D02 EC94, Ireland
3. The Guinness Storehouse – pints galore
Ok, so technically not a bar, but the pints definitely flow here. The Guinness Storehouse is a popular attraction among tourists and celebrities alike.
Back in 2013, Tom Cruise wanted to discover his Irish roots on his trip to the motherland. He learned how to pour the perfect Guinness, so he's definitely Irish now, right?
Usher, Conan O'Brien, and Jason Mamoa are among other massive names to visit the factory and pour and enjoy a pint of the black stuff.
Address: St. James's Gate, Dublin 8, D08 VF8H, Ireland
2. Johnnie Fox's Pub – memorable pints of Guinness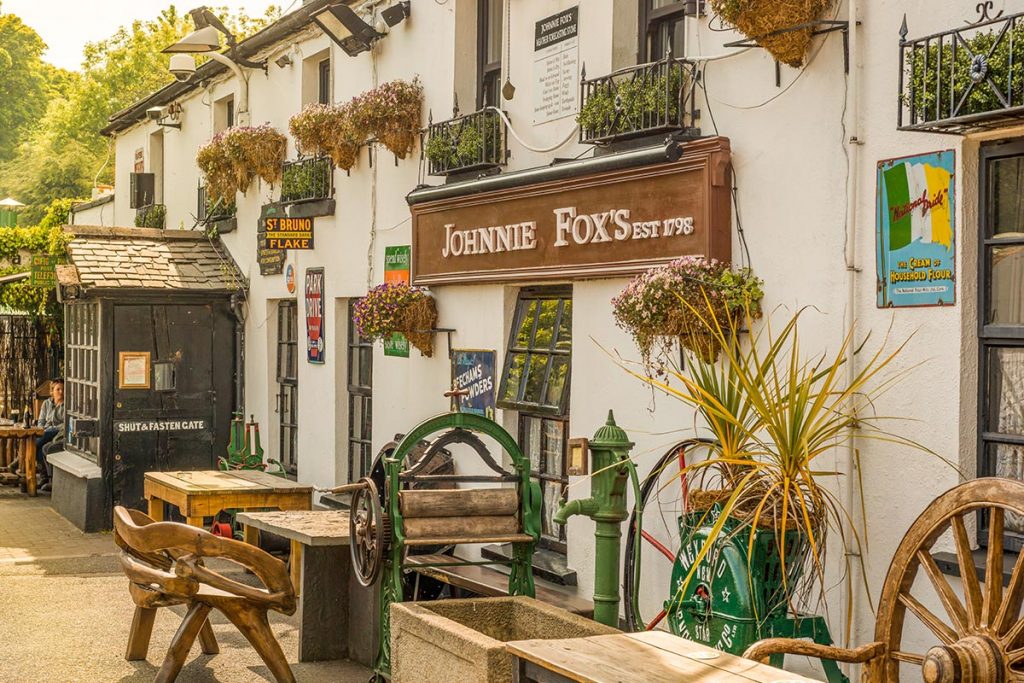 Idris Elba and Matthew McConaughey gushed about the pints of Guinness they got in this traditional Irish pub, Johnnie Fox's, giving it the status of one of Ireland's best celebrity bars.
While promoting their film The Dark Tower, the pair said they couldn't wait to return to the Emerald Isle so they could relive their experience of the world-famous stout.
Address: Glencullen, Co. Dublin, Ireland
1. The Liquor Rooms – many a famous face
Of all the bars in Dublin that celebrities have been to, this one saw many famous faces in just one night. Following a U2 gig at the 3Arena, a host of A-list celebrities arrived in force at The Liquor Rooms bar.
Hozier, The Edge, Matt Damon, and Noel Gallagher are among the many famous faces that passed through the doors of the pub that night.
Since this cohort of celebrities was said to have partied the night away, the bar has closed down. However, these celebrities painted this Dublin bar as one that many celebrities have been to and partied hard at.
Address: 6-8 Wellington Quay, Temple Bar, Dublin, D02 HT44, Ireland
That rounds off our list of bars in Dublin that celebrities have been to. Have you been to any of these bars? If so, have you seen any famous faces?
Notable mentions
The Brazen Head, Merchant's Quay: Literary legend James Joyce dropped in for a pint now and then, he even mentions it in Ulysses. More modern celebrities like Van Morrison and Garth Brooks have also stopped by for a pint!
The Gravediggers, Prospect Square: This bar is a celebrity hub. It has played host to onscreen celebrities such as Nicole Kidman, Tom Cruise, and Pierce Brosnan.
FAQs about bars in Dublin that celebrities have been to
Where do celebrities stay in Dublin?
There are many 4- and 5-star hotels that host celebrities when come to visit or perform in Dublin. The Merrion is a luxury 5-star hotel that has welcomed Barack Obama through its doors. Beyonce, on the other hand, prefers The Fitzwilliam. Other hotels include The Shelbourne and The Westbury.
What do celebrities do when they visit Dublin?
The Guinness Storehouse is a must-visit for celebrities, including Adam Sandler and Pink. Lots of celebrities tend to spend their time in Dublin shopping on Grafton Street. Actors Lea Michele and Richard E. Grant are among the many.
Get featured on Ireland Before You Die
Do you want to get your Irish business more online exposure? Especially to those interested in travelling the best places in Ireland? Then why not get a dedicated feature on Ireland Before You Die. Find out more 
here.