As we have noted before, there is something romantically idyllic about Ireland's identity.
With its cobbled streets, old architecture, epic scenery, friendly hospitality and indulgent experiences, Ireland is full of fairy tale romance.
Here we have accumulated 10 things to see and do for you and your loved one this Valentine's Day…
1. Show respect to St. Valentine himself at Whitefriar Street Carmelite Church, Co Dublin
The Irish Carmelite John Spratt gave such rousing sermons during his 1835 visit to Rome that an impressed Pope Gregory XVI decided to give him the remains of the Roman martyr Valentinius (Saint Valentine). Devotees still light candles at his shrine today.
On February 14th, his shrine is moved to higher alter and masses include special Blessings of the Rings ceremony for those that are soon to be married.
2. Share a kiss on Ha'penny Bridge, Co. Dublin
This is a charming pedestrian bridge that spans the River Liffey. It is one of the most well-known landmarks in Dublin.
3. Tie a wish to the fairy tree at Brigit's Garden, Co. Galway
Brigit's Garden is an enchanting landscape designed around Celtic rituals, folklore, and festivals. The Celtic Gardens are award-winning and are regarded as one of the most spectacular in Ireland, set within 11 acres of native woodland and wildflower meadows.
4. Walk the streets of Galway, and buy a Claddagh Ring at Thomas Dillons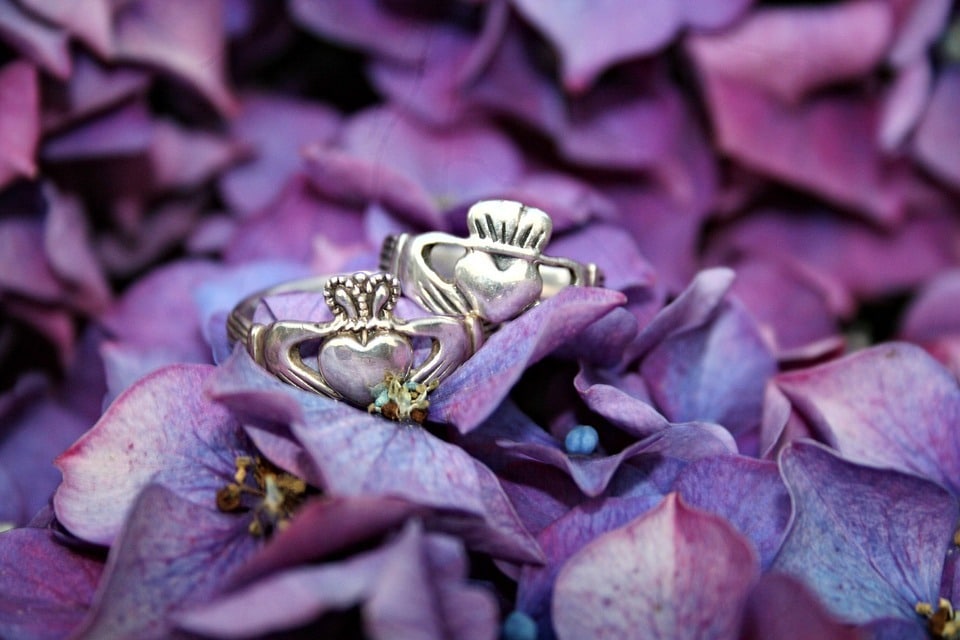 Why not ring in Valentine's Day with your sweetie this year with a visit to Thomas Dillon's in Galway – the oldest makers of Claddagh Rings in the world. The rings are worn worldwide and symbolise love, loyalty and friendship.
When: Various dates/times
Where: Thomas Dillons, 1 Quay St, Co. Galway, Ireland
How Much: Varies
Website: https://www.claddaghring.ie/
5. Largest Speed Dating Event in Ireland
Care to be a part of something bigger than "I" this Valentine's Day? Join the largest speed dating experience in Ireland at Dublin's CHQ Building. It needs more than 655 attendees to break the previous record and for only €15 singles can mingle, drink, be entertained, win prizes and support two amazing charities, Movember Ireland and Breast Cancer Awareness.
When: 14th February 2019 @ 7.30pm
Where: The CHQ Building, Custom House Quay, IFSC, Dublin 1
How Much: €15
Link: https://www.eventbrite.ie/e/valentines-day-2019-at-chq-tickets-53061900573?aff=ebdssbdestsearch
6. Visit the Kissing Gate, Tannaghmore Gardens, Co. Armagh
Legend has it that couples who kiss over the gate will get married within a year. Where wishes have been fulfilled, couples often return to pose for weddings photos.
7. Rooftop Cinema, Belfast
Cuddle up under a blanket with your valentine this V-day for a moon-lit showing of 1990 cult classic, Pretty Woman, at The Perch rooftop bar. This is also the perfect plan for mates looking for a way to spend their V-day! Tickets cost only £20 and include pizza and a boozy hot drink.
When: 14 February 2019 @ 7pm
Where: The Perch Rooftop Bar, 42 Franklin St, Belfast, Northern Ireland
How Much: £20
Website: The Perch Belfast
8. Take a scenic road trip through Connemara National Park, Co. Galway
Why not take a laid back and fun-loving road trip through Connemara National Park and experience some of the most stunning views of Ireland. Including that of the seven-mile Sky Road which is known as one of Ireland's most beautiful routes overlooking the Atlantic.
9. Visit The Crane Lane Theatre, Cork
Feel like soaking up some tunes with your valentine this V-day? There is no better place to do so than the Crane Lane Theatre.
With live music, cool jazz and smoky soul sessions taking place seven nights a week, Crane Lane is the perfect place for a courting couple.
Where: Crane Lane Theatre, Phoenix St, Centre, Co. Cork, Ireland
When: Various times/dates
How Much: Varies
Link: https://www.cranelanetheatre.ie/
10. Visit Love Lane, Dublin
Celebrating Valentine's Day in Dublin doesn't have to be all show and splashing out cash. Sometimes the more subtle gestures are those most appreciated. Take a wander down Love Lane, which links Dame Street and Temple Bar, and soak up all the romantic quotes that grace the wall, hand-in-hand with your Valentine.
When: Any time
Where: Love Lane, Temple Bar, Dublin 2, Ireland
How Much: Free admission